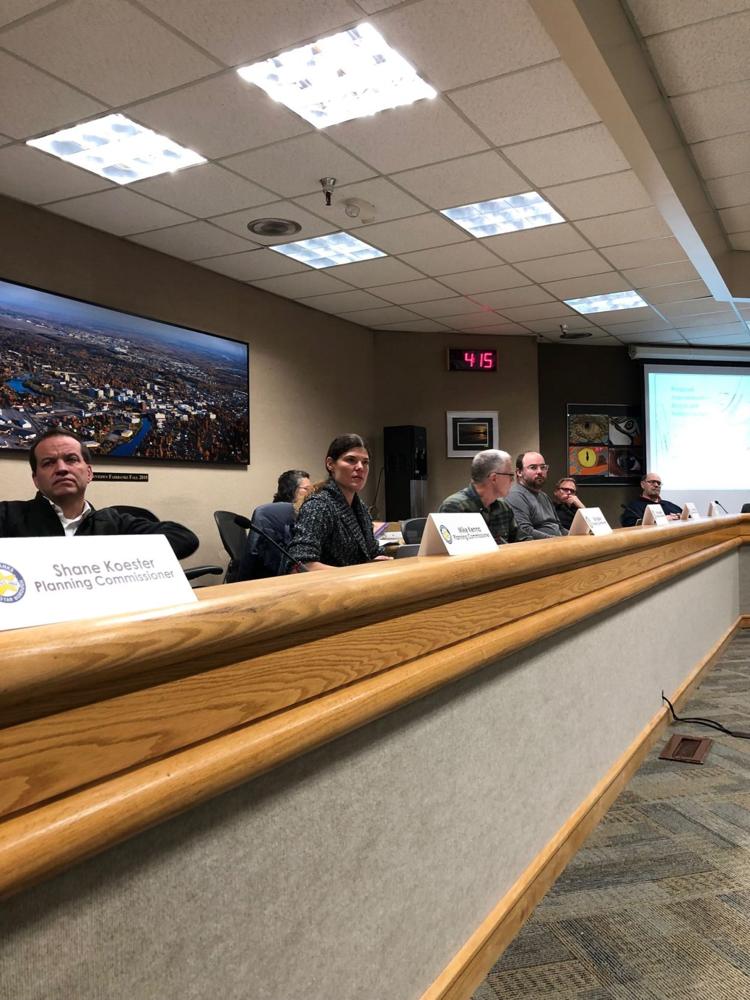 The Planning Commission greenlighted construction of two roundabouts on Chena Hot Springs Road on either side of the Steese Highway bridge to slow traffic and reduce collisions.
The vote was 6-1 on Tuesday with commissioners saying speeding is a big problem on that stretch of road and roundabouts will slow people down.
"We have to do something to make it safer for vehicles and for pedestrians," Planning Commissioner Toni Abbey said. "The only thing that is going to do that is a little bit of slowing down traffic."
In the 10 years since three roundabouts were installed on Santa Claus Lane in North Pole, no one has been injured in a crash there, according to Fairbanks North Star Borough transportation planner Donald Galligan.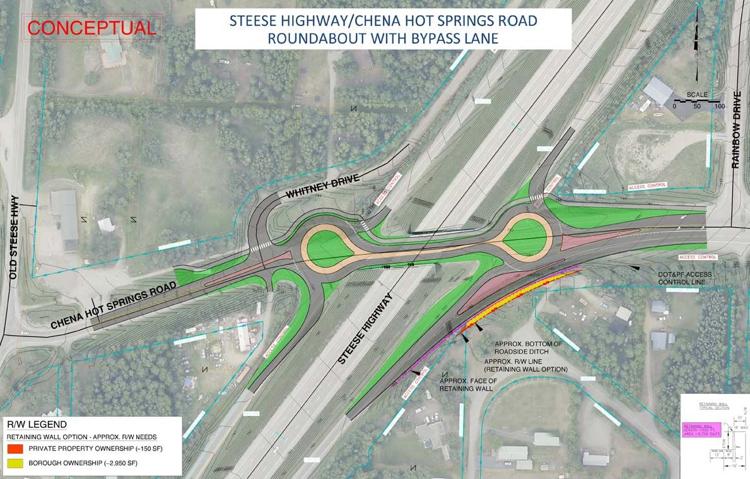 Final design of the federally funded Chena Hot Springs Road roundabouts is pending. Construction is slated for 2020. About 8,000 vehicles pass through the area daily, according to the Alaska Department of Transportation and Public Facilities.
The DOT's plan to build the new roundabouts has drawn vocal opposition, including local legislators, since the agency started conducting public outreach in 2014. The DOT has held multiple public meetings, surveys and made design changes in response to feedback.
In addition to the two single-lane roundabouts, a bypass lane is planned as drivers exit the Steese Highway and head east on Chena Hot Springs Road.
Across the street on the north side of Chena Hot Springs Road, a 10-foot shared-use path will be constructed, passing under the Steese Highway bridge to the Old Steese Highway. Striped crosswalks will be included at both of the proposed roundabout crossings.
The new flow of traffic will cause confusion and congestion, according to critics of the project.
"I just believe that these roundabouts are going to create more problems than they cure," area resident Kathy Fitzgerald told the Planning Commission.
Others said the project goes too far when more lighting and signs would do.
"You never see any law enforcement out there," added Jim Ward.
Another criticism was that the roundabouts will make it hazardous on occasions that snow falls and it's a few days before plow trucks clear it out.
"People are going to be getting stuck in that roundabout like there is no tomorrow," Ward said.
Pavement on the roundabouts will be covered with high-friction surface treatment or a thin layer of rock that makes tires stick to the road, a DOT project manager said.
The agency prefers roundabouts to traffic signals, according to an Aug. 12 report to the Planning Commission by Galligan, the borough transportation planner.
"Alaska had no roundabouts in 2000, but quite a few have been installed since," Galligan wrote. "They are being installed because they are safer and, in most cases, cause less delay for motorists than conventional intersections. They are often more cost effective as they use no electricity to operate (as traffic signals do). According to a study by the Insurance Institute for Highway Safety, roundabouts reduce injury accidents by 75%, and incapacitating injury or fatal accidents by as much as 90% when compared to intersections with traffic signals or stop signs. For these reasons, the Alaska Department of Transportation and Public Facilities has adopted a 'Roundabout First' policy, which requires designers to provide a written justification of any decision to install a traffic signal instead of a roundabout. Installing more roundabouts is one of the action plans in the Alaska Strategic Highway Safety Plan, completed in 2007."
The planning commission who voted against granting local approval of the roundabouts, Mike Kenna, said he was swayed by public testimony.
"In the end, the people who drive that road know it best," he said.
Under state law, local planning authorities must review state road projects.
Contact staff writer Amanda Bohman at 459-7545. Follow her on Twitter: @FDNMborough.