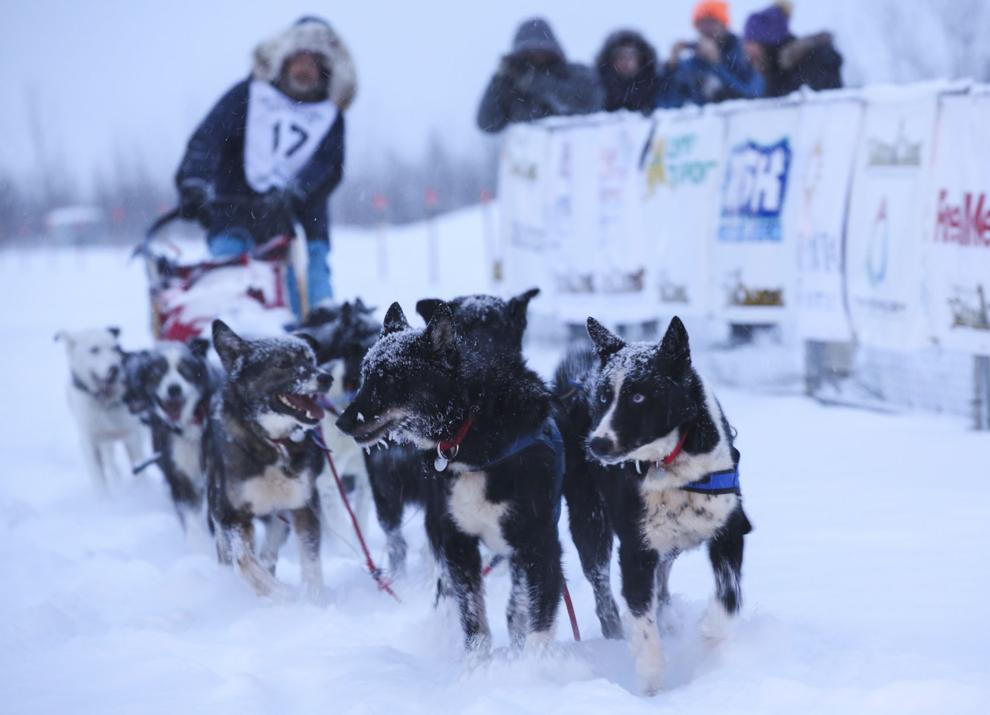 At 11:30 today, when Dave Dalton makes his 30th and final start in the Yukon Quest 1,000 Mile International Sled Dog Race, he'll be wearing bib No. 10.
"I was just shocked," Dalton said, after pulling the number from a boot on Thursday at the Quest's Start and Draw banquet. 
The 62-year-old Healy resident stared down at the bag of dog tags his team will wear on the journey from Fairbanks to Whitehorse, Yukon, each engraved with the number 10.
The number is Dalton's favorite. It was on his jersey in high school when he played basketball and football. And when he raced the Quest for the first time in 1988 he drew number 10.
"I told everybody at my table that I'm looking for number 10. I've been saying it for years that I'm looking for number 10 and this is only the second time," he said. 
"It's just strange that it was my first bib number in 1988 and then in 2020 it's my last. … It means I'm picking the right year to retire."
Since 1988, Dalton has missed only three Quests and holds the record for number of finishes, completing 23 of his 29 attempts.
His best finishes came in 2004 and 2008, when he placed third. In 2004 he also earned the Veterinarians' Choice Award for taking the best overall care for his team while still remaining competitive throughout the race.
In 2016 he earned the Challenge of the North Award, which is presented by the race marshal and judges to the musher who best exemplifies the "Spirit of the Yukon Quest."
As is the goal for many of the mushers in this year's race, Dalton is just hoping to finish with 14 happy and healthy dogs. Winning another Veterinarians' Choice Award would be the ultimate prize.
"The Quest is the toughest race in the world and he's mastered it," said Lee Lowrey, who spent six years as Dalton's dog handler, but now is just his friend.
At the Meet the Mushers event on Wednesday, Lowrey sat behind a table selling what is soon to be limited edition Dalton Gang Kennels apparel. On the front of the table hung a poster that read, "Dave and the Gang: Mush on! 30th and final race, Finish Strong!"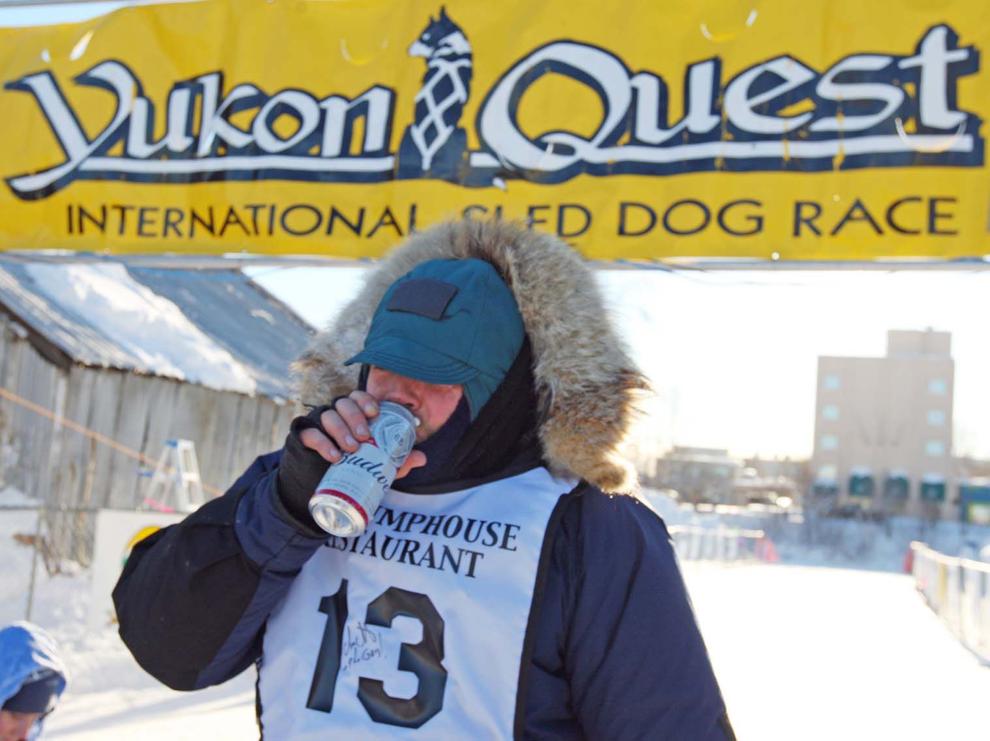 "I've seen him finish when mushers are dropping like flies. He's resilient, but he won't push if he sees there is something that might hurt the dogs or hurt him. … Most mushers that win don't do that. They just go for gold. Dave is a guy that is going to finish."
Since Dalton started competing 32 years ago, he's seen the race evolve. In his first years only a handful of people would show up to the banquets and Meet the Mushers events. Now they draw hundreds.
But as the sport has grown, so have the costs. When he first started racing he would loiter outside the Fairbanks animal shelter, waiting for mushers to drop off their dogs that didn't make the team.
Before the mushers would take the dogs inside, Dalton would ask to try them so he wouldn't have to pay the $50 adoption cost. He'd also check newspaper listings for free dogs.
"They were good dogs, they just needed better nutrition and lots of training," Dalton explained. 
He bought his first lead dog Freckles for $100 and bred his own team. He'd also make his own dog booties and get his gear on sale at Big Rays to help keep the cost of racing down. 
But today the costs are nearly unavoidable.
"Now you're paying anywhere from $5,000 to $10,000 for a good dog," Dalton said. He also estimated in addition to the $2,000 entry fee, it costs $30,000 just to get a team on the trail.
But even as the costs have increased, he's always found a way to field a team.
"He made it his life's work and that's what he does 24 hours a day, seven days a week, 365 days a year," Lowery said.
After he retires from mushing, Dalton is hoping to volunteer for the race and find new ways to help mitigate race costs so more young people can get involved in the sport.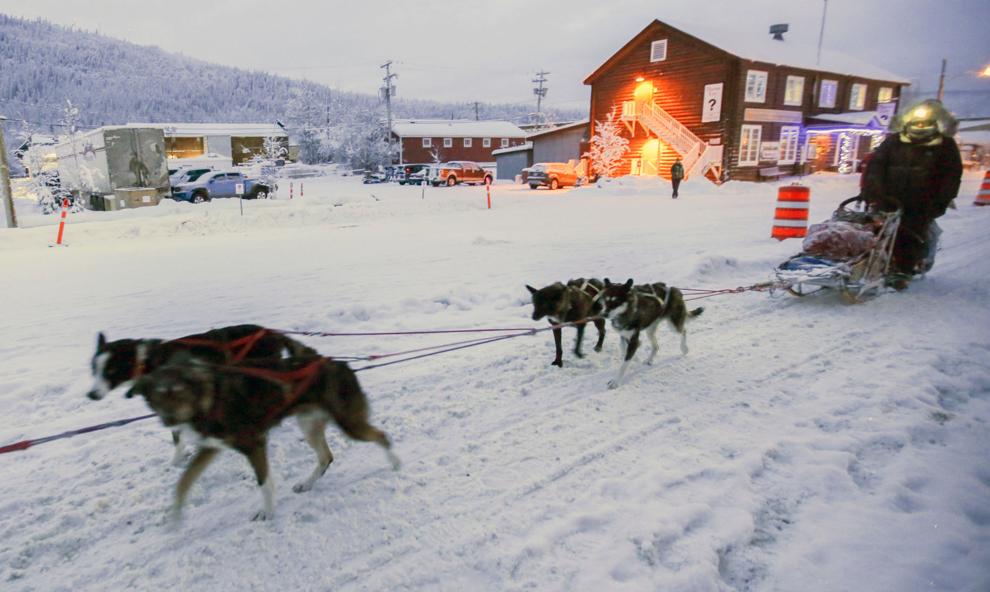 Although a handful of mushers have said they're running their last race and then show up again the next year, Dalton says he won't fall into that crowd. At Meet the Mushers he made sure to write, "30 years and final race," on every poster.
"I feel relief," Dalton said on Thursday, looking back down at his number 10 dog tags.
"I've been telling myself the whole time training that this is my last time I'm doing this, so it's in my brain. ... This will complete the journey."
The first racer will begin the Quest at 11 a.m. today in downtown Fairbanks at the Morris Thompson Cultural & Visitors Center with teams following in 3-minute intervals. 
Contact News-Miner sports writer Laura Stickells at 459-7530. Follow her on Twitter: @FDNMsports.