The Pioneer Park Civic Center was ablaze with color and humming with activity Saturday during the Fourth annual Fairbanks Fiber Festival. 
The two-day festival is organized by artisans, educators and fiber farmers with the intent of introducing the public to the local fiber scene while providing networking opportunities for the participants, according to the festival's Facebook page. The event, which emphasizes materials and items made or produced in Alaska, features demonstrations, workshops, a crafter's circle and 30 vendors offering handmade goods, fiber art tools and seemingly every type of fiber under the sun.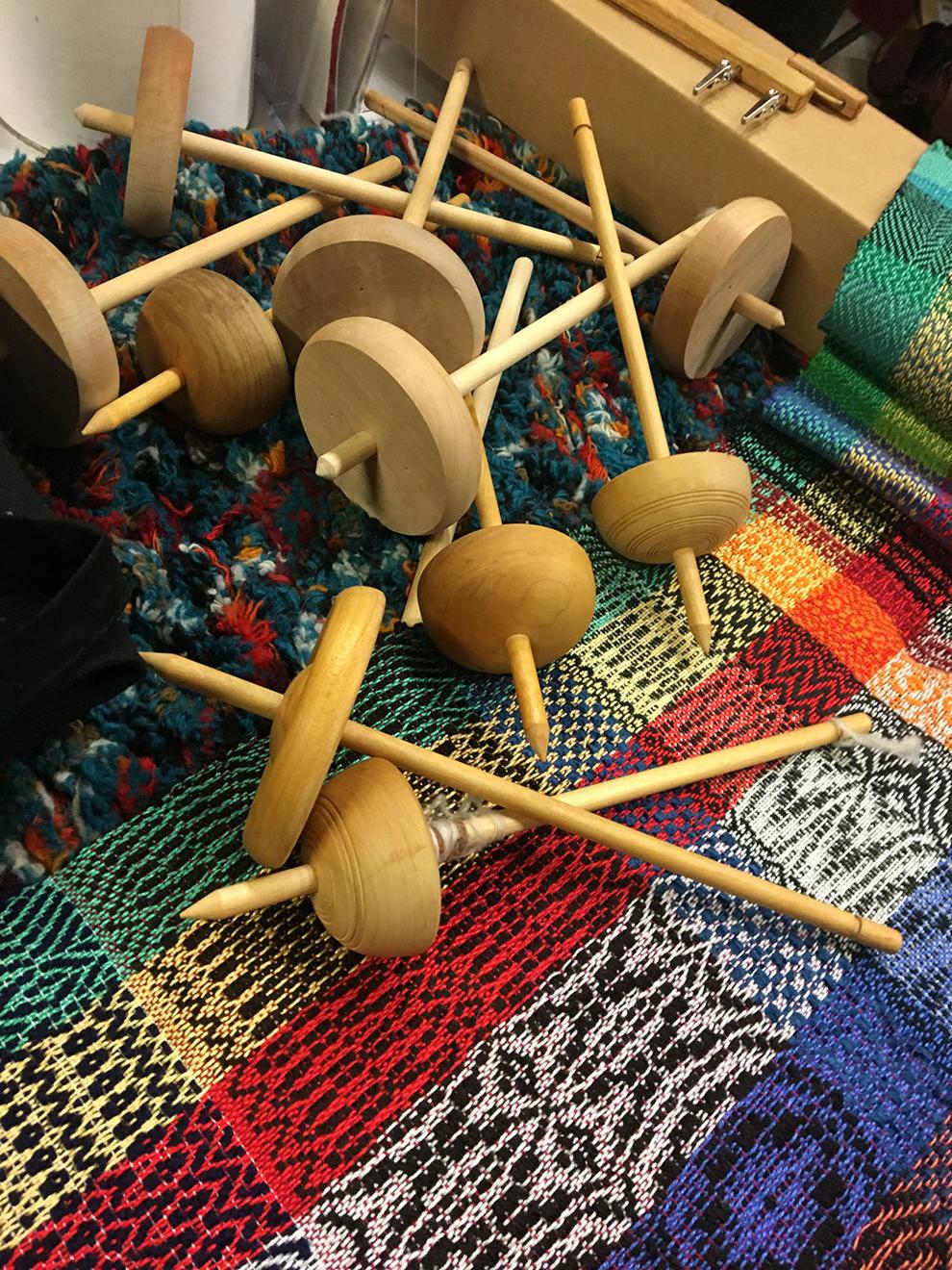 Animal fibers dominated the scene Saturday, with endless skeins of wool, angora, alpaca, quiviut and mohair yarn sharing space with large balls or batts of processed but unspun wool fiber. At the 14 Mile Farm booth, Matilda Williams watched in fascination as weaver Jasmine Johnson-Kennedy used a spinning wheel to transform a fluffy mound of rust-colored wool into yarn. The girl listened carefully as Johnson-Kennedy explained how to make the yarn thicker or thinner and gave other pointers as the freshly spun yarn steadily filled the bobbin.
"Where can I find one of these?" Williams asked avidly as she gestured to the wheel.
Nearby, Patty Olsen, of Patty's Wool Pets, sat behind a table of animal figures and explained the art of needle felting as she rapidly poked a small wad of wool with a slender, barbed needle.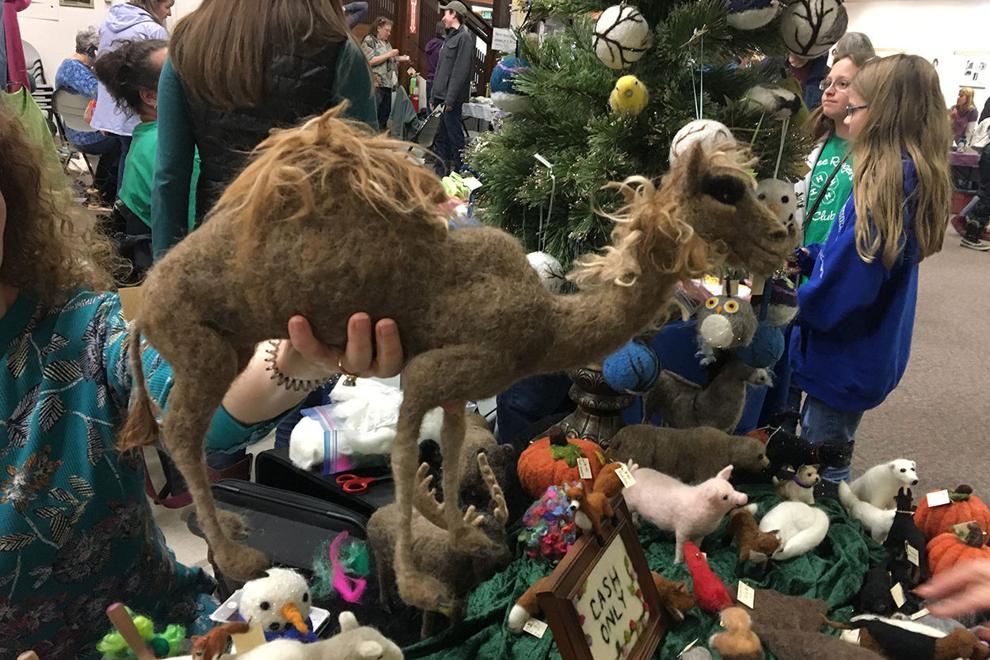 "It catches the fibers, and every time you poke it in, it makes it more solid," Olsen said as she deftly shaped the wool into the shape of a hummingbird. 
Olsen said she taught herself to needle felt about 10 years ago after discovering that the felted Yorkshire terrier figure she wanted to buy was prohibitively expensive. Captivated by the craft, Olsen began making and selling needle felted animals such foxes, owls, dogs, moose, pigs, wolves and even a large camel.
Upstairs, Kate Wattum of Coyote Trail Farm and Fiber Mill talked about her business as she demonstrated how to use a yarn swift to wind a hank of yarn into a ball. While she owns sheep and creates her own yarn, a large part of her time is spent processing fiber for others. Though most customers ask her to process standard animal fibers such as wool or alpaca, Wattum has processed dog fur and even grizzly bear fur.
"We did the grizzly bear this last spring, and that's like spinning grossness," Wattum said, noting the fur is course and not very nice smelling. "We had to layer it on merino so it wouldn't fall out of the machine. It was a novelty!"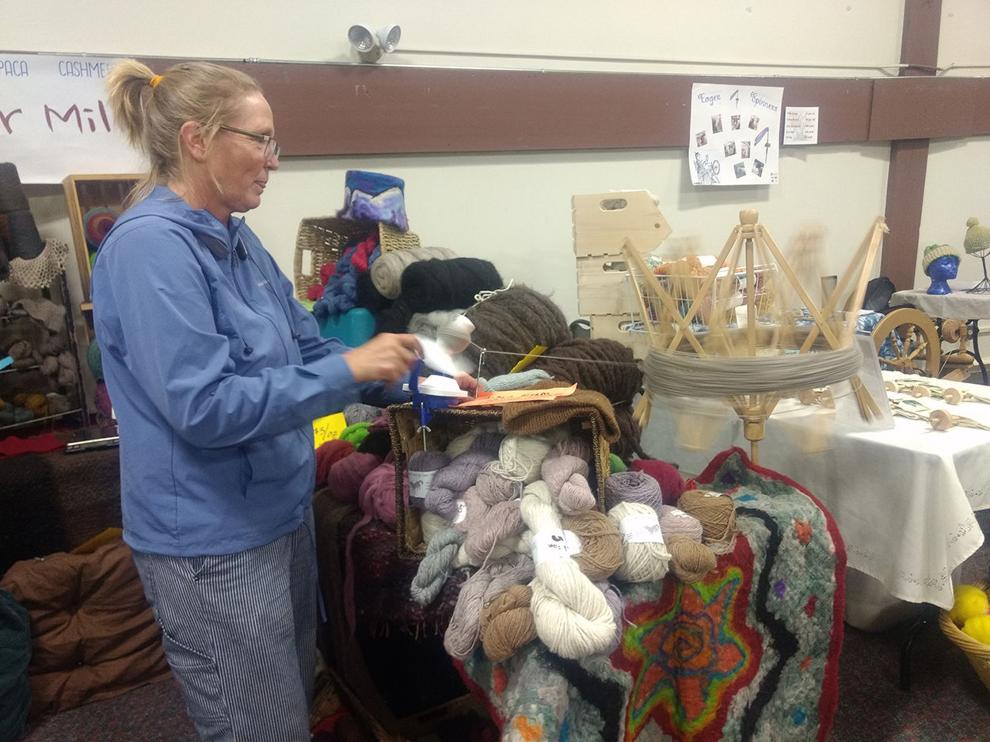 Wattum said the difference between natural fiber products made by Alaska artisans and the synthetic fibers found in craft shops is huge. 
"This came from Kenai, Alaska, and I added Suzie, who is from my farm" Wattum said as she picked up a skein of chunky, dark green yarn. "This came from a farm in Delta," she said, pointing to another skein. "The yarn has history and a story, so it already has value before you even start knitting. So when you make something, it's going to be that much more important, because you put your history onto something that already had its own."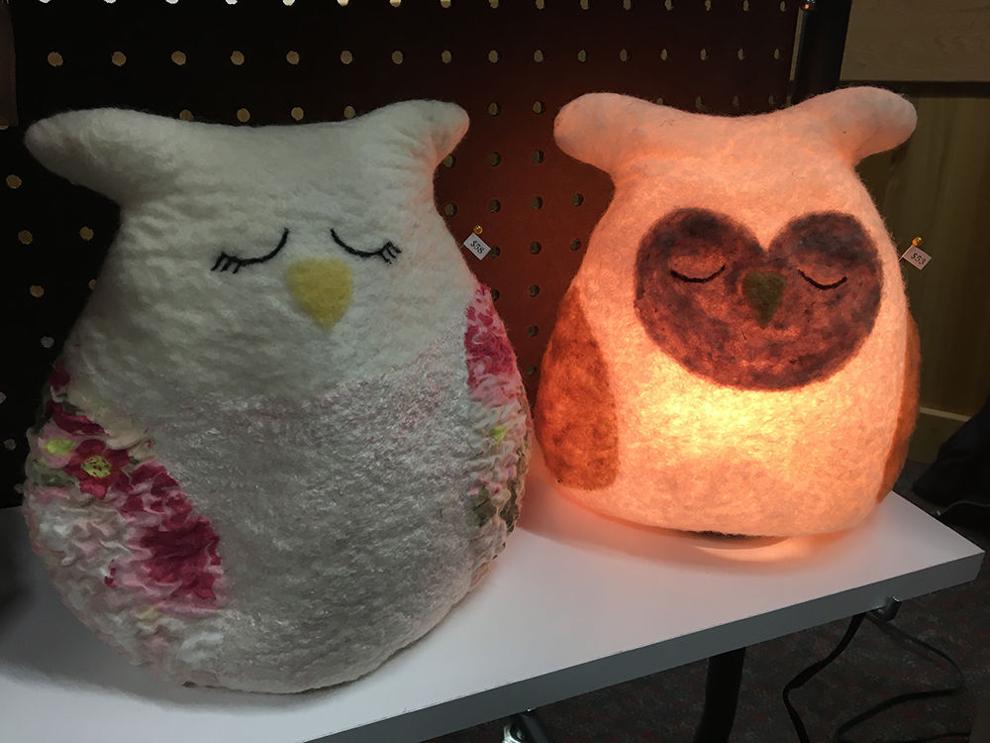 The fiber festival will continue from 10 a.m. to 4 p.m. today. Workshops include inkle loom weaving, drop spindling, lucet and kumihimo cord making and wet felting slipper making. 
Contact staff writer Dorothy Chomicz at 459-7582. Follow her on Twitter: @FDNMcrime.