Every year, fallen heroes are honored in a special gathering at the Trooper Gabe Rich and Trooper Scott Johnson Memorial Park in North Pole. But this year, the coronavirus makes that impossible.
So the North Pole Police Department just released a special video that will allow the Fallen Heroes ceremony to take place virtually.
The video was compiled by North Pole Police Department's evidence custodian Rachel Wing, following a suggestion by North Pole City Council member Aino Welch. The police department shared the video this week.
"Since we had to cancel the ceremony, we felt we wanted to keep the memories alive," said North Pole Chief Steve Dutra.
Watch the video here: https://bit.ly/3ghaRl6.
The memorial park honors borough residents who lost their lives while performing official duties, serving their country, state or municipality.
Last year, Fairbanks North Star Borough Mayor Bryce Ward declared July 27 Fallen Heroes Day, in a proclamation that was also signed by Fairbanks City Mayor Jim Matherly and North Pole Mayor Michael Welch.
"This day provides an opportunity for all citizens of the Fairbanks North Star Borough to take time to show respect and appreciation for the brave men and women who risked their lives each day when they report to work," the proclamation states.
The name of each honoree is placed on a plaque and attached to the wall, along with the date of death (known as End of Watch). The plaque also includes a QR code. A smartphone held up to that code can download the biography of the honoree.
Photo of the Week
A photo by Sgt. Jed Smith of the North Pole Police Department was selected as Photo of the Week for PoliceOne.com, an online resource and information center for law enforcement.
He took the photo at sunrise at 3 a.m. at Chena Lakes Recreation Area in North Pole.
Special Birthday
Another story about North Pole police officers who made a little boy very happy on his birthday, has been shared on the National Police Association website.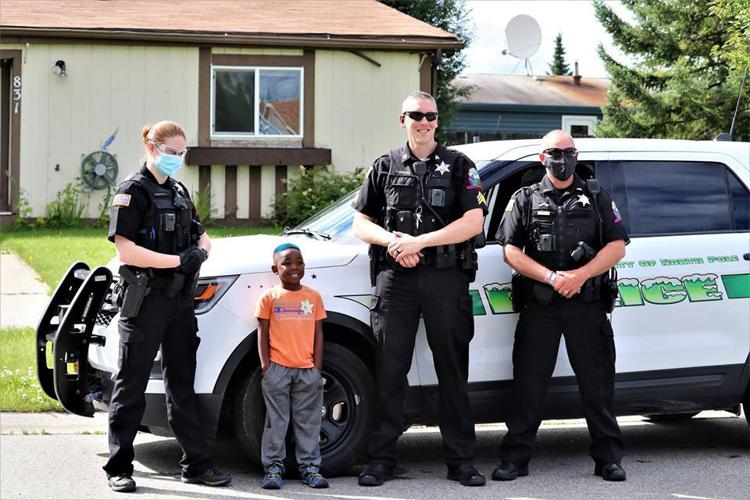 This is the story of 6-year-old Daniel, who adores police officers and firefighters. His mom reached out to local officers in hopes they could make his birthday extra special.
"I know of no cop Anywhere, USA who would decline such a party possibilty," wrote author Stephen Owsinksi.
When police officers arrived in their patrol cars, Daniel was ecstatic, according to Lt. Jeromey Lindhag. The two had developed a friendship of sorts because Daniel always flagged down the police, to say hello, and then pepper the officer with questions.
This time, Daniel got to actually sit in a patrol car.
Sgt. Phil McBroom said Daniel declared, "This is so awesome."
His father, Officer James McBroom described Daniel's reaction: "When we arrived, he was so excited he couldn't stand still. So he took off running as fast as he could, stopping only long enough to jump as high as he could three or four times."
Daniel's mom shared that the 6-year-old wants to be an Alaska State Trooper when he grows up.