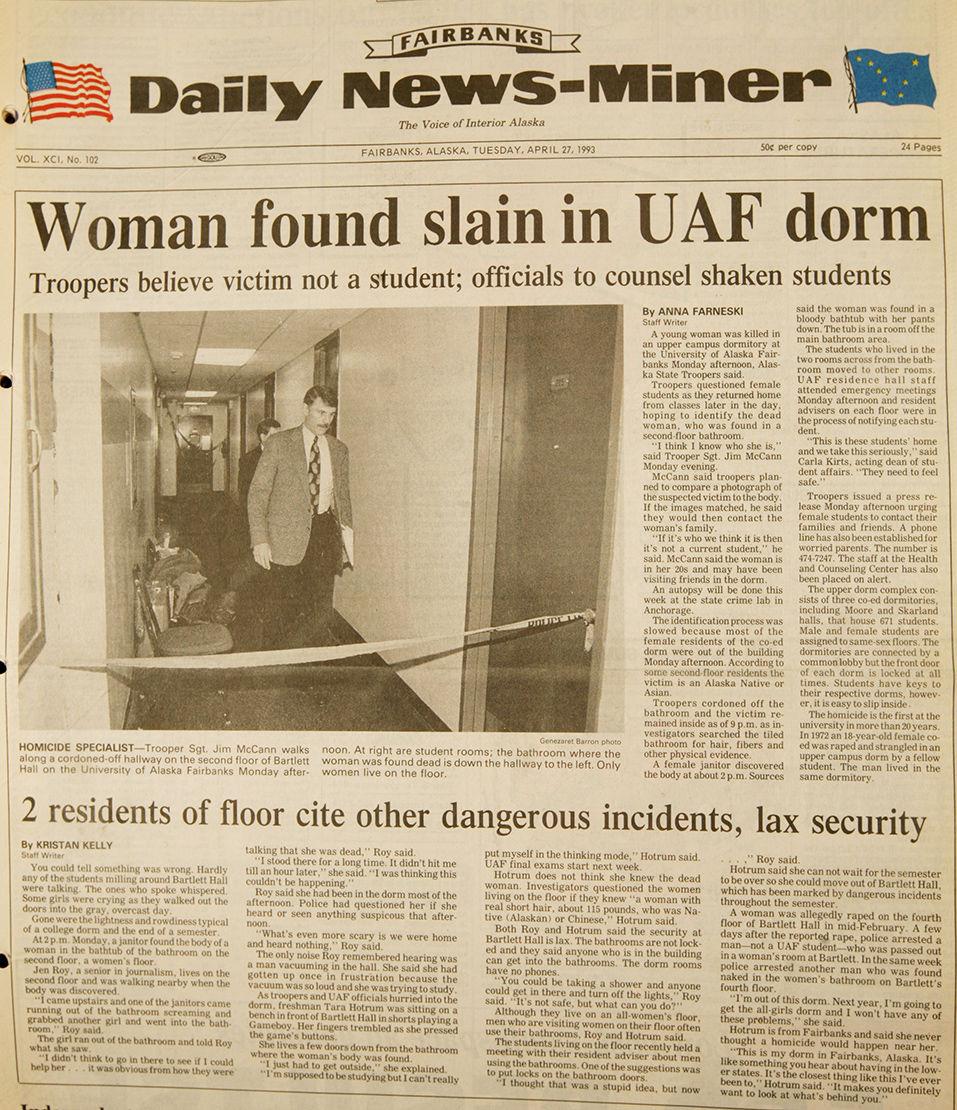 FAIRBANKS - Timeline constructed from Alaska State Trooper information and Daily News-Miner files.
1993
• April 24: Sophie Sergie, a 20-year-old from Pitkas Point, flew into Fairbanks on Saturday for a dental appointment.
• April 25: She does errands, meets up with friends for a movie, and then is dropped off at Bartlett Hall at UAF.
• April 26: She is last seen around midnight Monday when she left the dorm to smoke a cigarette.
• April 26: Sergie is found dead in a bathtub in a second-floor bathroom around 2 p.m. by janitors who came to clean. She was likely killed in the early morning hours of April 26, based on autopsy information.
• Case responsibility is transferred to Alaska State Troopers early in the investigation.
• April 28: Troopers make positive identification of Sophie Sergie as the woman found dead on campus.
• April 30: UAF community gathers to remember and mourn Sergie.
• May 7: A $20,000 reward is offered but has an expiration.
• July 8: No killer has yet been identified.
• Oct. 6: A proposal is made to name a new campus building after Sergie but the idea is voted down by students on Oct. 14.
• April 26: The case remains unsolved at the one-year anniversary of Sergie's death.
1995
• April 15: The deadline for the $20,000 reward passes almost two years after the killing.
• April 27: Sergie's mother sues the university, alleging lax security.
1996
• Dec. 24: University officials meet with Sergie's mother to discuss a lawsuit settlement.
1997
• June 1: Sergie's case is still unsolved four years after hear death. The case eventually went cold but investigators continued to revisit it over the years as advances in technology occurred and as viable leads turned up.
2000
• DNA evidence is entered into a law enforcement computer analysis system.
2002
• Trooper Cold Case Unit is created. Sergie's case is among the first cases reviewed.
2003 to mid-2009
• No new leads were developed.
• April 2009: Cold case investigators put out information to the public reminding them of Sergie's case and encouraging anyone who was at Bartlett Hall or one of the other halls at UAF that weekend to contact them. Tips came in, which investigators tracked and worked.
2015
• Cold Case Unit is defunded.
2017
April: A Cold Case Unit investigator is rehired. Sergie's case is among the files that immediate work started on.
2018
• April 25: A day before the 25th anniversary of Sergie's death, the Golden State Killer is arrested after investigators used genetic genealogy to help them identify the serial killer. A trooper cold case investigator began researching the method to see if it was plausible to use in any of the cold cases he was working. He identified Sergie's case as a good candidate for submission to Parabon Nanolabs.
• June: Parabon Nanolabs is contacted and the unknown DNA profile in Sergie's case was sent out for genetic genealogy the following month.
• Oct: 10, 2018, Parabon Nanolabs contacted the CCU Investigator announcing it had a very high probability of identifying the unknown DNA sample.
• Oct. 18: The cold case investigator received identifying information for the unknown DNA sample. Steven H. Downs is identified as the suspect. He is found to be alive and living in Auburn, Maine. The cold case investigator reached out to Maine authorities to request their assistance. The Investigation determined that Downs was a student at UAF and lived in Bartlett Hall when Sergie was killed.
2019
• Feb. 11: A cold case investigator and another state investigator fly down to Maine for investigation and to contact Downs.
• Feb. 14: DNA is collected from Downs. It is matches DNA evidence taken from the scene in 1993.
• Feb. 15: Downs is arrested in Auburn, Maine.