COLONY GLACIER — Colony Glacier is only an 18-minute helicopter ride from Joint Base Elmendorf-Richardson in Anchorage, but it seems a million miles away, a land locked in ice and clouds, holding onto its secrets.
It's quiet, windy and gray on the glacier on this first day of summer, a damp 40 degrees. Black and brown rocks of all shapes and sizes contrast with glacier blues and clear streams to form a landscape almost Martian in nature.
Once the Army Black Hawk helicopter leaves, the only sounds are crampons crunching ice and the distant ping-ping-ping of ice picks and trowels used by soldiers and airmen from across the state who have volunteered for a solemn mission — Operation Colony Glacier. They are searching for the remains of passengers of a military transport aircraft, a Douglas C-124 Globemaster II, that crashed Nov. 22, 1952, into Mount Gannett, about 50 miles from Anchorage, in the Chugach Range. All 52 people on the plane — the pilots and crew, and soldiers, airmen, one seaman and one Marine — died.
For servicemen, this is considered sacred ground. It contains the remains of their brethren, many of whom have been recovered and returned to their families. There are still passengers to be found, though. The work is painstaking and slow, often impeded by weather. Since the wreckage was located five years ago, the search continues each June to find fallen brothers and bring them home before the fast-moving glacier forever hides its contents.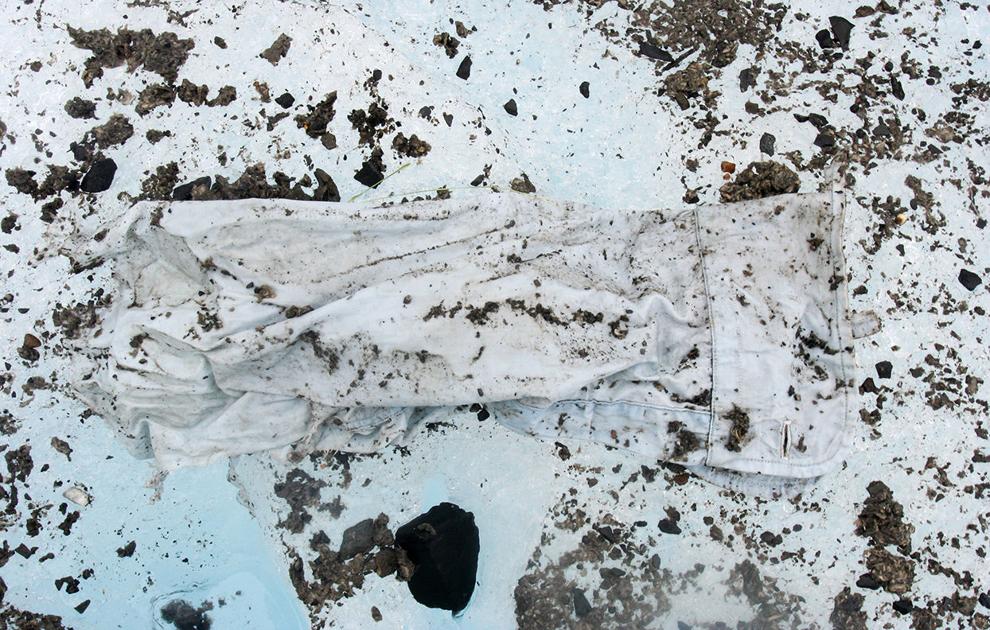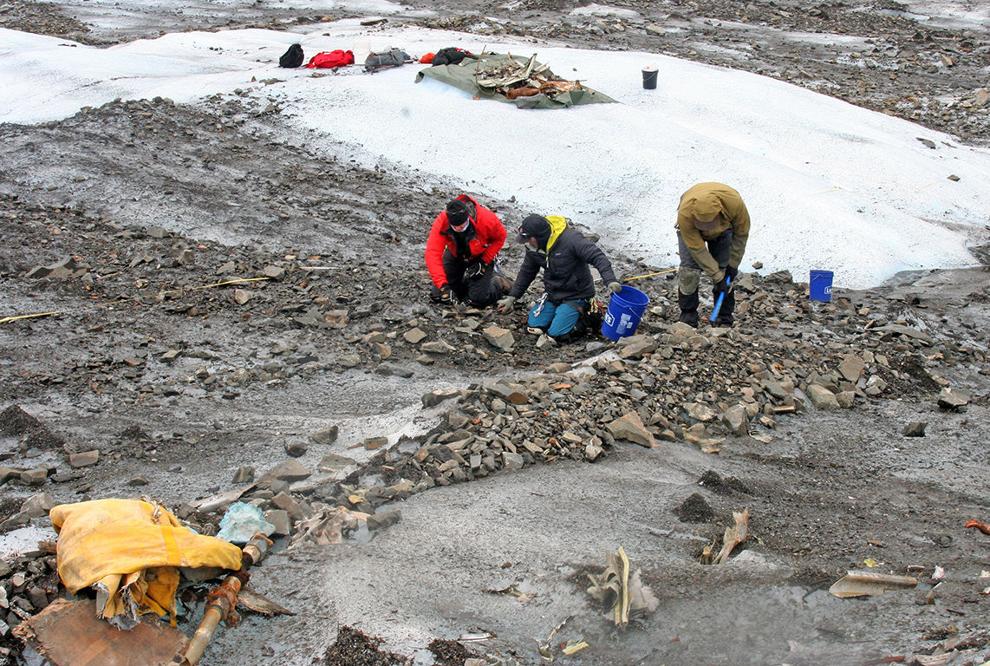 On June 10, 2012, an Alaska Air National Guard crew flying a training exercise over Colony Glacier spotted what later turned out to be wreckage from the 1952 crash.
The Globemaster II crashed into Mount Gannett during severe weather en route from McChord Air Force Base in Tacoma, Washington, to Elmendorf. 
Harsh weather prohibited search and rescue attempts for three days after the incident. Terris Moore, the second president of the University of Alaska and a member of the Fairbanks Civil Air Patrol, participated in initial rescue attempts as he was able to pilot his own plane to the glacier. 
He was one of the first to find the wreckage, according to an Associated Press report from 1952, telling reporters at the time the plane likely was flying full speed when it struck the mountain and exploded, scattering debris across several acres. Moore noted he found blood on a blanket and described the air as filled with the "sickly-sweet smell of death."
Rescue efforts were bleak, however, as severe weather limited recovery attempts. Coupled with winter weather, falling snow and avalanches triggered by the crash, search and rescue teams pulled out, and the glacier eventually consumed the plane and passengers — until June 2012, when the Air National Guard crew spotted debris on Colony Glacier, reigniting recovery attempts.
Now, for one month each summer since, military members from across Alaska volunteer to catalog remains and excavate the glacier. June provides optimal weather for the mission; there is enough melt that buried items can be found easier than in July and August, which might be too dangerous because crevasses are larger and the glacier might be too unstable to land on and search. On the first day of summer in 2017, a team of Stryker Brigade soldiers from Fort Wainwright were on the glacier on hands and knees, slowly sifting through icy rubble.
Operation Colony Glacier is under the watch of Lt. Gen. Ken Wilsbach, commander of the Alaskan North American Aerospace Defense Command Region. He oversees the entirety of the mission. 
"We certainly have a personal stake in it. These are our fellow airmen," Wilsbach said, adding, "This is hallowed ground."
A no-fly zone is in place over the glacier from May to October to limit sightseers and the morbidly curious. Last summer, the military volunteers encountered a reality TV crew that landed at the base of the glacier wanting to film, but they were able to convince them otherwise.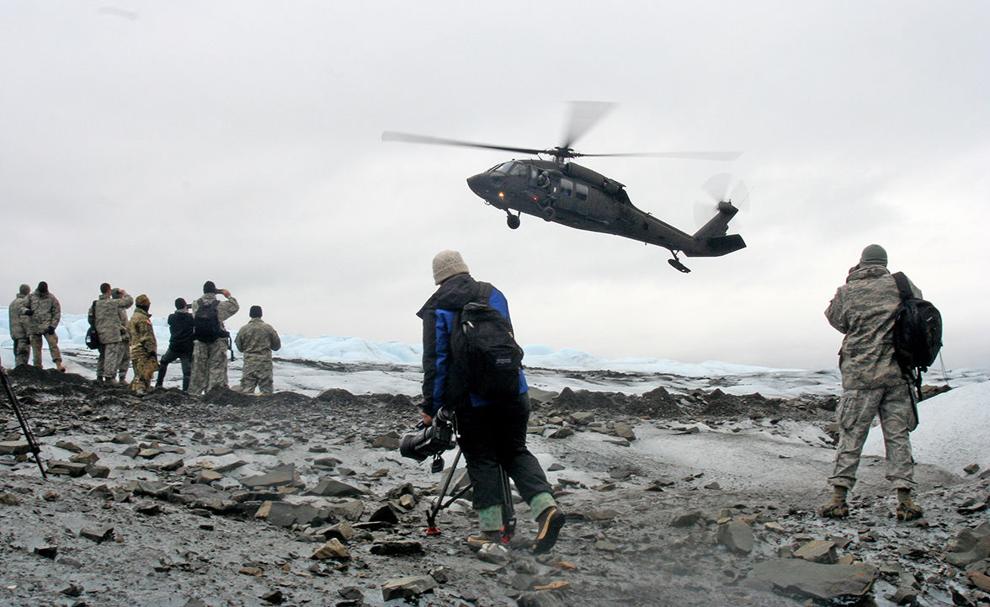 On any given day, there can be nine to 20 servicemen on the glacier cataloging and searching squared-off areas, a sort of glacial grid cordoned off by bright yellow measuring tape. Rocks with spray-painted markings hold the yellow tape against the black gravel and blue ice. The grid-like measurements allow crews to know which areas have been searched or which areas to move to next. Volunteers are on the ice Monday through Saturday for about seven to eight hours per day, unless the weather becomes too harsh.
Efforts on the ice are led by Capt. Victoria Martinez, with the mortuary affairs division of Dover Air Force Base in Dover, Delaware. She oversees day-to-day recovery and comes in contact with any remains the team finds, be they human or airplane. 
Evidence of the flight is plenty on the glacier. Twisted metal in large and small pieces litters the area. Crews have taken measures to make sure no human remains will be seen or photographed by media visiting the glacier, and they acknowledge they have recovered some remains on this summer's mission. Those remains will be sent to Dover, where they will be DNA tested to determine who the deceased is so families can be identified and funeral arrangements made.
In addition to remains of passengers, the team has recovered some wooden dominoes and hockey pucks this summer and located a large section of wreckage higher on the glacier. In past years, they've found buttons, luggage, undeveloped camera film and personal effects of the passengers. 
It's a race, though. Glaciers constantly move and melt, churning up and swallowing debris. Colony Glacier is slowly moving toward Lake George, located at the glacier's base. The search area is about 13 miles from the initial crash site on Mount Gannett and about 2,000 yards from Lake George. The fear is the wreckage and remains from the crash eventually will end up at the bottom of the lake as the glacier chugs along.
"There is a sense of emergency to find remains," Martinez said.
Martinez reiterated the mission is not about the volunteers but about finding those who perished and bringing closure to their families. She attended a service at Arlington National Cemetery for one of the pilots, where she said she saw the family's grief firsthand.
"It's not about us," she said. "It's about them."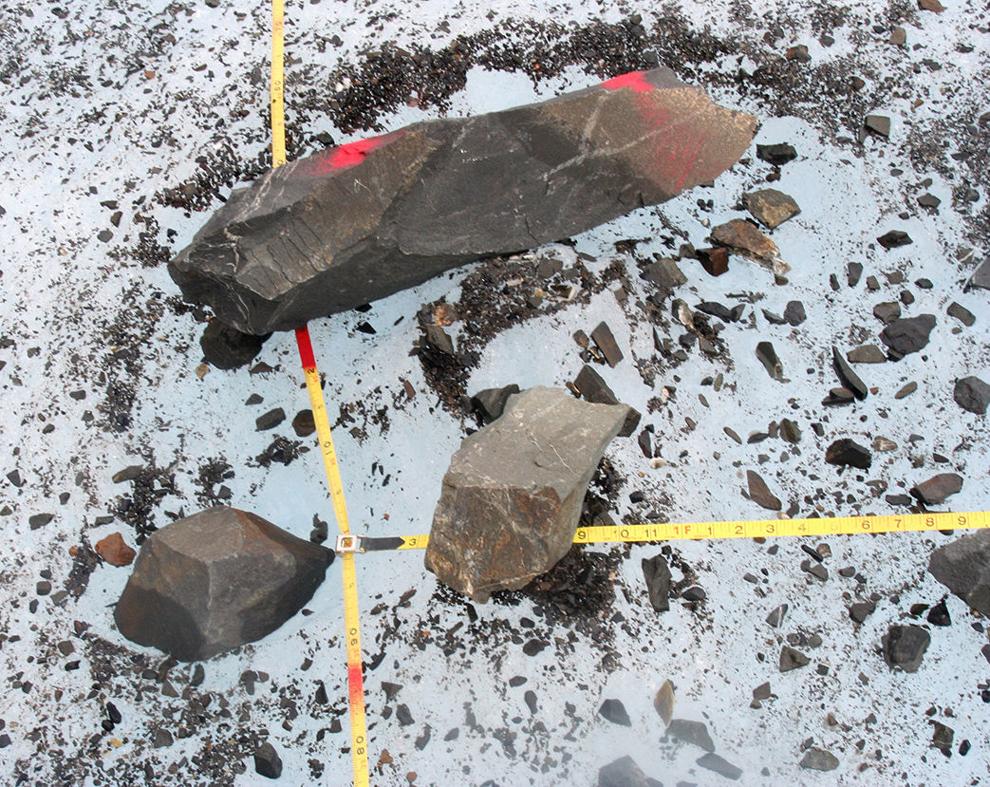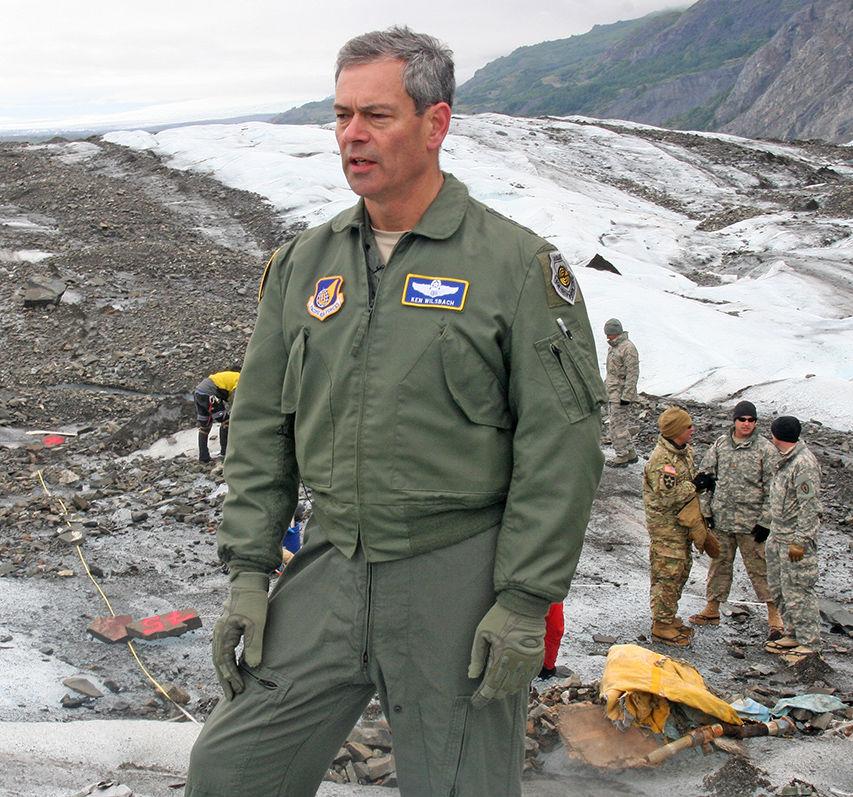 Allen Cronin is chief of past conflicts with the Air Force Mortuary Affairs Division out of Dover. A civilian and mortician by trade, Cronin's division is the one that retrieves remains of the fallen from past conflict zones, such as Vietnam or Laos, or from a tragedy, such as the Mount Gannett crash. He has been involved with Operation Colony Glacier since 2012. It was his job to collect DNA samples from families that hopefully will be matched with remains found on the glacier.
Once the remains are flown from Joint Base Elmendorf-Richardson, they are identified at Dover Air Force Base. It's a long process, taking about six months for medical examiners to match DNA to family members, Cronin said. Thirty-seven of 52 passengers have been identified, leaving 15 unaccounted. 
When an identification is made, Cronin's office alerts the family. The job is an honor, Cronin said, but a rough one.
"Sometimes it's a double-edged sword. You open up the emotional times of that loss," he said.
When the remains travel to Dover, they are given a full military escort. All of the servicemen are extended military funerals, some of which Cronin is able to attend, but it never gets any easier, he said.
"I'm honored to do this," he said on the glacier amid some wreckage. "To be part of this is amazing."
Contact Features Editor Gary Black at 459-7504 or on Twitter: @FDNMfeatures.