FAIRBANKS - On Thursday evening, travelers in west Fairbanks briefly shared the road with a 4-ton, 12-foot-tall mastodon as it was moved from its home at 4545 Wood River Drive, where it had stood as a landmark since 2004, to a new location on Fox Avenue.
The mastodon was the brainchild of Donald J. May, Sr., according to his daughter Debbie Tilsworth. As Tilsworth tells it, her dad and mom, Ruth, saw a National Geographic television program about a frozen mastodon that was unearthed in Russia while they were vacationing in Hawaii.
"I could make one of those things," Donald told Ruth. Ruth didn't reply, hoping the idea would go away, when they returned to Fairbanks, but it didn't.
Tilsworth said her dad, the founder of Polar Mining and a "restless engineer," wasn't one to sit around in retirement. He spent three years building the mastodon from scratch. The frame, which he assembled in pieces, has steel ribs, is covered with patches of carpet and coated with liquid fiberglass. The mastodon's feet are embedded in a concrete slab.
When her dad unveiled the mastodon in the front yard in 2004, Tilsworth's mom had to be coaxed to stand in a family photo next to it.
Donald May died in October 2017. Several people approached Ruth May about acquiring the creature, which surprised her, Tilsworth said. The family liked a proposal from Mark and Angel Knapp, who own The Edge of the Arctic, who offered to move the mastodon to their business on Fox Avenue and keep it in trust for future generations of the May family.
"We've known Debbie for a long time," Mark Knapp said, adding that the family wanted to move the mastodon so they could sell the house. Knapp is a master craftsman who won The History Channel's "Forged in Fire" competition in 2017. "We do a lot of things with mammoth ivory. We restore mammoth tusks. We sell a lot of old things in our store. It seemed like a good place for it."
With help from Ray Lewis of Great Northwest Landscaping and Bobby Wilken of HooDoo Brewery, the Knapps started digging out the mastodon ("technically it's a mammoth," Knapp said) about 5 p.m. Knapp said it weighs at least 8,000 pounds and the heavy-duty loader struggled to lift it. Once it was loaded, the mastodon traveled slowly down Geist Road to the Johansen Expressway before arriving at its resting spot between Florcraft and HooDoo Brewery.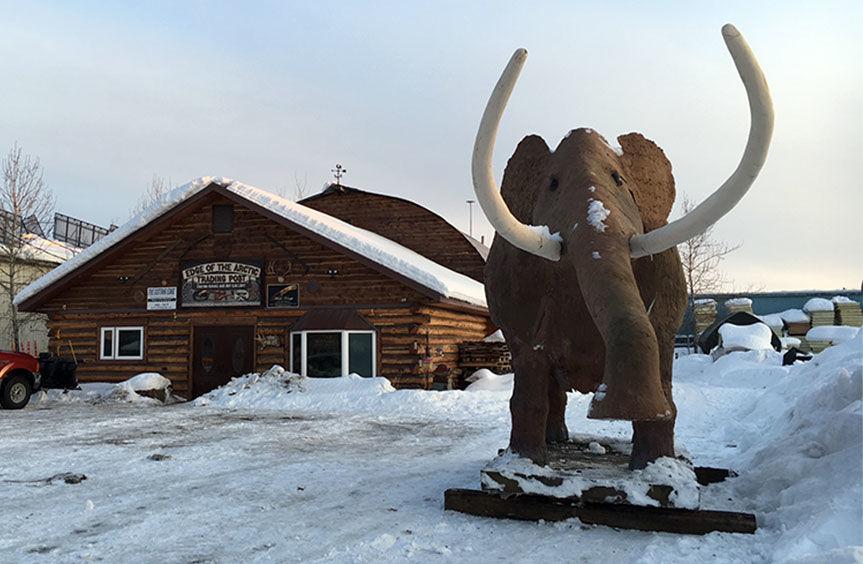 "Lots of people were slowing down and taking pictures," Knapp said. "We'd watch people's reactions when they'd go by in front of our building. They'd come to a screeching halt —'did I see what I thought I just saw.'" It was fun."
Knapp said he needs to patch up a few spots on the mastodon and build a flower bed for it in the spring, but doesn't have any other plans than to take good care of it.
"We think this would please Dad enormously," Tilsworth said in an email. "He put so much of himself in that mastodon. ... For our family, that mastodon is Dad. In the future, a new generation of the family will undoubtedly find a home for it. We know Mark and Angel will take good care of it in the meantime."