Sports, regardless of the level, aren't being played these days because of the novel coronavirus pandemic.
However, athletes train mentally and physically, albeit in solitude because of social-distancing restrictions due to the pandemic.
Coaches stay in touch by phone or digitally with athletes and make plans for when the competitions return.
Kendall Kramer, Greg Sparling, Quinn McHenry and Colten Growden are among those in the Interior who train and plan amid an unprecedented break.
Kramer is a West Valley High School senior and member of Team USA's Nordic Ski Team Development Team. Sparling recently completed his second season as head coach of the University of Alaska Fairbanks men's basketball team. McHenry is a junior forward for the Monroe Catholic High School boys basketball team and Growden also just ended his second season as the head coach of the West Valley High School boys basketball team.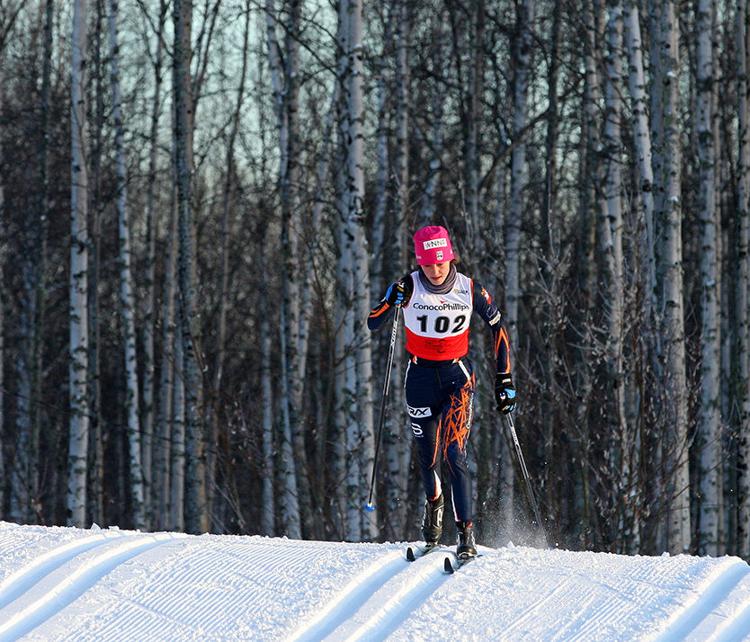 Kramer
Kendall Kramer has plenty of options in the Fairbanks area when it comes to Nordic ski training.
A few of the options are even new to the West Valley standout, who swept the Region VI girls individual championship and won three girls Skimeister (individual champion) at the state high school meet during her career.
"I just can go outside, like to Birch Hill (Recreation Area)," Kramer said by phone Saturday.
"I having a lot of fun discovering all of the trails that are available in the springtime. I don't usually get to ski the White Mountains (National Recreation Area) or Creamer's Field.
She added, "Luckily, mine (training) is outside rather than in an indoor space, which is dangerous right now (because of the coronavirus).
"I know if you're a basketball player or a soccer player, you're kind of out of luck right now."
Health officials in Alaska and worldwide have encouraged social distancing and avoiding indoor events with large crowds among ways to combat the coronavirus.
Kramer, a silver medalist at this year's World Junior Championships (women's 4x3.3-kilometer relay) and U.S. Junior Naitonal Championships (under-age 18 women's 1.3K free-technique sprint) has emphasized technique during the solitary workouts on the ski trails.
"The fitness is there but I always have to work on technique because I'm not the most natural skier," she said.
"It's not really easy to do when you're skiing alone because you're not thinking about who's with you (as in a race) or trying to keep up a certain pace.You can just think about your own technique."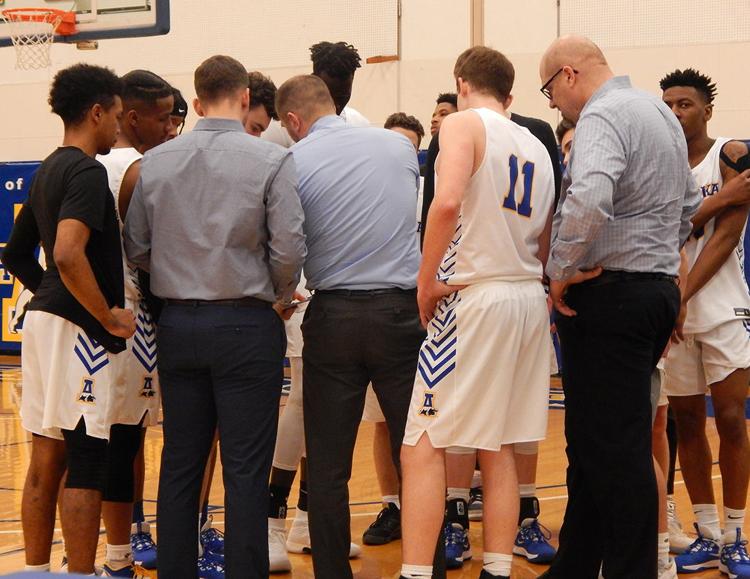 Sparling
The University of Alaska Fairbanks men's basketball season came to an end March 6, after falling 76-64 to Western Washington in the semifinal round of the Great Northwest Athletic Conference tournament.
However, even if the Nanooks had gone on to win the GNAC Championship and earn a berth in the NCAA Division II West Regional Championship, their postseason run would have been halted six days later.
On March 12, the coronavirus stopped the sports world, as nearly every active professional league suspended play indefinitely and the NCAA canceled all remaining winter and spring championships, including the men's and women's basketball tournaments.
That same day, UAF leaders announced that in-person classes would be moved online with the exception of hands-on labs and courses that require in-person interaction. They also urged as many students as possible to leave the residence halls.
Although the Nanooks were unaffected, in that they completed their athletic season in full, the impact of COVID-19 is making its mark.
"I think a lot of guys just feel there are a lot of unknowns. Especially the guys that have classroom classes, they're nervous" said UAF head men's basketball coach Greg Sparling over the phone on Thursday.
While many of his athletes still have questions as to how they will finish classes remotely, Sparling has a long list of questions as well.
"Is campus going to open back up? What's the NCAA going to allow us to do? What's the United States of America going to allow us to do?" he said, listing off a few concerns.
But the Nanooks are still pushing forward with their offseason plans as best as they can.
Since UAF urged its students to leave campus on March 12, Sparling and his staff have been working on building offseason workout plans the athletes can complete away from school. But he acknowledges there will likely be limitations.
Because California, New York, Connecticut and Illinois have already issued statewide orders for people to stay at home, it's likely players some won't have access to basketball courts, let alone gyms.
"They aren't going to be able to get basketball shots up or basketball workouts in," he said.
"They're going to have to do the workouts in their basements or wherever."
Exit interviews, normally held at the end of the season between athletes and coaches, have also been delayed and will likely have to take place via FaceTime or over the phone.
Recruiting conversations are also taking place virtually, because, as of March 13, the NCAA suspended in-person recruiting activity through at least April 15.
"It's going to be hard to get kids to commit over the phone, but we're working on it," he said.
"We're just staying in contact with a pool of 15 to 20 student-athletes and we'll just stay on them so when this thing is lifted we'll go see them face to face or potentially bring them to campus on a visit," he said.
But right now his current student-athletes are his primary concern.
"I'm thinking just trying to get my current student athletes through this semester and trying to keep them up to date and up to speed," he said. "My number one priority right now is taking care of them."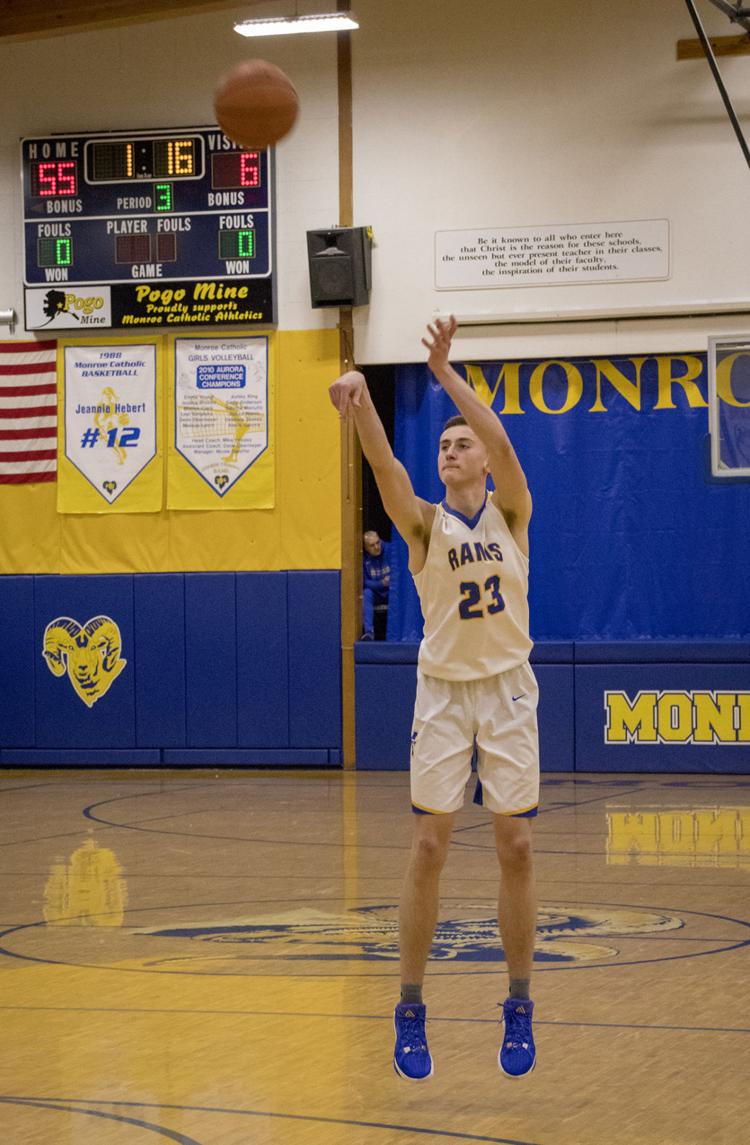 McHenry
Quinn McHenry shoveled snow Friday from the basketball court in the backyard of his home.
"It's (court) a little cement pad. … It's pretty much just big enough to fit a 3-point line in," McHenry said during a phone interview Friday.
McHenry hones his shooting skills on the small homemade court.
Earlier last week, he cleaned the garage of his family's home to create space to work on his ballhandling skills.
"I've got a big focus on getting better at ballhandling this year," he said. "It's a big difference to not work on it in our Monroe gym."
McHenry also has been lifting weights to help him stay in shape after the high school basketball season in the state and classes at schools around Alaska were canceled because of the coronavirus.
"I can't really get into a gym anywhere, because we're taking it (coronavirus) really seriously, trying not to get infected," he said.
Monroe Catholic was the No. 1 boys seed heading into the Aurora Conference Tournament, which was scheduled for March 12-14 at North Pole High School but canceled by the Fairbanks North Star Borough School District due to concerns about the coronavirus.
If McHenry and his Rams teammates had captured the title or placed second in the boys bracket of the Aurora tournament, they would have advanced to the Class 3A state tournament in Anchorage.
The state tournament, which was scheduled for this Thursday through Saturday in the Alaska Airlines Center at the University of Alaska Anchorage, was canceled by the Alaska School Activities Association because of concerns about the coronavirus.
"It was pretty surreal," McHenry said of the high school basketball season in Alaska ending early because of the coronavirus.
"It didn't really sink in at first because we were holding out hope that we would still have a state tournament, maybe delayed a couple of weeks; but when they officially canceled it, it was devastating.
"It never happened before, so I didn't really know how to react. It was really unlucky, but now we just put our focus into next year (season)."
The FNSBSD and ASAA had originally postponed their respective postseason tournaments before canceling them.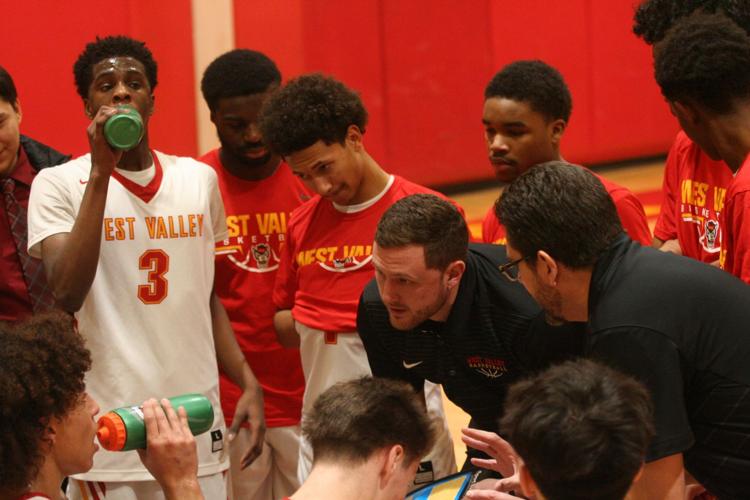 Growden
Colten Growden said he was devasted when the Alaska School Activities Association announced March 14 it was canceling the ASAA March Madness/First National Bank Alaska State Championships in Anchorage because of concerns about the coronavirus.
West Valley was the No. 1 seed in the Mid Alaska Conference Tournament and would have played in its final against the winner of a semifinal between the No. 2 seed Lathrop Malemutes and No. 3 North Pole Patriots. The MAC tournament champion would have advanced to the Class 4A state tournament in Anchorage.
The Class 4A state tournament was scheduled for this coming Thursday through Saturday at UAA's Alaska Airlines Center.
However, there was no MAC tournament, which was scheduled to take place March 13 and 14 at North Pole High School. Concerns about the coronavirus led it to be canceled by the Fairbanks North Star Borough School District.
When the ASAA March Madness/First National Bank Alaska State Championships were canceled, it signaled the end of an incomplete 2019-20 high school basketball season.
"I was devastated and my kids are devastated," Growden said in a phone interview March 15. "It's very frustrating when everything you've worked for all season long has come to a halt with a big question mark at the end: "What could have been?"
Growden had online group chats with players from the 2019-20 Wolfpack squad after the postseason basketball tournaments were canceled and Alaska Governor Mike Dunleavy canceled classes in public and private schools around the state.
On Friday, the schools cancellations were extended to May 1.
"I've just told them that at the end of the day, nobody can take away what you have done this season, Growden said. "You've had what I would guess to be the best basketball season in West Valley's history.
"We went 22-1. There is no way anyone will ever take that away from you no matter that we don't get to finish. You're forever going to remember that."
From last year's state tournament until the recent cancellations the Wolfpack boys basketball players had trained together at least three times a week. It included summer workouts with Growden.
"We had a goal in mind and our goal was to win a state championship, and those kids did everything they possibly could to make that goal come true," Growden said. "I had eight kids put up 20,000 shots with me this (2019) summer."
West Valley had seven seniors this past season.
"I get to come back next year and do it again, try to create another winning season," Growden said.
"For those kids, that was it. I have seven seniors wondering what would have been."
Growden, though, is helping the Wolfpack seniors who want to move on to college basketball.
He has been in touch with college coaches about the West Valley seniors who hope to play college basketball.
"They're hungry, they're ready to work," he said. "A lot of them have sent me messages saying, 'Hey, coach, as soon as we can get back together, I need you to help me get ready for my following season (freshman season in college).
"Just because they're not playing for me anymore doesn't mean I don't care about them and want them to be successful."
Contact News-Miner sports editor Danny Martin at 459-7586. Follow him on Twitter: @newsminersports.
Contact News-Miner sports writer Laura Stickells at 459-7530. Follow her on Twitter: @FDNMsports.