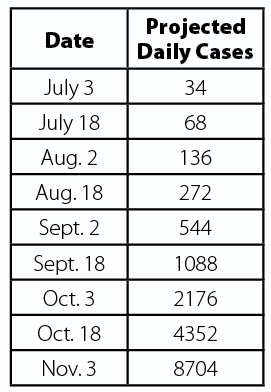 To the editor: At his COVID-19 press conference on July 7, Gov. Mike Dunleavy stated that the state of Alaska "has the best numbers in the country" and that "we are managing the virus." These claims are dubious and irrelevant. Following the governor's introduction, Dr. Anne Zink gave a tour of the state's COVID-19 website. She carefully avoided any mention of the most important piece of information — the doubling rate. This is listed on the website under projection statistics. It is the number of days required for the daily cases to double. On July 3, four days before the governor's news conference, the doubling rate was 15.34 days. The chart here shows how the epidemic will grow if public health policy and the doubling rate remain unchanged. The data, provided by the state, clearly shows the pandemic is experiencing exponential growth and is not under control. Exponential growth is insidious; it causes pandemics to grow from a small number of cases to an overwhelming tsunami, seemingly overnight.
The many people I have seen around town who fail to wear masks or social distance need to consider not only their own health and the health of their neighbors but also the health of medical workers. These people will be putting their lives at risk, in facilities unable to cope with the onslaught of new cases, caring for people who have thoughtlessly allowed themselves to become infected.
We are all required, by law, to wear clothing in public. Requiring people to wear one small additional piece of clothing to cover their mouths and noses to prevent the spread of a deadly disease does not infringe on anyone's rights. Our state and national leaders need to treat the pandemic as a public health crisis, not as a personal political problem.
It is time for the governor to institute, and enforce, stronger mandates for social distancing and mask wearing.