9:25 a.m. Friday update: A community meeting about the Shovel Creek Fire is scheduled for 6 p.m. today at the Ken Kunkel Community Center, 2656 Goldstream Road. Incident Commander Rob Allen, as well as other speakers, will be giving an update on the fire, the weather forecast and evacuation changes. A question and answer session will be included.
The meeting will be livestreamed at the Fairbanks North Star Borough Emergency Operations Facebook page.Wildfire officials raised the evacuation alert level for the Vancouver neighborhood off Murphy Dome Road to Level 2 Thursday afternoon, meaning residents should be prepared to leave their homes quickly when told to do so.
---
Shovel Creek Fire residents can find their subdivision here: http://fnsb.us/eo/Pages/EM.aspx
---
The fire is about 4 miles from the Lincoln, Murphy and Vancouver neighborhoods.  The evacuation level was elevated in case the fire status changes.
Five additional neighborhoods were put under a Level 1 evacuation notice, for residents to be ready and aware of a potential evacuation.  The neighborhoods Drouin, Hardluck, Moose Mountain, Coyote Jones and Hattie Creek all received notices just after 5 p.m. Thursday.
The Shovel Creek Fire, near Murphy Dome, remains at just over 10,000 acres, but hot and dry conditions are expected to return soon and increase that fire and others burning in the Interior.
Under Level 2, residents are asked to prepare a seven-day kit with the "Six Ps" in mind: people, pets, pills, photos, personal computers, and important papers.
Kale Casey, spokesman with the Pacific Northwest Team 2 Type 1 Incident Management Team, emphasized readiness for subdivisions affected by the fire.
"A lot of this is readiness," he said. "Readiness is key."
There will likely be an increase in acreage covered, according to Casey, as crews are readying to engage in strategic firing operations on Friday.
"There will be smoke," he said.
Borough Mayor Bryce Ward declared a disaster emergency in response to the lightning-caused fire on Wednesday, and structure protection continues in areas surrounding Murphy Dome.
"Structure protection has been the focus of the past three days' full shifts and we've been ramping up resources," Casey said.
Areas northwest, west and south of the fire are being actively mopped up, while to the east, crews have been working to develop indirect fire lines.
Just over 700 people are working on the fire, which is 8 percent contained according to Casey. Residents of the Martin and Perfect Perch subdivisions were given notice to evacuate just after midnight Monday.
An evacuation shelter for residents evacuating the Murphy Dome area has been set up at Randy Smith Middle School, with a temporary pet shelter at Tanana Valley Fairgrounds.
Fire activity expected to increase
Wildfires are expected to have continuing activity statewide, given the forecast of higher temperatures and dry weather.
"With this kind of weather we anticipate not only new starts, but more growth on the fires that we have going," said Tim Mowry, spokesman for the Alaska Division of Forestry.
It's fortunate there have not been many more new starts, Mowry said, given the hot and dry conditions.
"We appreciate the public's diligence in trying to reduce that," he added.
Firework suspensions and burn bans remained in place over Fourth of July. Meanwhile, fire crews have been traveling up from the Lower 48 and traveling back as new crews come in.
"So we're not necessarily building capacity, we're just sort of maintaining at this point," Mowry said.
A few new fires sprung up over the last few days, including the Montana Creek Fire near Talkeetna and the M.L.K. Fire in Anchorage.
The M.L.K. Fire is still being investigated for a cause, according to Mowry. It was reported July 2, with forestry personnel moving to address it.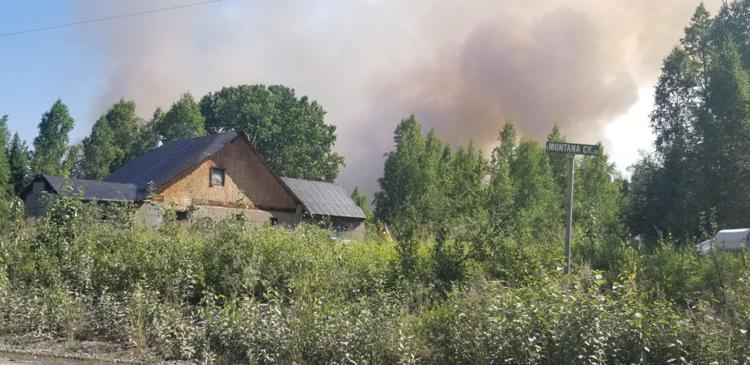 Firefighters worked overnight into Thursday to keep the flames of the Montana Creek Fire at bay.
"It's holding at 250 acres, they've got retardant on around 90 percent of it, and they've got about 60 firefighters on the ground," Mowry said.
Residents in the Montana Creek area are under a "Level 2: Set" evacuation notice, an alert to be prepared to leave at a moment's notice, as of Thursday afternoon, when wind shifted the direction of the blaze.
Elsewhere in the Interior
The Caribou Creek Fire, a lightning-caused fire that began in Two Rivers on June 16, saw minimal activity over Wednesday and is 75 percent contained as of Thursday morning, according to the Alaska Division of Forestry.
There are 107 firefighters working on the Caribou Creek Fire, with helicopters stationed in Two Rivers to shuttle crews and supplies to and from the fire.
In Denali National Park and Preserve, the Foraker Fire has been burning since June 26 and, with recent rain showers, fell to 9,894 acres. The lightning-caused fire was the first detected this year in the park. With hot weather predicted over the weekend, fire activity and smoke are anticipated to increase.
Burning southeast of Tok, the Boundary River Fire saw firefighters hosing down 2 miles of land in an effort to protect Alaska Native allotments close to the fire, which started on June 23, the result of lightning.
The fire is burning across 14,187 acres. Structure protection efforts continued in the area on Thursday, with fire managers developing an evacuation plan for Northway, should the need arise for the village 9 miles northeast of the fire.
The Hess Creek Fire, mapped at 98,400 acres as of Thursday, is still burning near Livengood. The Bureau of Land Management issued an advisory regarding the White Mountains National Recreation Area on Wednesday, warning people to use caution if traveling in the area, as the fire is expected to grow.
The fire is being managed by 60 personnel. The Type 3 Incident Management Team is continuing structure protection in the area.
"We're making great progress with the structure protection. They have finished almost all of the initial structures identified to be protected, and now they are continuing to broaden that perimeter," said Sierra Hellstrom, a Bureau of Land Management spokeswoman.
The fire is not currently contained, according to Hellstrom, and another crew of 10 personnel will be traveling to Livengood on Friday to aid in structure protection efforts.
Hellstrom reminded residents of the area to be careful.
"One thing we want to emphasize is with the Fourth of July holiday weekend, is to remind recreationists that there is a fire in the area, just to take extreme caution," Hellstrom said.
Contact staff writer Kyrie Long at 459-7510. Follow her on Twitter at: twitter.com/FDNMlocal