Updated 2 p.m.: The Shovel Creek fire north of Murphy Dome has grown to an estimated 400 acres as of Saturday morning, according to the Alaska Division of Forestry.
Residents should be aware of fire activity, fire personnel and aircraft in the area. A temporary flight restriction is in place so that the area can be clear for firefighting aircraft.
Anyone interested in hiring out equipment for the firefighting effort can find process information at http://forestry.alaska.gov/equipment.
---
Updated 9:45 a.m.: A Red Flag warning has been issued for Fairbanks and the surrounding area from noon until midnight today. Strong thunderstorms with lightning are expected this afternoon, especially southeast of Fairbanks. Temperatures are expected to be in the mid-80s, with low humidity, and new wildfires are expected from the lightning, according to the National Weather Service.
---
A wildfire 3 miles north of Murphy Dome and 2.5 miles south of the Chatanika River has quickly grown to 200 acres and is threatening several cabins along the river.
The fire is one of several that erupted amid hot and dry weather, along with lightning, that has arrived around Interior Alaska in recent days.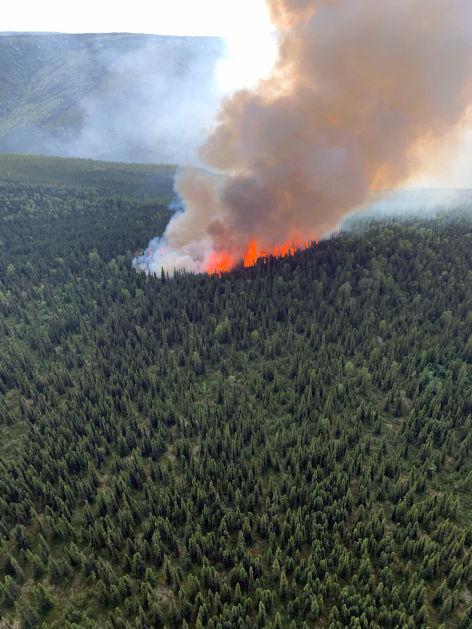 The Shovel Creek Fire north of Murphy Dome was reported at 5:20 p.m. Friday, according to the Alaska Division of Forestry. It is burning in black spruce and moving rapidly toward cabins along the Chatanika River.
"Air tankers have dropped four loads of retardant to try and box the fire in and it seems to be holding against the fire," an 8:15 p.m. update from the Division of Forestry reads. "Winds out of the north are blowing the fire down into the valley."
"There is another small 1-2 acre fire that smokejumpers are working to extinguish with help from helicopter water drops," the update reads.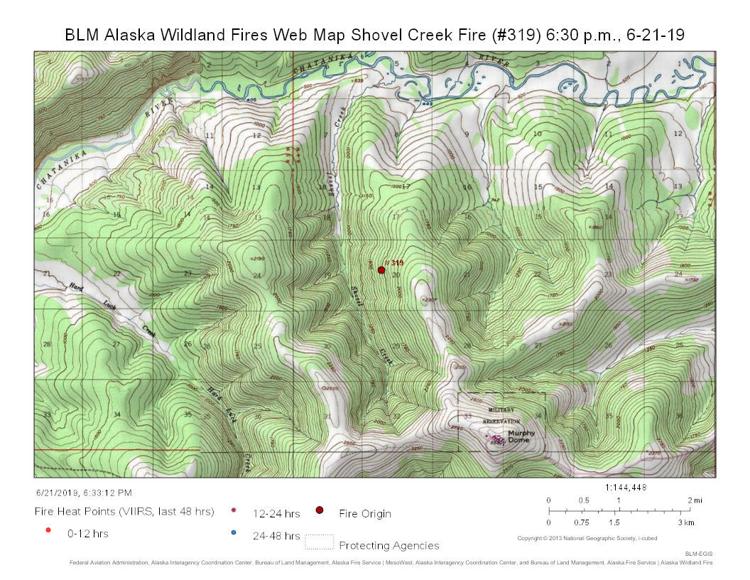 Eight smokejumpers have been deployed and an air tanker is dropping retardant. Another air tanker, along with helicopters and water-scooping aircraft have been ordered, along with two bulldozers. An Alaska Type 2 incident management team has been ordered to oversee the battle.
Elsewhere, the Alaska Division of Forestry reports that a fire is burning at about Mile 30 Chena Hot Springs Road and about 2 miles south of the road on the south side of the Chena River and east of the south fork of the river. The Nugget Creek Fire is about 150 acres, according to division spokesman Tim Mowry.
The fire is burning in a limited suppression area in the Chena River State Recreation Area and is not being fought at this time because of other fire activity in the region, Mowry said, adding that the fire did not appear to be threatening anything.
Far to the north of Fairbanks, a 1,000-acre fire was burning about 30 miles southeast of Allakaket, about 170 miles north of Fairbanks. That fire is being monitored.
Seven smokejumpers are working on an 8-acre fire on the Kantishna River 44 miles east of Lake Minchumina, according to the Alaska Fire Service. That fire was threatening a nearby Native allotment and structures, including an occupied home.
Fires were also burning in Northwest Alaska in the vicinity of the Koyuk and Noatak rivers, with sizes of 600 and 200 acres respectively, according to a Friday morning update from the Alaska Interagency Coordination Center.
Contact the newsroom at 459-7572.