Tour guides were a flash of blue and gold on Friday afternoon when new and interested students were welcomed to the University of Alaska Fairbanks as part of the first New Admit Day.
"The broader message we've been going with is if you want to go to UAF, we want to meet you," Robert Wighs, transition programs coordinator with the office of admissions, said in an earlier interview with the News-Miner.
People turned up Friday with parents, children and other prospective students to find out more about the university. New Admit Day is taking the place of what would normally be a campus preview day, according to Wighs, and the university created the event to include newly admitted students overall, and not only focus on high school seniors.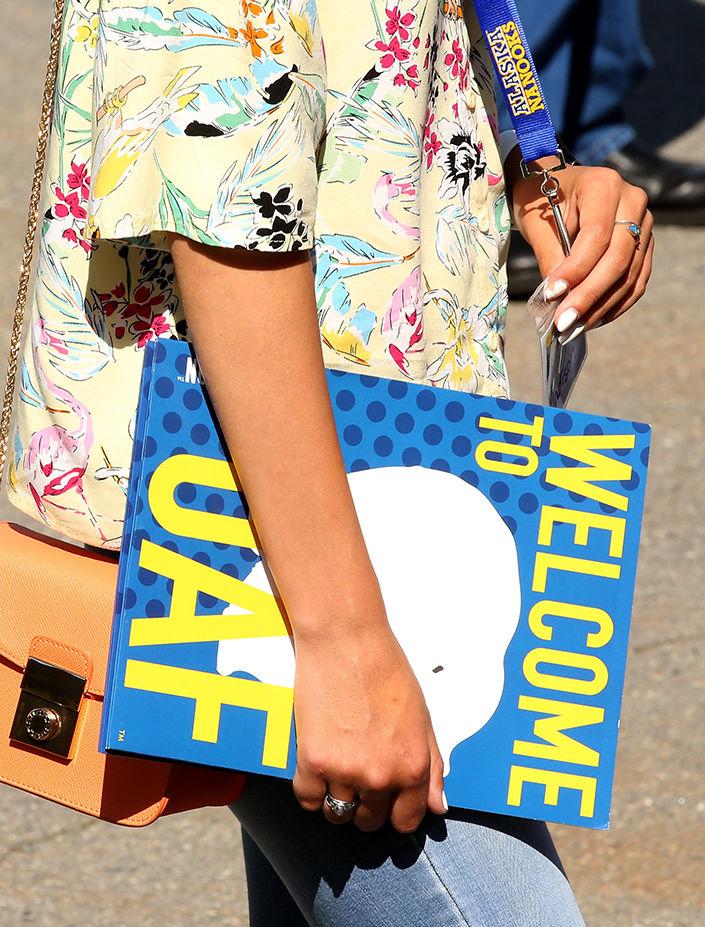 Recent graduates were still welcome at the event, though, and several turned up. Robert Willard, 19, graduated from West Valley and said he's aiming for a nursing degree.
"I came here today to figure out what else I need to do for applying to college," he said.
He milled about some of the booths available at check in, which included residence life, student services and the Biomedical Learning and Student Training program booth.
"I saw the honors program," Willard said. "I thought that was interesting. I would have to say maybe the BLaST, the BLaST research table, I thought that was really cool. It seemed more like setting the initiative to like, 'Hey, if you join this, you'll get a lot out of this.'"
Around 80 registered students and 130 total people turned out for the event, according to Wighs, who spoke to the group as a whole shortly before people broke away for separate tours.
"Approach us, ask questions," he said. "We are here for you. There is no question too large or too small that you cannot ask."
Wighs also gave a bit of his own background with the university, saying his mother is a UAF alumni and his father used to work at the reindeer research station. Having grown up doing various activities at the university, Wighs explained that the public is not only welcome on campus to go to school, but also to participate in other pastimes.
"We are a place if you want to stop in, get a coffee, get a pizza slice, get an education — we are here for you," he said.
After he spoke, Wighs held a drawing for UAF shirts and water bottles, then let everyone head out for lunch and tours.
Touring campus
"Over that way we have the concert hall. It's really beautiful. As our music students play and practice they get a lot of experience playing in front of an audience," Daisy Herrman explained as she led a group of prospective Nanooks through the Great Hall.
Herrman is a student ambassador at UAF. As such, she spent all day giving tours, answering questions and meeting people who turned up at the event to find out more about the university.
"I kind of feel like I'm their guide into UAF, essentially, from a student perspective," Herrman said.
During Herrman's tour, the group visited lower campus: from Wood Center, to Constitution Hall and the Bunnell Building.
"So Rasmuson, you enter on the fourth level, which is not typically a 'quiet level,'" Moe Rice said outside of Rasmuson library. "You can go in and talk with you friends."
Rice, a fellow student ambassador, explained that students should still keep their voices down in the library in general, and pointed out the 24-hours study area available in the same building.
During the tour, Rice and Herrman answered various questions. One person asked who planted the flowers along campus, while another asked how often the bells in the Gruening Building ring.
Some of the students who toured campus were not only newcomers to UAF, but newcomers to the state.
Alli Thelen is recent arrival to Fairbanks, having moved up with her husband last fall. Thelen, 24, came to New Admit Day with a specific goal in mind.
"Well I've been thinking about going to school for a while and I always wanted to be a vet assistant," Thelen said. "So, I found out that there's a veterinarian program here, so I just thought that I would maybe talk to people."
Thelen asked for some assistance in finding out more about the program while attending the event.
Tramaine Kerns, 29, who moved up to Fairbanks in winter, came to Alaska for work and decided to pursue culinary school.
"Well for the most part, at least for now, I am just doing my culinary," Kerns said. "Afterwards I'm looking into IT as well."
Kerns, who moved to the state from North Carolina, said UAF felt inclusive and attended the nontraditional student panel on the Wood Center's lower floor. The panel was one of three held that day, with a panel each for students, nontraditional students and for parents.
Nontraditional students are "anyone that's not part of the traditional sort of student model" wherein you attend college straight out of high school, explained Bernard Aoto, a student and moderator for the panel.
"It's very helpful seeing others in the same situation as I am," Kerns said. "As in like, there's other people that are kind of not the traditional student, so it makes me feel a lot better about coming and starting school."
Panel time
Four people sat on the nontraditional student panel, all nontraditional students themselves, and answered questions from attendees.
Evan Buma said, following his high school graduation, he initially took some time to try and find a job. Now that a year has passed, he's looking at going to school, but he said he doesn't know where to begin for meeting enrollment requirements or signing up for classes.
"I'm just wondering how you would start out if you don't have any previous requirements done or something like that," Buma said.
"The best thing you can do is meet with an adviser," Brandi Swindler said.
Swindler, 27, is a single mother with three children. She said that she's looking at working with X-rays and she's been doing so through classes at the Community and Technical College.
Swindler advised Buma to get started with an adviser and explained at CTC they offer tests that aren't the ACT or SAT, which will score prospective students based on science and math skills and they can be retaken as many times as a student wants to help meet whatever score they're looking for.
Lance Cooper, a justice major and another panel member, offered advice as well.
"I was having a hard time studying and being a good student my first year," he said. When he ended up taking a developmental math course, he discovered the university offers various developmental studies, which can help teach "how to be organized and just make the best of your time."
Cooper said he encourages Buma to check out development studies with an adviser.
Taneisha Emry answered a question about online class times and availability.
"In my experience too, just online classes, I have a hard time being timely," she said. Emry, who is pursuing a social work degree, works 40 hours a week and also has two children.
The key, she said, is communicating with the professors.
Melissa Burroughs, another audience member with the nontraditional student panel, asked the mothers on the panel how they handle scheduling classes when they know they might have a doctors appointment scheduled for their child.
Swindler echoed Emry's earlier statements, saying the best thing to do is be open with teachers about scheduling and personal conflicts between life and classes.
Once the panels concluded, scholarship winners were announced during the #NanookNation Party, where there was free ice cream and booths from various campus organizations for students to visit.
Three people each won a $1,000 scholarship to the university: Clara Cheney, Jack Lattime and Adeline Knavel. The only requirement to enter the scholarship drawing was to show up for the day and check in.
"We connected with a lot of students," Wighs said, after the events of the day concluded. "A lot of family members came which I was really excited to see. We had a lot of guests and it's just really nice to connect — not only with the students, but with the families, so that families know that their child, or their mom, or whoever it is the student is, that we want to take care of them."
Contact staff writer Kyrie Long at 459-7572.