The first Athabascan woman ordained to the Episcopal Priesthood received an honorary doctorate at the University of Alaska Fairbanks commencement ceremony Saturday.
The Rev. Anna Frank, who grew up in Old Minto village in a family of 15, received an honorary Doctorate of Laws, one of more than 1,000 degrees granted before a crowd at the Carlson Center.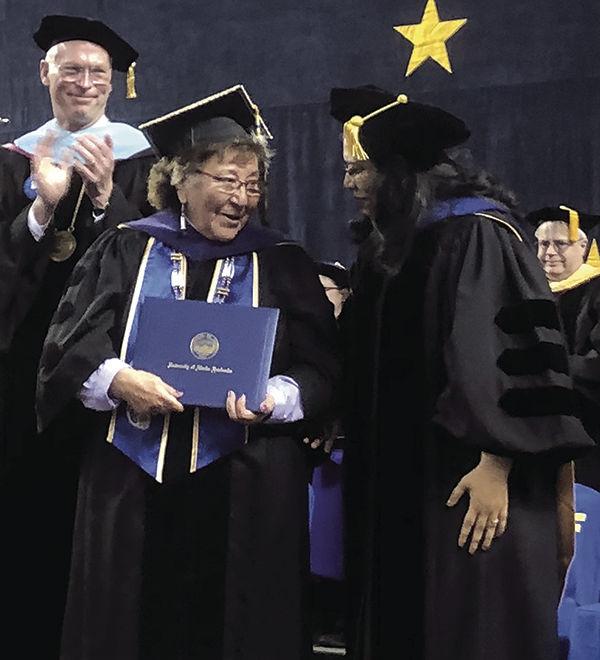 Frank was applauded for her work, first as a community health aide and postmistress and later as a counselor and spiritual guide for families across the Interior. She also helped create the Old Minto Family Recovery Camp in her home village.
Frank was handed the first degree out of 1,367 at a 2 1/2-hour ceremony that began with the Inu-Yupiaq Student Dance Group and a speech about perseverance. It ended with a tearful rendition of the "Alaska Flag Song" and a massive balloon drop.
An award for public service went to Linda Hulbert, a New York Life insurance agent, for her philanthropic work, including creating the John R. Hulbert Memorial Scholarship for community college students returning to school.
A sea of robed and tassled graduates sat looking up at an enormous Alaska flag that hung behind the stage. Some of their loved ones hovered around the edges of the stage, snapping pictures like the paparazzi.
Most of the college degrees went to students in the College of Liberal Arts, the College of Rural and Community Development and the School of Management.
UAF's 97th commencement ceremony had its own social media hashtag, #uafgrad2019.
"I don't remember life without pain," Jessica Obermiller, Class of 2019 speaker, told the audience.
Severe health setbacks made getting a degree difficult. But she kept working at it, she said, sometimes Skyping into classes.
Obermiller, who earned a bachelor's degree in anthropology, said she faced down adversity, and "you can reach your dream," too.
"Let us always have the courage to question, to fight, to take a stand," she said.
The audience included almost half the town of Eagle, including 21 students from Eagle Community School attending the graduation to watch teachers Kristy Jones-Robbins and Zach Sanders receive their master's degrees.
University of Alaska President Jim Johnsen also made brief remarks, reflecting on UAF history.
In 1923, the year of UAF's first commencement, just one graduate — John Sexton Shanly — walked across the stage, he said. This year, more than 4,000 people are earning a certificate or degree at a University of Alaska school.
"Whether your next step is a new career or promotion or if it's on to graduate school, you are on a road to success," Johnsen said.
Officials handed out 598 bachelor's degrees, 243 associate degrees, 186 certificates and 56 occupational endorsements, according to the UAF News and Information Office. In addition, there were 205 master's degrees, 37 doctorates and 42 recommendations for education licensure.
By the numbers, 743 women, 531 men and three who specified other genders comprised the Class of 2019. The oldest graduate was 76; the youngest was 16. The average age was 30.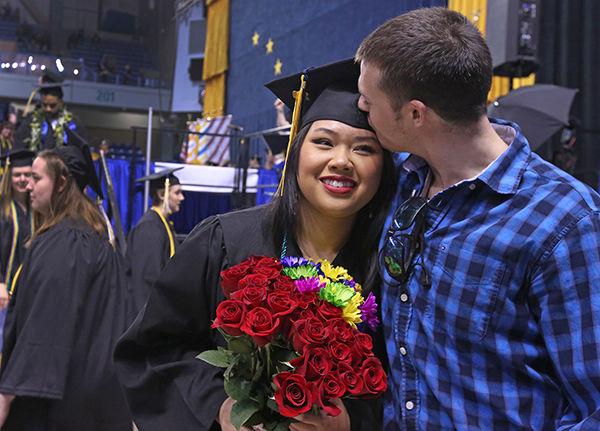 Almost 200 graduates identified as Alaska Native or American Indian. Thirty-seven graduates identified as Asian-American, 35 as African-American, 80 as Hispanic or Latino and 14 as Hawaiian or Pacific Islander.
Outstanding students were listed as Raymundo Lopez, recipient of the 2019 Marion Frances Boswell Memorial Award honoring an outstanding bachelor's degree candidate; Jessica Kot, recipient of the Joel Wiegert Award honoring an outstanding associate degree candidate; and Michael Bilan, recipient of the Gray S. Tilly Memorial Award honoring an outstanding nontraditional graduating student.
Contact staff writer Amanda Bohman at 459-7587. Follow her on Twitter:@FDNMborough.