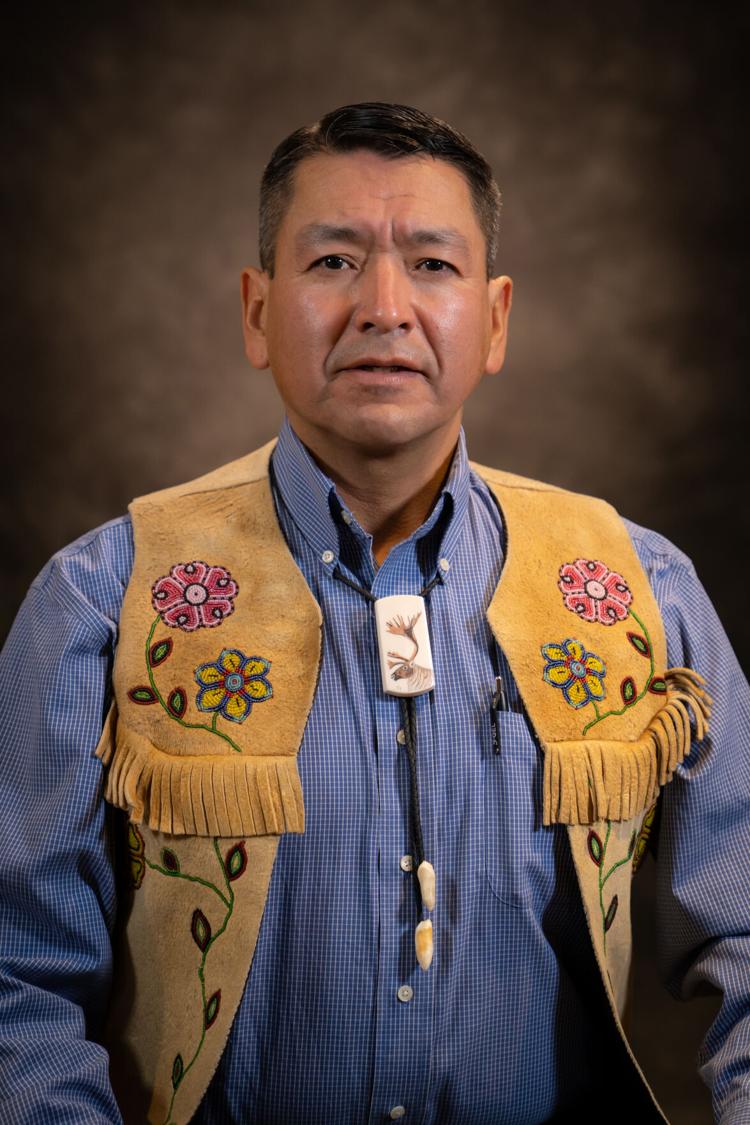 Tanana Chiefs Conference held its COVID-delayed annual board meeting on Tuesday and elected Pollack "PJ" Simon Jr. as chief/chairman to replace outgoing Victor Joseph.
"I am honored and humbled to be elected by our tribal leadership to serve as chief/chairman of Tanana Chiefs Conference," said Simon, who is from Allakaket and Galena. "I will be starting off my term by focusing on the topics the tribes have expressed as their top priorities: improve the quality of health care, bolster rural education, implement adequate water and sewer, self-determine public safety and provide access to high-speed internet.
"We serve the people and are tribally driven."
Joseph was elected TCC chief/chairman in 2014 and had served two three-year terms. He has spent a total of 28 years with TCC, previously serving as TCC health director. He is a tribal member of the Village of Tanana.
"On behalf of the TCC Executive Board, membership and staff, we welcome 'PJ' Pollack Simon Jr. as the new chief/chairman of our region," said Dr. Charlene Stern, vice president of TCC. "We look forward to working alongside him to continue to support our Interior tribes and to work collectively towards our mission." 
Simon was elected Tuesday during the annual TCC full board meeting, which is usually held in March. However, the original meeting, which was scheduled for March 16-19, was postponed due to the ongoing COVID-19 pandemic. Tribal members representing 42 communities from across Interior Alaska gathered virtually. In-person attendees were limited to tribal delegates, candidates and their spouses and key TCC staff.
TCC is a nonprofit organization based in Fairbanks that works toward meeting the health and social service challenges for more than 10,000 Alaska Natives spread across a region of 235,000 square miles in Interior Alaska.
Simon's Indian name is "Bakkoyoodaaleeda," he said. He is named after Chief Henry of Dalby, given to him by the late Anna Frank of Galena. 
Simon lives in Fairbanks and is a plumber apprentice working toward his journeyman plumbing license. He is also a Class A hunting guide and is working toward getting his registered big game guide license. He worked as an assistant big game guide for Alaska Challenge Guide Service and Mountain Monarchs of Alaska and has owned his own big game transport business. He is a board member of EXCEL Alaska.
Simon previously served on the Doyon, Limited board of directors. He was elected in March 2014, serving as vice chair until March 2020. 
He also has served as a board member of the Alaska Trappers Association.
Previously, Simon was a board member for the Bureau of Land Management Alaska Resource Advisory Council, a Doyon representative on the Alaska Federation of Natives board of directors, a political advocate and first chief for the Allakaket Tribe, secretary/treasurer on the TCC executive board, and a member of the Chena Bingo board, the TCC advocacy committee, and the Alaska Department of Environmental Conservation Water and Sewer focus group.
Other TCC board seats also were filled Tuesday: 
TCC Executive Boardof Directors
- Upper Tanana Subregion: Herbie Demit, three-year term (2020-23).
- Yukon Koyukuk Subregion: Carl Burgett, three-year term (2020-23).
TCC Regional Health Board
- Yukon Flats Subregion: Patricia Salmon, three-year term (2020-23).
- Upper Kuskokwim Subregion: Agnes Tony, three-year term (2020-23).
TCC Education Council
- Lower Yukon Subregion: vacant, three-year term (2020-23).
- Yukon Tanana Subregion: Phyllis Erhart, three-year term (2020-23).
Interior AthabascanTribal College Board Trustees
- Upper Kuskokwim Subregion: Martha Runkle, three-year term (2020-23).
- Upper Tanana Subregion: Gerald Albert, three-year term (2020-23).
AFN Interior VillageRepresentative
- Julie Roberts-Hyslop: one-year term (2020-21).
IRHA Board of Commissioners
- Fred Bifelt, three-year term (2020-23).
Contact staff writer Julie Stricker at 459-7532.