Onstage, backstage, singing, drawing and making music — Elsbeth Cheyne crackles with creative potential, but musical theater highlights the intersection of her talents.
"It makes up like half my resume," she said. "I love musical theater; it's my favorite thing to perform."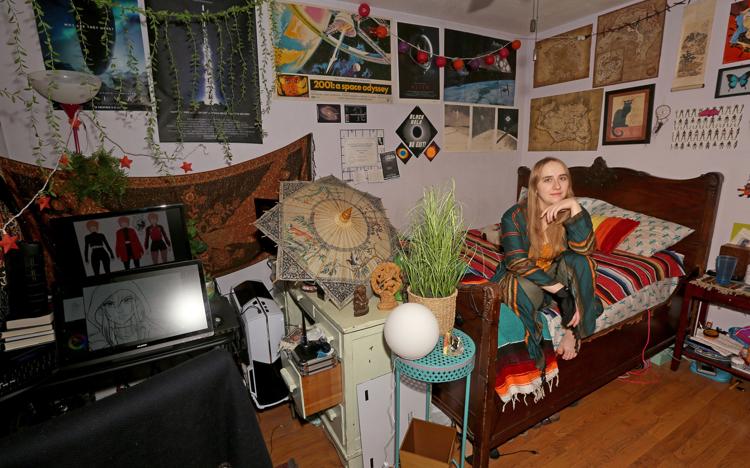 Cheyne hasn't always been on stage, however. She was born in Colorado, but her father was in the Army. The family moved to Alaska when she was in the fourth grade.
"I didn't even think they had Walmart, or like, anything," she said, laughing. "I just thought we were going to have to hunt our own food."
The family stayed in the state and, while attending high school, Cheyne started on her path to the theater through music.
"My mom always told us that we had to do at least one semester of music class," Cheyne said, "and I started with orchestra for like a year and then I moved into band for a few years, and then my sophomore year of high school I decided to do something else."
She joined the Lathrop High School choir, where she said Carolyn Soderlund, who retired this year, changed the trajectory of her life by helping her find her singing talents. While in school Cheyne was in "The Beauty and the Beast" as well as "The Importance of Being Earnest."
Although she initially applied to the music program at the University of Alaska Fairbanks, Cheyne felt the draw back to theater and changed her major.
"I just decided. I guess I didn't want to Mozart for the rest of my life and I love musical theater," she said, adding that making the decision to move to the theater was one of the best choices of her life.
The stage took to Cheyne as much as she took to the stage. She's been in shows such as "The Ash Girl",  "Les Miserables" and "Once Upon a Mattress."
"Elsbeth is definitely one of those students who was a real sponge in the classroom and she just kind of soaked everything up. Then you would see her apply it in the next performance or theatrical production she was involved in," Carrie Baker said.
Baker is a professor with the Theater Department who was an adviser for Elsbeth and had her in nearly every class. She helped her craft her auditions for graduate school, which included a comedy piece called "Ferret Envy" and a dramatic one as Joan la Pucelle (aka Joan of Arc) from Shakespeare's "Henry VI."
But those are the pieces that leave out singing.
"Elsbeth is special because she is a really great actor, but she also has a beautiful singing voice," Baker said. "So a lot of work that she's done around town has been on musical theater productions."
At 24, Cheyne has been able to cross at least one dream roll off her bucket list — Kate Monster in "Avenue Q." She was cast in last year's production with Interior Independent Theater and has since used a song from the show, "There's a Fine, Fine Line," for her graduate school auditions.
"Ever since I started singing, and actually kind of before I even started performing, I was a huge fan of that show," Cheyne said.
When she heard that Fairbanks might be doing a production of "Avenue Q," Cheyne said she approached the show director to talk about it.
"They knew walking in that I was like, really hyped about this," she said, "and that was by far the best experience that I've ever had in a show."
Baker said every time she hears Cheyne Perform "There's a Fine, Fine Line" she gets goosebumps.
Other professors took note of the performance as well.
"Her turn in Avenue Q as Kate Monster was a lot of fun and a standout, I think," said Kade Mendelowitz, with the theater department, "and, you know, in that show you're really giving the performance for a puppet, which some actors or performers aren't able to handle very well and she did an outstanding job."
Mendelowitz also worked with Cheyne during her time at the university and praised her work ethic.
"So, she's working on a theater piece, she does a huge amount of research into her characters," he said. "When she was in my video editing class she worked hard to make it, each one, like a presentation. So she takes a lot of pride in her work and she gives a lot of effort, and it shows."
Mendelowitz has also hired Cheyne for productions, offering her a job as an electrician for North Star Ballet's production of "The Nutcracker."
He said he was impressed by her dedication to all of her work. One example he cited took place when Cheyne was playing Helena in a production of "A Midsummer Night's Dream."
"She really went into what each line actually meant so that students or audience members who had trouble understanding Shakespeare could still understand the intent behind each and every line," Mendelowitz said, "and her diction was excellent, so I really considered hers to be a standout performance for that because it was so easy to understand what her character was going through."
Outside of theater work, the arts go everywhere with Cheyne, as the people who she surrounds herself with tend to notice.
"I think she's really quite good," Mendelowitz said. "She has a couple of mainstay characters that she continues to develop."
Cheyne said she'll draw backstage often, as well as in most of her free time.
"Whenever she visits, she brings her tablet with her usually," said boyfriend Ryan Andrews. "She draws a lot."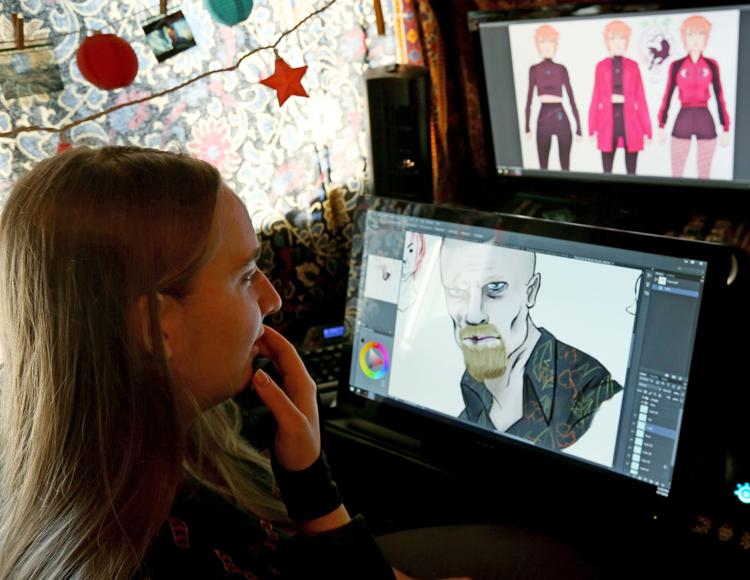 Andrews currently lives in Anchorage, but when he was in Fairbanks, he lived with his father. He had space set up for himself and Cheyne when she would come by to spend time with him.
"When I was still up in Fairbanks my desk was set up off to the side of hers, and I would check over and see how she's doing. She would draw very often," he said.
Andrews mentioned Cheyne will listen to synthwave while driving in town. Although he said they differ in some aspects, one thing the couple share is a love of cyberpunk aesthetics.
"Obviously I'm lacking on my movie education because I hadn't watched 'Blade Runner' yet at the time, so she sat me down and we both watched 'Blade Runner' and ('Blade Runner 2049')," he said.
The style carries over into Cheyne's work as an artist.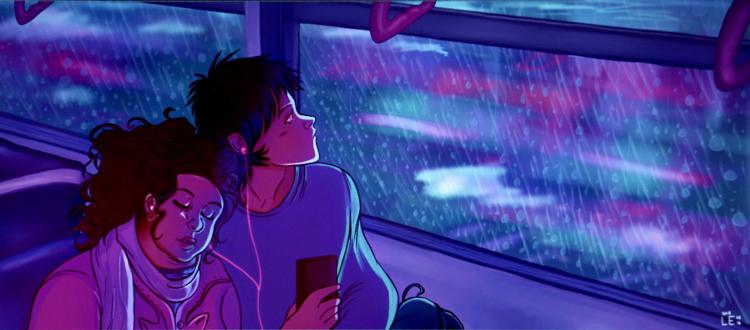 "A lot of her color schemes would fit in a lot with synthwave music genres," Andrews said. "Usually very bright and cool colored or warm contrasts."
Because a lot of acting work in Fairbanks is more community theater based, one of the only paid gigs she's been involved in while in the state was "Ice Cold Killers," in which she was an extra. Cheyne currently brings in income as a commission artist.
"The other career I'd really like to do is graphic novels," she said. "I really want to publish a book and so I make money at the moment by drawing peoples' — if they have a Dungeons and Dragons character that they want me to draw or they have an original character — I can draw that stuff for them."
The book Cheyne would one day like to publish is one she's been working on for close to a decade.
"I literally never stop thinking about my book," she said.
A story where urban fantasy meets cyberpunk and noir, the main plotline follows a character who exposes magic to the general public. Cheyne hasn't finished the graphic novel yet, but she has character designs on her Instagram, @elsbeard, where she can also be contacted for commissions.
She's had a few offers for graduate school, but plans to reattempt auditions in a few years. Cheyne said her plan is to move to Anchorage to be with her boyfriend once she finishes an anatomy class and her degree program.
"I'm going to be realistic about it, but I would just love to make a living making art and performing because those are the two things I love to do," she said.
Contact staff writer Kyrie Long at 459-7572.