Upward of 200 people attended Juneteenth throughout Saturday in Fairbanks to celebrate the historic date.
The Emancipation Proclamation stated that "slavery was no longer a thing and that slaves were free, but in Texas a lot of people didn't find out about that for two years," said Quineshia Peterson, committee chair for the event. "So when they finally got there and they let them know, we then began to celebrate it as Juneteenth, which is actually June 19. We always just celebrate it the weekend before."
Peterson, clad in a black shirt reading "I am my ancestor's wildest dreams," is a member of the Fairbanks chapter of the NAACP, which organizes the annual event. She said that the day is a celebration of how far people have come and a time to come together and see how far they can go.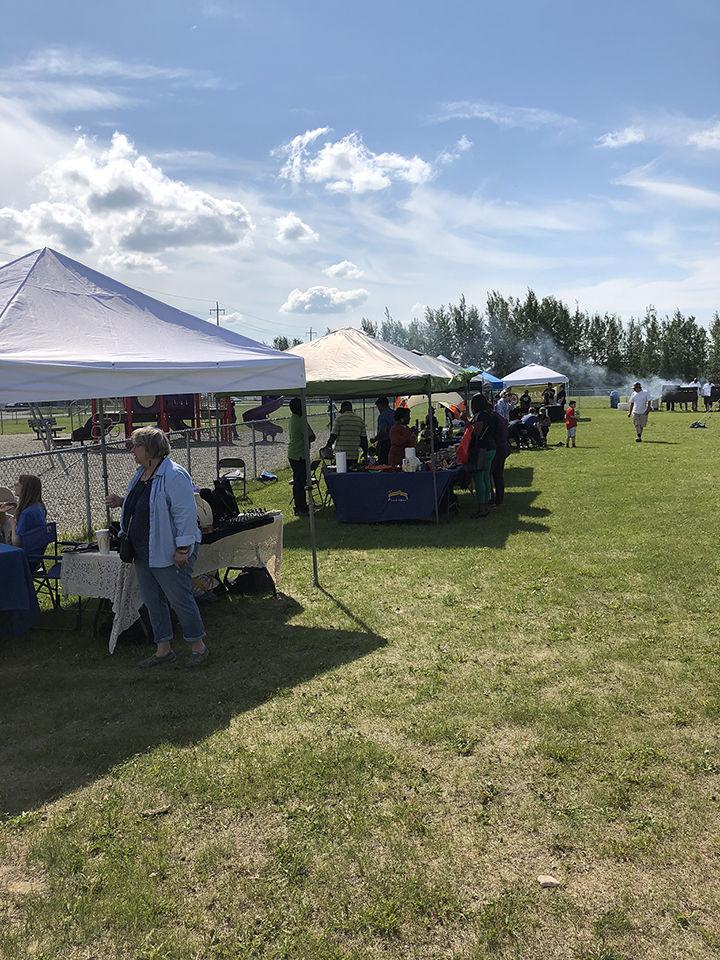 Bennie Colbert, NAACP chapter president, said he loves teaching people what Juneteenth is really about. Colbert added that the event is intended to be inclusive, which was evident by the various people who turned up at Bernice Allridge Park for the festivities.
"And that's what I love, looking out into the crowd and seeing everybody have fun and, you know, this is what we call 'love thy neighbor,'" he said.
This year, as people signed in, they were signed up for door prizes that included books, gift certificates to Lane's Quickie Tacos and coupons from Great Harvest Bread Company, among other prizes donated from community organizations.
"It took months of planning, that's for sure," Peterson said, "and just a lot of dedication of reminding people."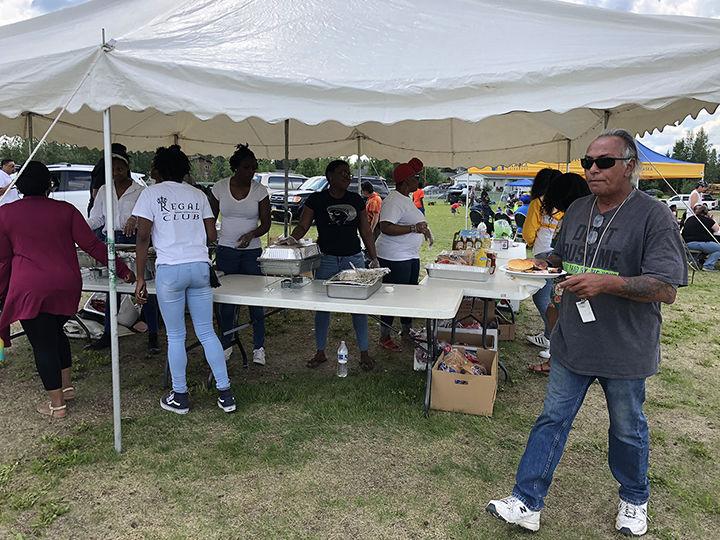 Peterson is also an admissions counselor with the University of Alaska Fairbanks, which had a booth at the event.
"We just feel like it's important to show up to as many things as we possibly can, and Juneteenth is just a really important day to be a part of," said Samara Taber, director of admissions at UAF. "And so we're proud to be here."
Taber added that having a consistent presence in the community would help remind people UAF is here for them.
Peterson said she felt having the university at the event was a great partnership with the community and vice versa.
Activities were available as well, including hula hoops and cornhole, and at Briana Morrell's booth. Morrell offers classes in the Kangoo Jumps programs and was demonstrating how to use the boots.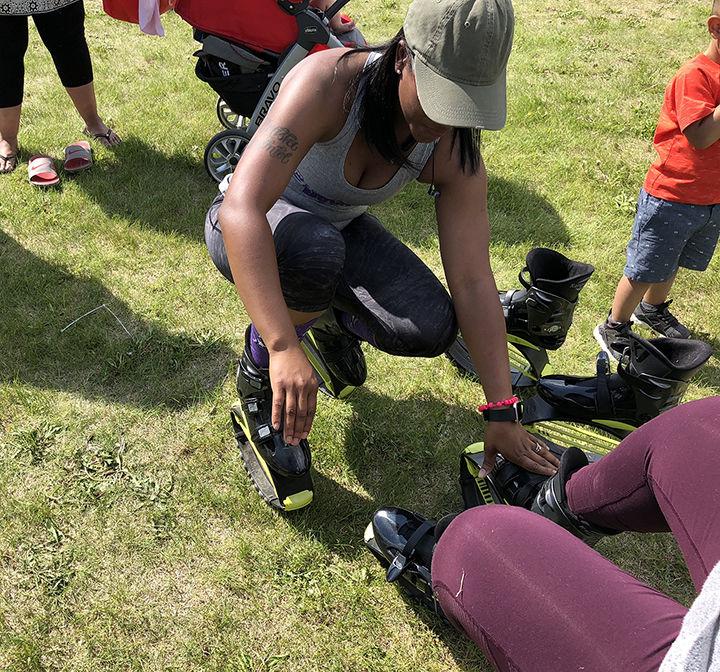 "I have a teenager who comes and babysits in the day care while parents can exercise in the garage — which is essentially my studio — because I know how it is when you're a mom and you don't have anyone to really watch your kids."
People stopped throughout the day to ask Morrell questions about the eye-catching lime green and black jump shoes. Walking in them felt a little like walking on a trampoline in platform boots — supported and springy, without really feeling the ground.
Cortez Holloway, who attended the event with his family, said he came out because it's a celebration of black people getting their freedom and it's a good community activity. He came and went from the park all day.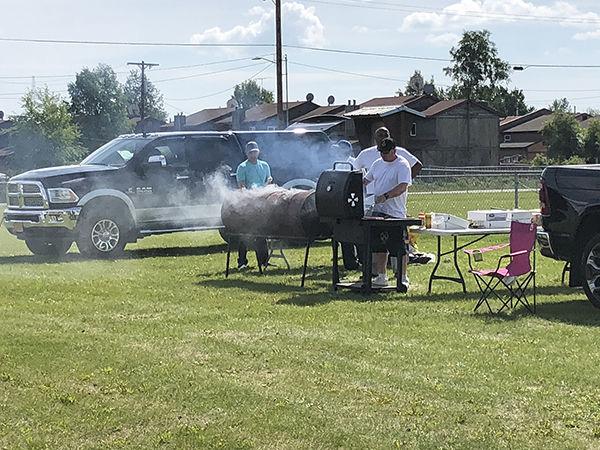 "I won a couple things, ate barbecue, played with kids and had a good time," he said.
The Southside Community Farmer's Market had a booth set up, where Daisy Edwards spent the day talking with people about the market.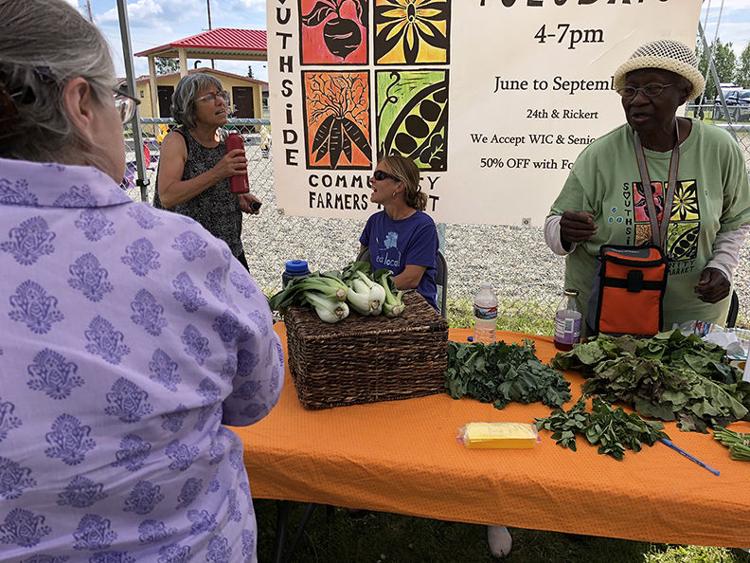 "We're here to let people know that we have this market on South Cushman, because there's no big stores or supermarkets within 2 to 4 miles of South Cushman area," Edwards said.
The market, which is open Tuesdays from June to September, had vegetables such as radishes and various greens at the booth for purchase.
Tony Taylor, a local DJ who has raised funds for the school district, canceled a show in Anchorage to be a part of Juneteenth.
"I just think it's really important to be a part of the community, just to make people more aware of what's going on in history," Taylor said.
Delta Sigma Theta members, clad in the sorority's red colors, could be seen throughout the park.
The college-educated group was founded Jan. 13, 1913, at Howard University, said Edwena Dunbar, vice president of the Fairbanks chapter.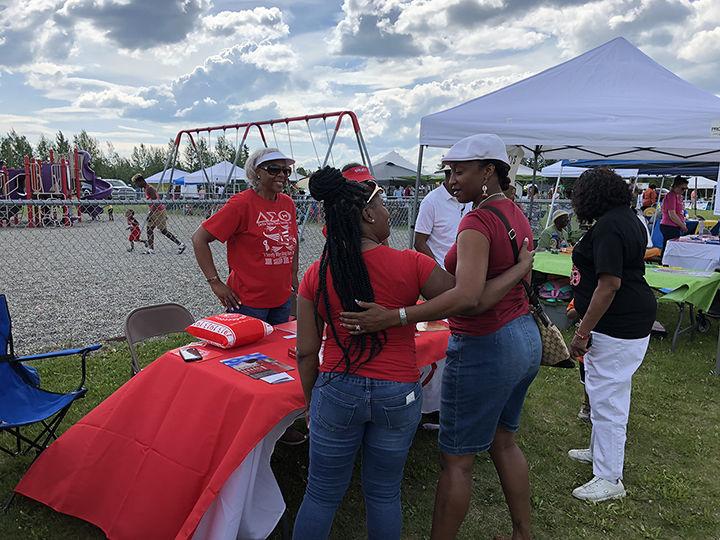 Delta Sigma Theta members included the likes of Shirley Chisholm, the first black woman elected to the U.S. Congress, and Winnie Mandela, the ex-wife of Nelson Mandela and a anti-apartheid activist.
"We're here today mainly because of the focus of Juneteenth," Dunbar said. "The focus is on the emancipation of slavery, but as a college-educated organization committed to public service, our service here is to make sure we're out in the public."
She said the group was focused on five key programs: educational development; economic development; physical and mental health; political awareness and involvement; and international awareness and involvement.
Also present at the event was Kathryn Dodge, who recently announced her run for mayor of the city of Fairbanks.
"I'm here because it's a celebration of important times in our history," Dodge said in an interview with the News-Miner.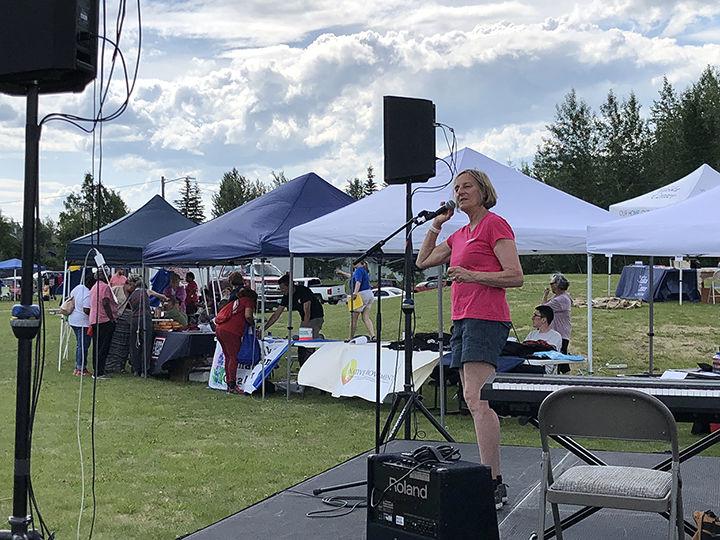 Dodge, who had a booth at the event, took the stage in the afternoon, welcoming people to talk with her about any issues or opportunities in the community. She said she had broad and varied conversations throughout the day.
"I'm trying to listen to peoples' concerns about things going on in the city. ... Problems that they see, opportunities they see, ideas they have on what we can do better," she said.
Peterson said the turnout was awesome. The final headcount was 201 people who signed in and several more who didn't sign in.
"It was supposed to rain," she said, laughing. "There were chances of rain, so I was worried no one would come out, but I think that it shows how hard our committee has worked on promoting this event and the turnout has been great."
Contact staff writer Kyrie Long at 459-7510.