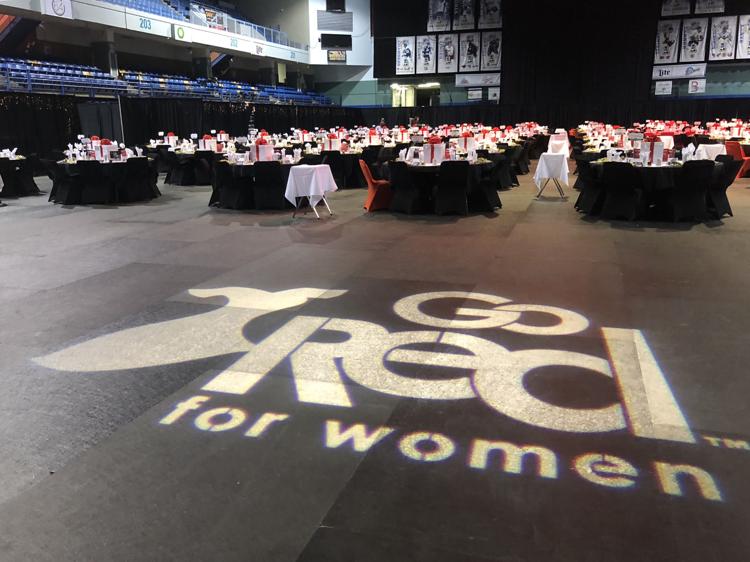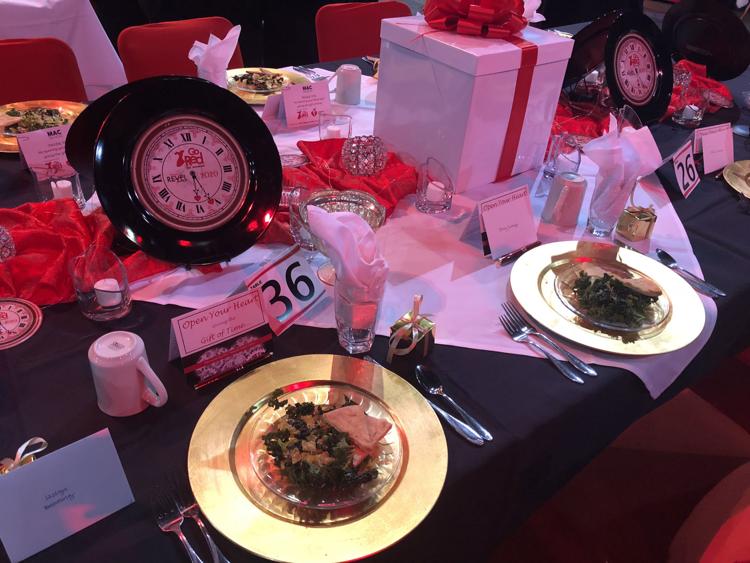 Fairbanks gains a little bit of color every February when Go Red for Women comes to town to raise awareness about heart disease.
The efforts at the Carlson Center and of the whole Go Red movement aim to give women the tools, information and inspiration to be the healthiest they can be, said Janet Bartels, executive director of the Alaska chapter of the American Heart Association.
"The movement was created because most research was done on men, and we're realizing that women didn't know the signs and symptoms. They had no idea heart disease was a number one killer," she said.
Bartels added that the association decided that, with education and more research dedicated to women, it could make some advancements in terms of women knowing how to live longer and healthier.
The theme for 2020 is the Gift of Time. Accordingly, clocks dotted the tables and walls throughout the Carlson Center.
"So the Gift of Time, the idea behind that is what kind of small healthy changes would you make to have more time with your loved ones? What changes could you encourage them to make to have more time with you?" said Sara Smith, co-chair of the event.
At a nearby booth, Jennifer Halldorson was teaching people about the signs and symptoms of a stroke with F.A.S.T. — F stands for facial droop, A for arm weakness, S for slurred speech and T for time.
Halldorson advised if you see any one of the FAST symptoms in someone you're talking to or recognize it in yourself, it's time to call 911.
"The faster you reach a hospital and are treated, the faster you recover and with fewer disabilities," she said.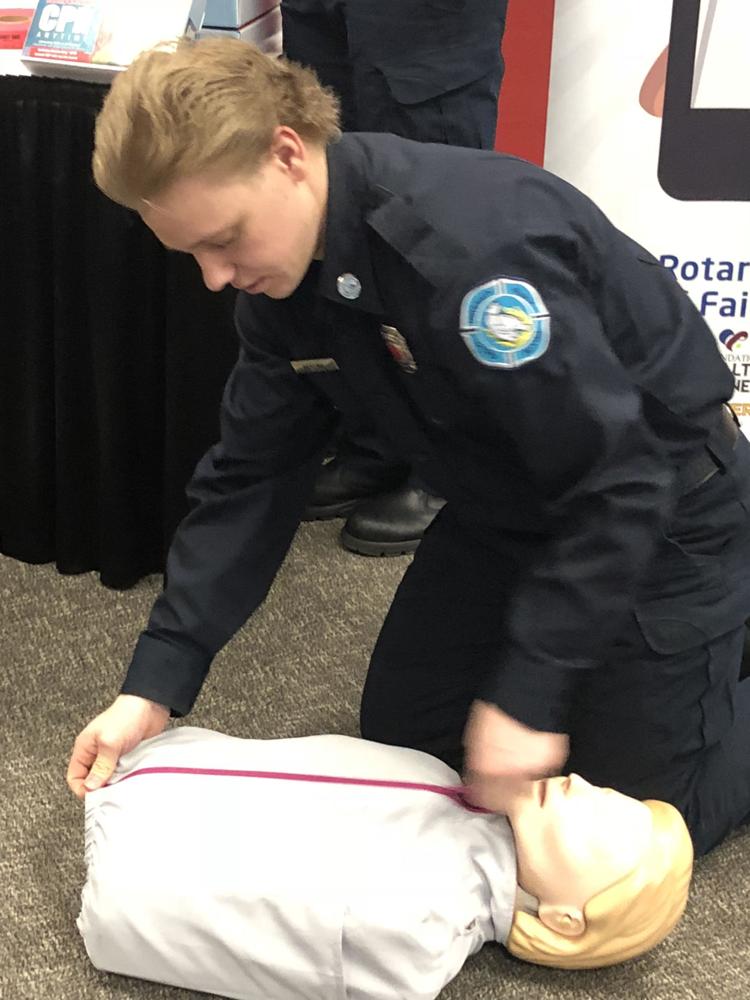 The American Stroke Association is a division of the American Heart Association, and Halldorson noted everything done to prevent a heart attack can also prevent a stroke.
In the heart healthy breakfast corner, Shelby Rowland stood at one of the circular tables where people could eat, mingle or step away from the crowd.
Rowland works with TDL Staffing and helped set up the silent auction portion of the event. Companies from around town donated merchandise, goods and services to the auction, with the proceeds going to the American Heart Association.
She's attended the event for three years now and said she's learned a lot, citing some of Chris Johnson's keynote speech last year.
"He talked about exercise and diet, and how if you do one more than the other it's not going to help you a whole lot. It needs to be in tandem, and how the little changes really help," Rowland said. "You don't have to go on this huge giant regimen and totally switch your lifestyle around to improve. You can just make the little bitty changes, you know? Park a little bit further away from the store, get a couple extra steps in, things like that."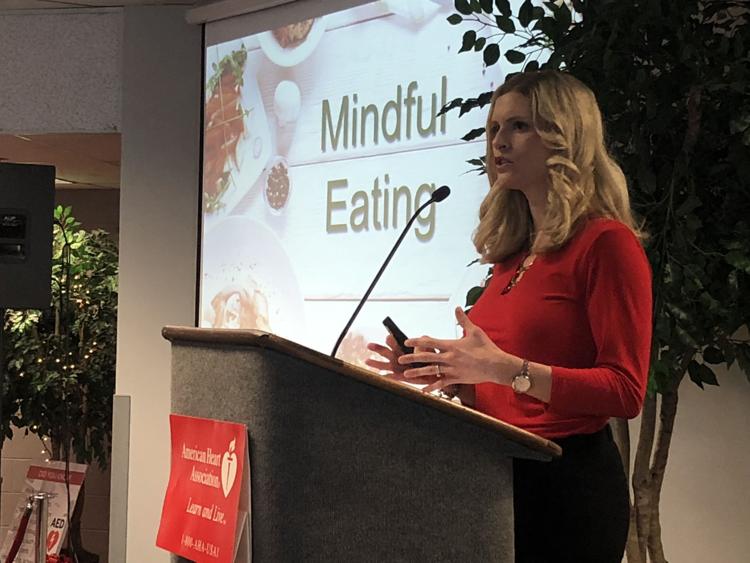 Johnson, founder and CEO of On Target Living, a Michigan-based health and performance organization, returned to Fairbanks for Go Red this year, bringing with him his daughter, Kristen Brogan, a registered dietician who works with On Target Living.
During a breakout session, Brogan told the audience about mindful eating techniques, which she describes as paying attention to what and how you eat, slowing down and using intuition to make choices.
Before she talked about what foods to eat for "ultimate happiness," Brogan told the audience they needed to understand the eating process a little bit better, because eating doesn't always make people happy.
"We've really taken the fun out of eating, which is an experience that's meant to be enjoyed, and what happens sometimes is we live on these two different extremes when it comes to food: We're constantly on a diet or we completely give up our health," she said.
Brogan advised people to not give foods up to live healthier but to find foods closest to "the source" or closer to their most natural state. For example, she noted, an apple is the first source. It can be processed down to apple sauce, or further processed to apple juice.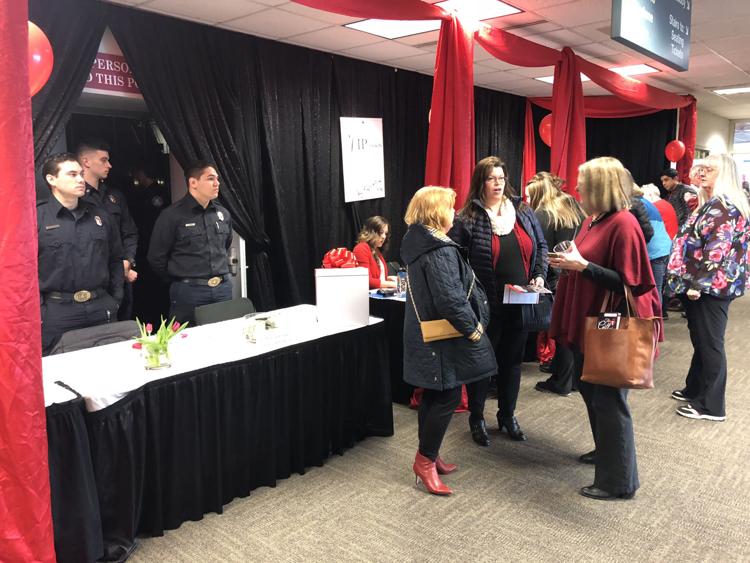 To get closer to the source for foods like potato chips, she suggested finding chips that have three ingredients: potatoes, sea salt and a high quality oil, such as extra virgin olive oil.
Brogan said in an interview later that she and her father were tying the mindfulness idea into the keynote address, discussing how people have lost the ability to be present but that when they're in the present, time starts to slow down.
"So we're connecting that with kind of figuring out how to manage your energy more in moment through mindful eating, mindful moving and kind of mindful resting practices," she said.
As the morning moved toward afternoon, more people came through the front doors of the Carlson Center, lining up.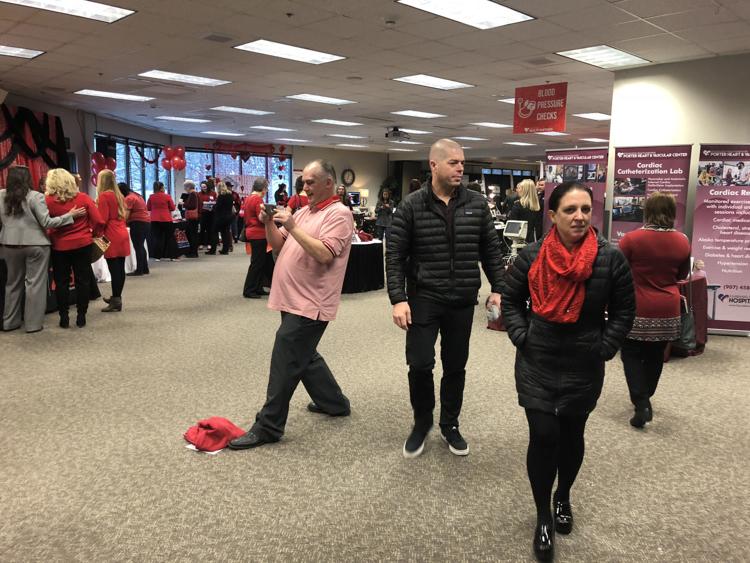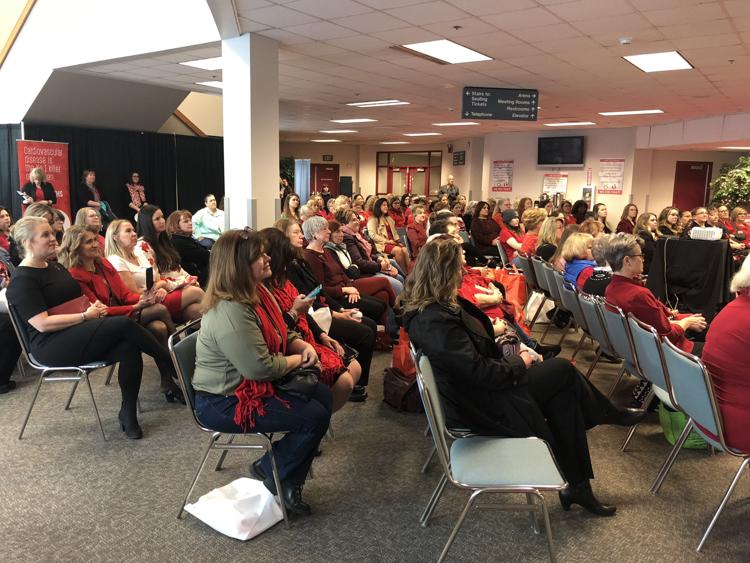 "It's just a great opportunity to celebrate women but also remind us to take care of ourselves," said Heidi Haas, as she checked in for the luncheon. "We're often not the ones to put ourselves first, so it gives us that opportunity and then there's also educational pieces that we can walk away with."
Haas has been to the event before and she said it's a great reminder around health and wellness, how to be active, think about what you put in your body and build supportive relationships in the community. She added that the keynote speakers are always fantastic.
"I'm always looking at what the newest and greatest is in women's health," she said, "and opportunities that are out there to improve the things that we put into our bodies and how we move our bodies and things like that."
Contact staff writer Kyrie Long at 459-7510. Follow her at twitter.com/FDNMlocal