Volunteers paddled through and walked along the Chena River and Noyes Slough on Saturday, the 15th annual Stream Clean Up Day, collecting trash as they went.
"So, last year, we had about 25; this year, we've got 31, so it's a good turnout," said Andrew Ackerman, environmental manager for the city of Fairbanks.
The city is a co-permittee on a multiple storm sewer permit, Ackerman said, so setting up outreach events such the cleanup helps meet the conditions of the permit. The permit is shared among Fairbanks, the University of Alaska Fairbanks, the Department of Transportation and the city of North Pole.
The Fairbanks North Star Borough has a similar permit, so it works with the city to help with the event. Ackerman added that the Tanana Valley Watershed Association has also been a frequent partner in cleanup efforts.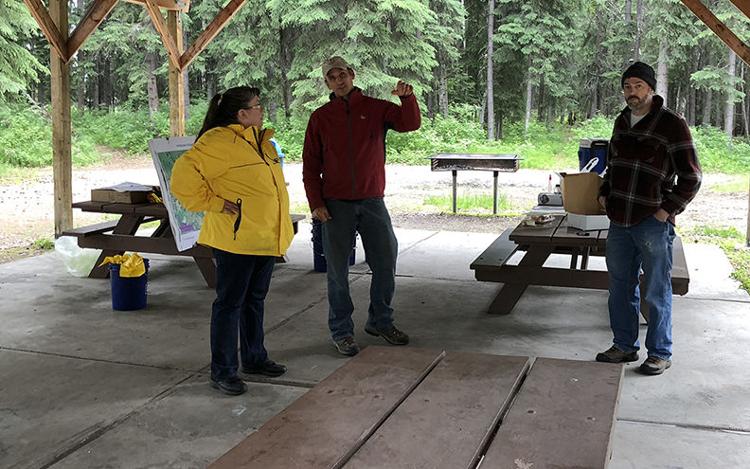 "They have always helped out because their larger mission is to improve the watershed," he said.
T-shirts, bug spray, buckets and yellow plastic BP bags were available at the pavilion in the Fairbanks Lions Recreation Area. At 9 a.m. Saturday, the volunteers met and took off to designated areas across the city: Some canoed away from the recreation area, while others shuttled to Pioneer Park or paddled in from Deere Street.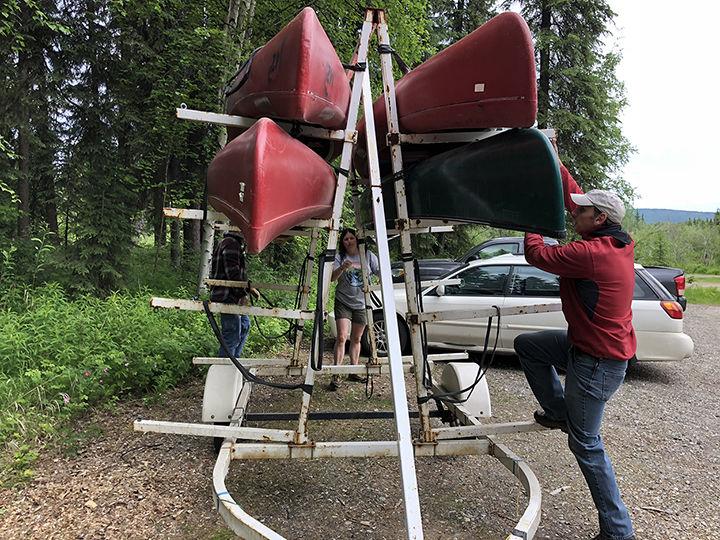 "We've got two groups on the Chena, on and along the Chena Riverwalk. … But we've also had some people walking short segments along the slough picking up garbage," Ackerman said.
Several of the volunteers were newcomers. Melissa Spicer, a regulatory anayst with Stantec Consulting Services, has spent the past year working with the Fairbanks Storm Water Advisory Committee, but this was her first Clean Up Day.
"So, I do a lot of work involved with stormwater, pollution prevention plans for construction projects and I felt that participating in an activity like this is kind of an extension of my job, as well as part of our company core values are to be involved in our communities," Spicer said, "and so this was a perfect fit for me."
Although she said participating for the first time was chaotic, Spicer said she was impressed by the number of people that came from across the community.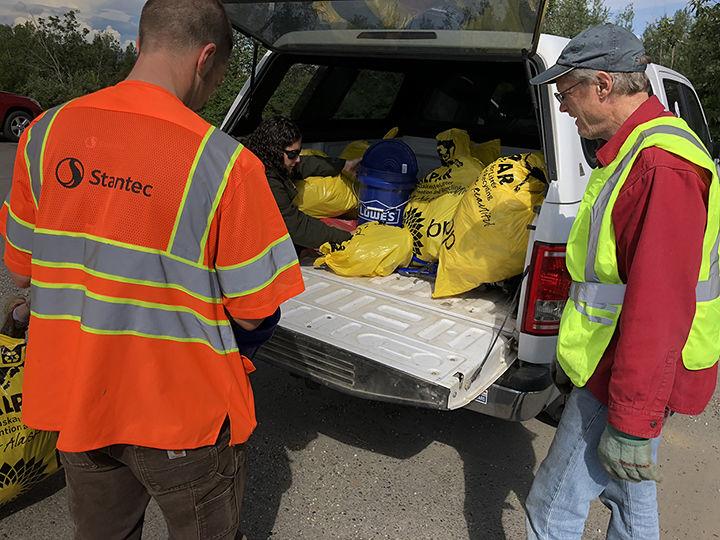 "I just came out to do whatever is needed," she said, "so whether that's actually getting out and helping clean up along the streams or helping with the organizing part, I do whatever is needed."
Eli Sonafrank, another Stantec employee, walked with a group along the Chena River. Sonafrank said he frequently spends free time on the river.
"Well, I canoe the Chena River all the time, and I would like to see less trash on the bank," Sonafrank said. "There's a lot of big stuff that's really hard to move, but there's a lot of little stuff that we can pick up, and I think it's great that the community comes together to do that."
Sonafrank's group managed to collect a bike from the riverside. He noted there were some abandoned bike wheels along the way, as well.
Suzanne Richards, who lives in the Aurora subdivision around the recreation area, has been coming to Clean Up Day off and on for years. This year she took on cleanup in a boat.
"I partnered with a person in a canoe and went towards the Chena River and turned around and cleaned up the other way," she said.
Richards said she collected a lot of different cans and bottles during her time on the river, though there was one recurring theme.
"It was normal bottles. Lots of Pabst Blue Ribbon," she said.
As she stood at the collected pile of trash from the day's efforts, Richards said she and her cleanup partner were on the river for about 2 1/2 hours.
Everyone who came back to the pavilion was able to grab some food, courtesy of the Fairbanks Host Lions Club. Gidget Hagan, vice president with the club, said the Lions used to do it but other clubs wanted to get involved, too.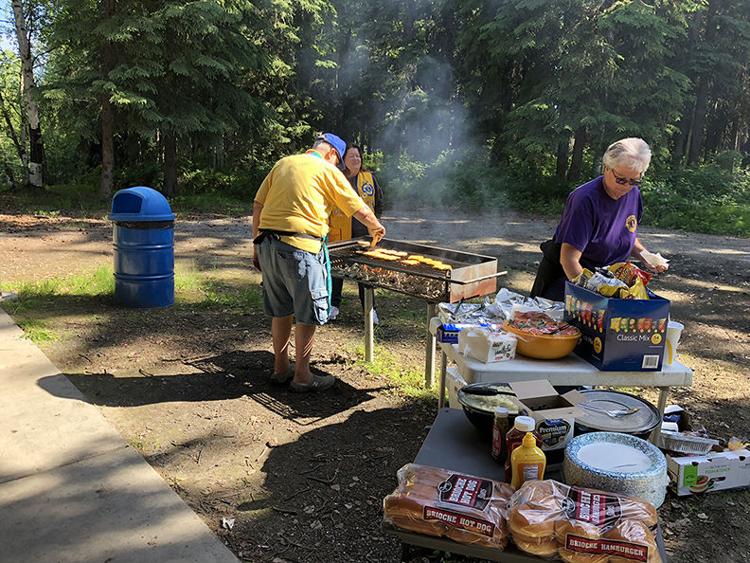 "So we let them do the work, as our club is aging, and we do the cooking," she said.
Planning for Clean Up Day began before summer started to show its head.
"We started, like, three months ago, saying who wanted to cook, what we were going to serve and getting it all together," Hagan said, "and then it just goes easy after that."
The collected trash will be weighed, Ackerman said, and they'll be able to know by next week how much was pulled from the river.
Contact staff writer Kyrie Long at 459-7572.