Pulling in a giant halibut is a workout, as Christina Ives, of Fairbanks, discovered earlier this month. She and two friends were on a charter boat in Prince William Sound when she hooked onto a fish that vaulted her to the top of the Valdez Halibut Derby leader board.
"I had a lot of help," Ives said. "We had two people on the rod at all times. I started by myself, and was like, 'Holy cow, I don't think I'm going to be able to do this.'" 
One of her friends held the rod as Ives reeled and another person helped haul in the line. They finally pulled the giant fish onboard. It weighed in at 285.6 pounds. 
"I didn't think it was going to be that big," Ives said.
"I've gone halibut fishing before and the biggest one I caught was 60 pounds, and I thought that was hard, that was a workout. So I figured it was going to be big, but not that big."
Ives, who was fishing aboard the Nunatuk, won the first place weekly prize and took the overall lead in the derby. 
"It's a crazy feeling," she said. "Nothing like this has ever happened to me."
Change of plans
An avid hunter and fisherman, Ives moved to Fairbanks about four years ago from Wisconsin in search of bigger and better game. She attends the University of Alaska Fairbanks and works at Fairbanks Correctional Center.
Initially, Ives wasn't planning to go fishing when she and two friends drove down to Valdez. A friend from Wisconsin was visiting and they planned to camp and do some hiking and kayaking in the scenic Prince William Sound town. 
Once there, they decided fishing sounded like fun and found a charter, the Nunatuk, that had space for them.
"We booked it, and I wasn't gonna buy a derby ticket," Ives said. "I never thought I'd catch a fish like this." 
Once she got on board, however, she decided she might as well buy a ticket to support the derby.
"It worked out," she said.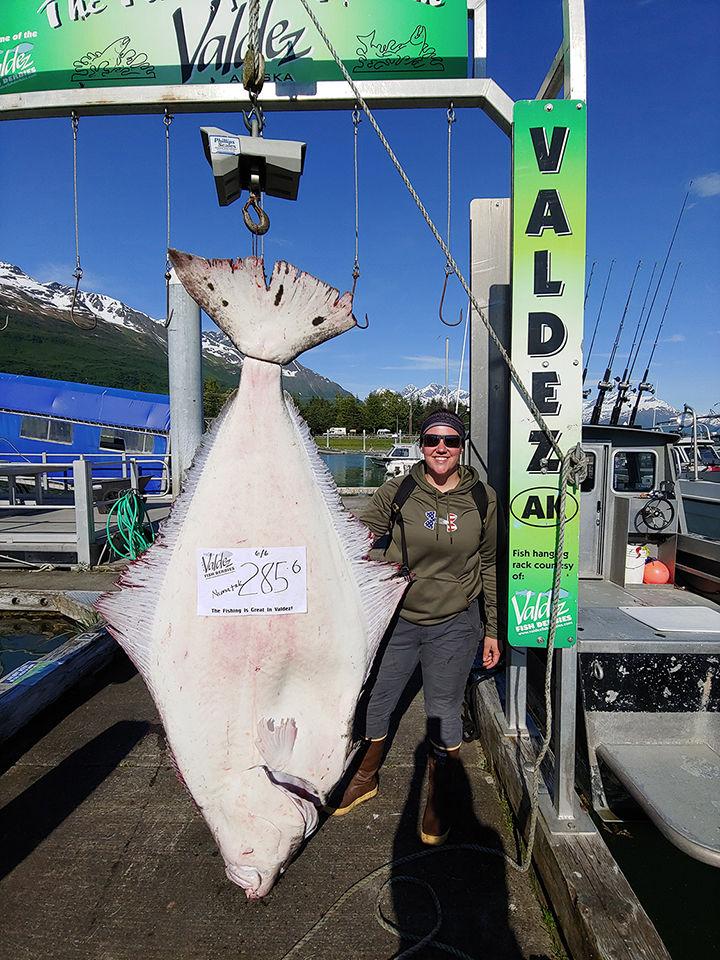 If no one catches a bigger fish in the derby, which ends Sept. 1, Ives could win $10,000. 
When asked about her chances, Ives said, "I think they're pretty good. I hope they're pretty good, but I don't want to get my hopes up."
Ives looked up past winners and thinks her fish is potentially big enough to win the whole thing.
"I feel like I have a really good chance of at least placing, whether it's first or third. I'll be happy with either one. But of course I'm hoping for first."
If she wins the cash, Ives said she would likely use some of it to go fishing again and to pay off student loans.
Ives said she would love to go fishing in Valdez again this summer. 
"Me and my two friends, we want to have an annual girl trip and we want to do fishing trips," she said. 
In the meantime, she filled her freezer and has shared part of her catch with co-workers.
"If I catch anything else or when hunting season comes around, I'm going to need a bigger freezer," she said.
Valdez derby
 David Stack, of Tyler, Texas, is in second place in the derby with a 158.2-pound halibut that he reeled in June 5. He was fishing on the Sea Walker.
Edward Wahmann, of Tok, is in third place with the 126.2 pounder he caught June 8 on the Nunatuk.
Fishermen must buy a derby ticket, which costs $10 per day or $50 for the season, to be eligible for the prizes. 
In addition to the halibut derby, which awards prizes for the largest fish, Valdez Fish Derbies also hosts the Kids Pink Salmon Derby on July 20 and the Women's Silver Salmon Derby on Aug. 10. For more information, visit www.valdezfishderbies.com.
Contact staff writer Julie Stricker at 459-7532.