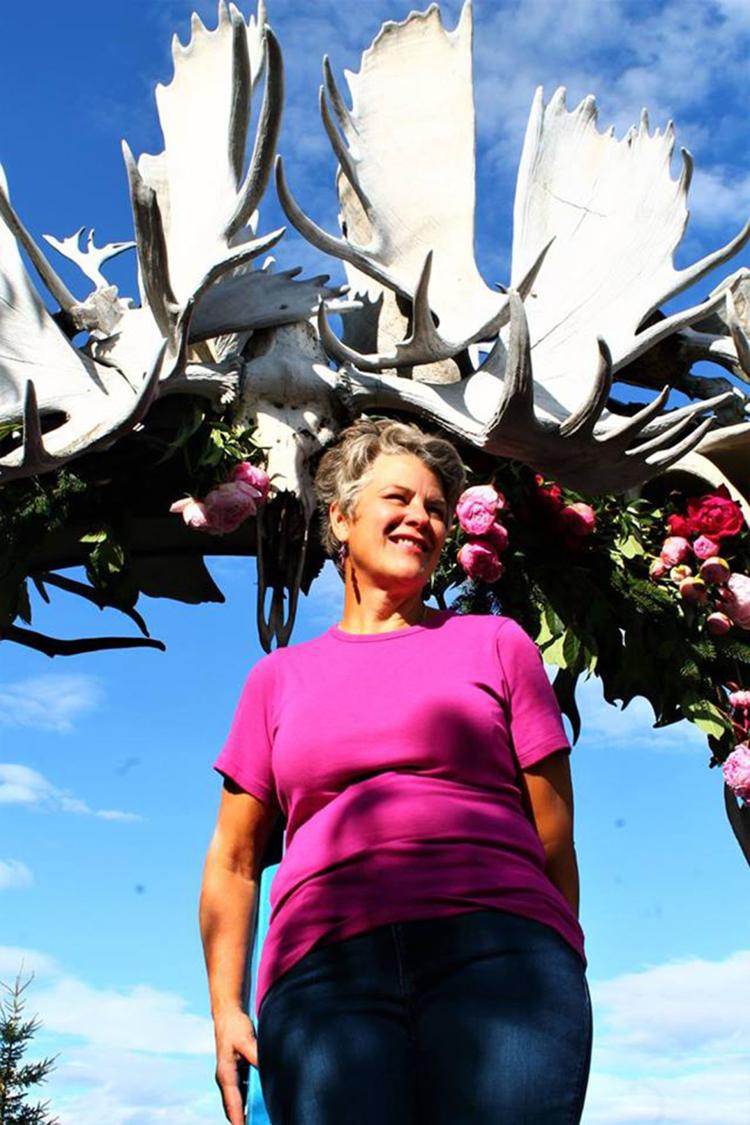 Over the past decade, the Alaska-grown peony market has taken off with farmers fostering the blooms through the state's unique growing season. Now, one Fairbanks farmer is expanding her relationship with the blooms. 
Kim Herning, local Fairbanks farmer and owner of Northern Lights Peonies, has taken to creating vibrant, and fragrant, installation art with her flowers.
It began in 2017 with an installation at the Morris Thompson Cultural Center in downtown Fairbanks. Herning adorned the iconic antler arch with an array of pink blooms, bringing the arch to life with the dynamic additions. 
"There were a lot of blooms that season that didn't get sold so instead of just leaving them I thought, 'I want to do something with them,'" Herning said. "It was just so fun to find new ways of using them." 
Last summer, Herning took her creativity a step further, fashioning a wearable skirt of chicken wire fencing and hundreds of blooms to be featured in Florists' Review. 
"I'm so design minded so it all made sense. I had seen other people's entries to Florist Review and I thought, 'I can totally do that,'" Herning said. "So last year I just started saving some of my blooms."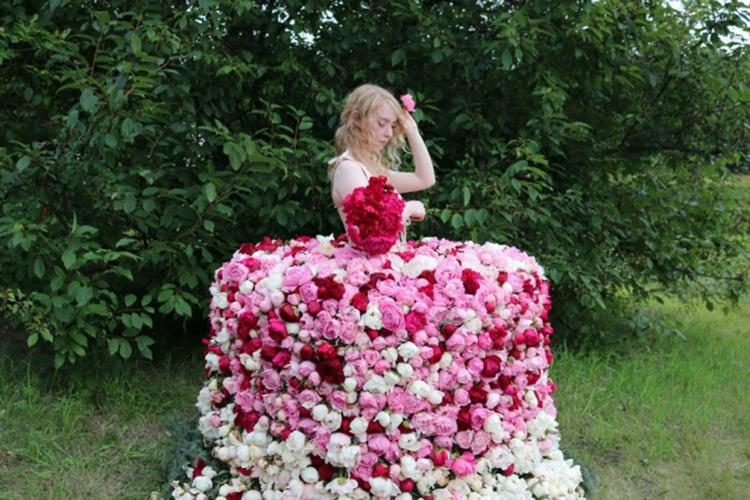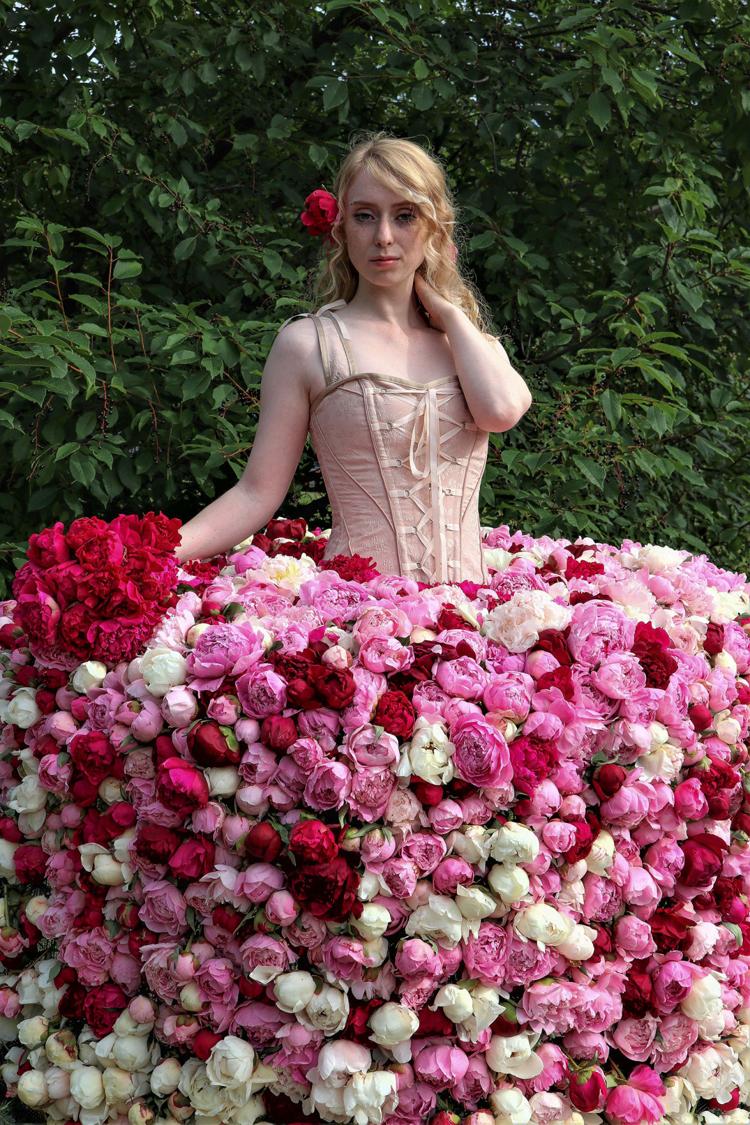 Herning created the skirt by building a circular, hooplike structure out of chicken wire and then weaving the peony stems into the wire to coat the outside in a patchwork of pink, red and white blooms. 
"I had so much fun with it and it was such a nice way to add variety to my experience with the flowers," she said. 
Herning has been farming peonies on her in-laws' old homestead since 2012. Before that, she and her husband lived in Dallas, Texas, where he worked as a pilot.
"He's an airline pilot and we went to Dallas to follow his dream and we lived there for about almost 30 years and then his airline went into bankruptcy," Herning said. "Other times this has happened, the pilots groups lost their retirement. And he just said, 'No I'm not going to lose my retirement, let's figure something else out."
That's when the two returned to Fairbanks and began living on her father-in-law's homestead. 
"He homesteaded it way back in the 1940s, I think," Herning said, as she looked out over her fields. "We had this place, and we had all the land, and we had heard about peony farming so we thought, 'Why not? Let's try it.'"
Herning farms about 2 1/4 acres with 11 varieties of the flowers.
"It's a lot more work than we anticipated, but it's also really rewarding," Herning said.
She began preparing the ground for her first peony roots in 2012 and planted the first batch the next year.
The planting process is similar to that of a potato. Herning said the roots look kind of like a "goofy looking sweet potato."
The roots are buried in the spring under a few inches of soil where they mature all summer and the following winter under the protection of a few layers of snow. The plants can handle cold, but not the extreme cold that Fairbanks winters bring, so the snow helps keep the roots shielded from some of the more frigid temperatures. That following spring, after the snow melts and temperatures warm, the plants sprout and begin their journey above ground.
Herning said her most prolific plants are about 6 years old, as it takes three seasons for the plants to fully mature and begin producing adequate blooms, she said. Now she has several large plots with plants as tall as 4 feet.
"This is not an overnight thing," Herning said with a laugh. "It's definitely the long-game. Everything you do to help them from the beginning will help them in the long run."
This year is an early crop, Herning said as she strolled through her flower beds inspecting the growing buds. Typically, the stems are ready to be cut in the first two weeks of July, but this year Herning predicts they will be ready the last week of June. 
Most of Herning's crop is sent out of state, which she estimates at about 17,000 stems. 
"That's way more than I could ever sell locally," she said. 
But this year, some of the leftover stems will, once again, be turned into art.
Herning said that after her installation at the Morris Thompson Cultural Center two summers ago and creation of this summer's dress, she hopes to plan and create another wearable installation this summer, which she refers to as "floral couture."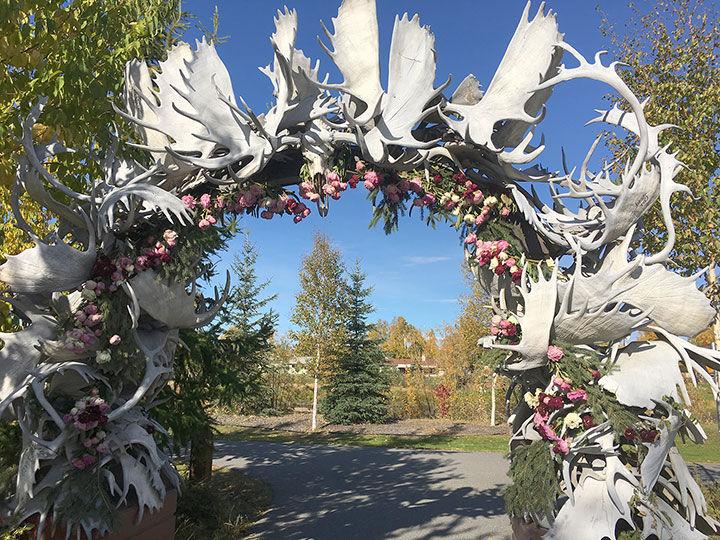 "We're going to do another one but probably slightly different and play around with some different ideas," Herning said. "I'd like to do a couple of them. I would like to do another wearable installation, floral couture type thing, but also maybe another installation around town. I've got some really fun ideas."
Until then, Herning and her small crew of local employees will continue the daily tasks of weeding the fields, picking the side buds that draw energy from the larger buds and preparing for the impending harvest. The season lasts until mid-August, when the remainder of the stems will likely be turned into art.
Contact staff writer Erin McGroarty at 459-7544. Follow her on Twitter: @FDNMPolitics.