The ballroom at the Westmark Hotel was transformed into an ink-lover's paradise Saturday as tattoo artists from across the country plied their trade at the Fairbanks Tattoo Expo.
One hundred artists manned 50 booths laid out in five orderly rows as hundreds of attendees checked out their art and watched them work. Clients in various stages of undress and physical discomfort sat or reclined as the artists etched elaborate designs into their skin. Competing strains of metal, rap and reggae issued from adjacent booths and mingled with the low rumble of the crowd to cover the buzz of multiple tattoo needles working simultaneously.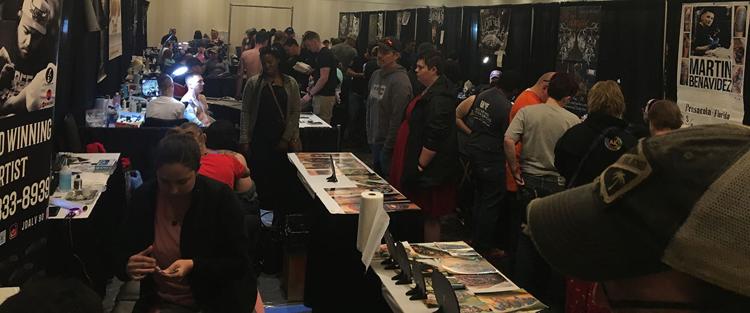 At the end of one row, Tishawn Coins casually flicked through his cellphone as Pueblo, Colorado, tattoo artist Mark Vecellio inked a dragon onto his upper arm.
At the other end of the row, Nina McDonnell smiled happily as Lacey Rose, a tattoo artist from Houma, Louisiana, colored-in on a large flower bouquet on her left forearm.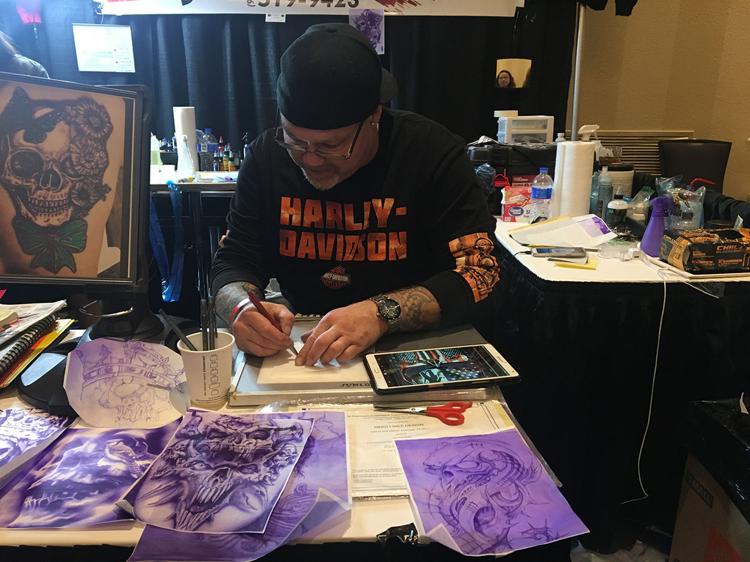 "This is number seven, they're not that bad," McDonnell said when asked whether it hurt. "I was so excited when I heard the expo was coming here, and as soon as they posted the artists and pictures online, I found Lacey and started harassing her immediately for an appointment. I fell in love with her work."
One row over, friends Sjon Sims and Christian Flores leafed through portfolios and talked to different artists about what they were looking for. Both needed to get existing tattoos touched up, and Flores wanted a new tattoo of a lion or tiger on his hand. Sims was planning something more elaborate.
"I'm getting a samurai sword with writing on it. Japanese letters, the seven virtues," Sims said, referring to the samurai code of honor.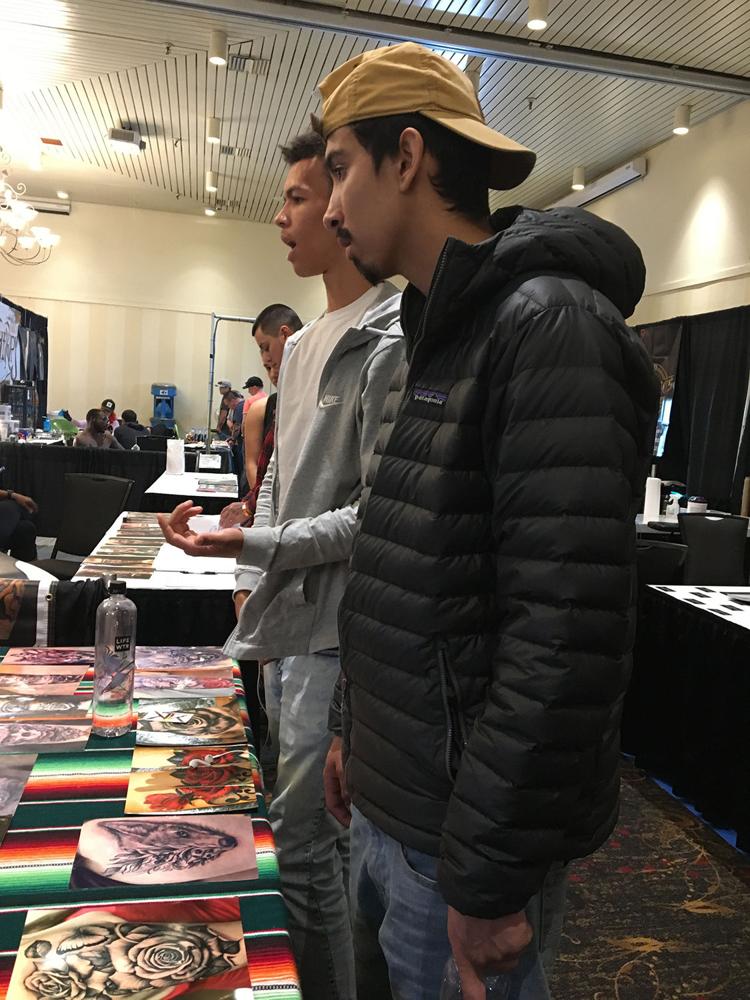 The three-day event was hosted by Ray Hernandez, the creator of "Ink Master," a competitive reality TV series that is now in its 12 season. Hernandez has turned the show into a brand, with several franchise shops in the Lower 48 and an ongoing expo tour that travels to cities across the U.S.
Though the expo has visited Anchorage several times, this was its first show in Fairbanks. Customers were lined up from the door to the ticket table Saturday as busy workers took cash and affixed color-coded wristbands to the customers, indicating whether they had purchased a one-day pass or a three-day pass. Attendance was so heavy that organizers ran out of the orange wristbands designated for Saturday and had to use leftover wristbands from Friday.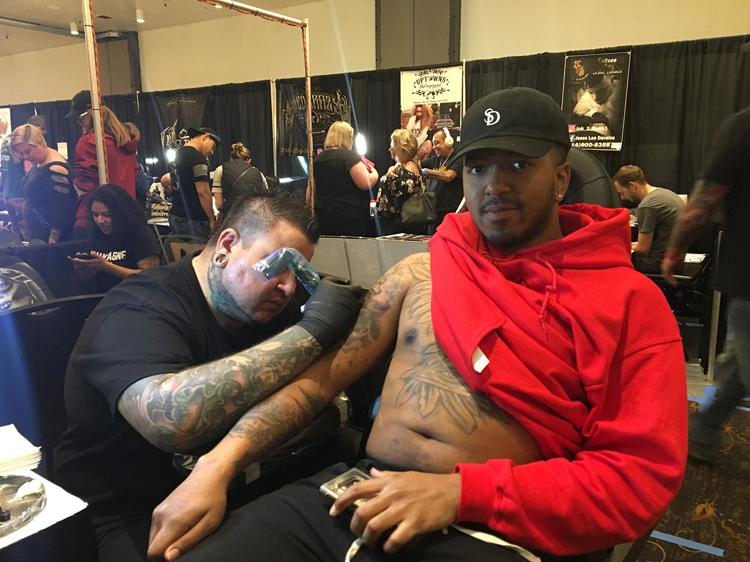 "Artists, please turn down your music really quick. We do have some clients coming in with pink wristbands. We have their names marked down up front and they have legitimately paid. Please do not cut off their wristbands," organizer Jo Soto said over the PA system. 
The turnout far exceeded expectations, Soto said.
"The (artists) started getting appointments before we even landed. We were pretty surprised," Soto said, adding that the Westmark was allowing them to work until 5 a.m. so they could finish tattoos that were started late in the evening.
The expo will definitely return to Fairbanks next year, Soto said.
"Yes, ma'am. As long as the crowd keeps coming, we'll keep going."
Contact staff writer Dorothy Chomicz at 459-7582. Follow her on Twitter: @FDNMcrime.