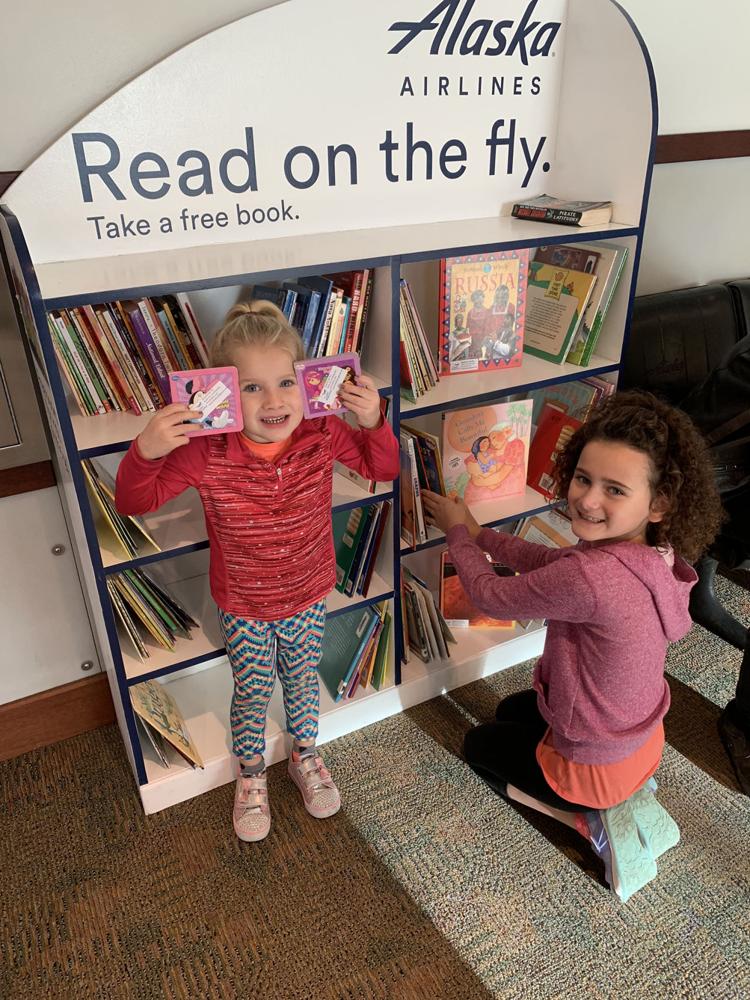 Reading and traveling go hand in hand. So why not encourage children to do both at the same time?
The Read on the Fly program is a big success at Fairbanks International Airport and six other airports around the state. Bookcases filled with childrens' books are located at the terminals. Young travelers are encouraged to choose a book and take it with them on their flights. The goal is to encourage reading, specifically for those who are 16 and younger.
"It's a great addition to our airport," said Sammy Loud, information officer for Fairbanks International Airport. "It's definitely getting used. It's so fun to walk out there and see kids picking out their books and bringing it to their parents."
The program began at Ted Stevens International Airport in Anchorage in summer 2016. Fairbanks added the program in 2017.
Read on the Fly now has expanded to offer 13 shelves of books in seven airports around the state. That number is expected to grow again when a shelf is established this year in the Kotzebue airport.
"Our supporters have been many, but particularly RavnAlaska," said Alaska on the Go's Erin Kirkland, who spearheads the project. "The company has supported our project in such a tremendous way, from shipping books to helping us secure space for shelves, to station crews building the shelves themselves. We can't say enough about their efforts."
In Fairbanks, there is a Read on the Fly bookcase in the Ravn terminal area, before security, and in the Alaska Air terminal area, after security. She said Alaska Airlines' support was "stellar from the beginning."
Local residents can donate childrens' books to this program by dropping them at Credit Union 1.
"The literacy council brings us books as well," Loud said. "We just go through and make sure the books are age appropriate."
If they pass the "age appropriate" test, books get a Read on the Fly sticker and are then placed on the shelf.
Kirkland wanted to give special kudos to fifth-grade students at Gladys Jung School in Bethel. They took it upon themselves to be responsible for the Read on the Fly shelves at the Ravn airline terminal in Bethel.
"They also have begun distributing books throughout the Bethel community, too, because they liked the project so much," Kirkland said.
Kirkland said she hopes to do more "on the ground" community outreach in the coming year — "community outreach, attending rural Alaska events to spread the word, read books with kids, give books away and generally make an impact in person with families," she said.
Kirkland regularly monitors the shelves in Anchorage, making sure the book collection remains diverse.
"A diverse collection means youngsters may opt in to reading and opt out of a mobile device," she said. "And that's a win for everybody."
The Family Travel Association recognized Kirkland last October as an "innovator" for kids, families and travel.
Reading and travel have a lot in common, Kirkland said.
"One takes you somewhere literally, the other, figuratively," Kirkland said. "Open pages of a book can deliver a kid to anyplace on Earth and beyond. And that's pretty cool.
"We just need to give children the boost toward discovering that reading is one of the best ways in the world to be who you want, where you want to be, and how."
Reach columnist/community editor Kris Capps at kcapps@newsminer.com. Call her at the office 459-7546. Follow her on Twitter: @FDNMKris.