When North Pole High School student Seth Rupe flew to Muncie, Indiana, this week to attend a special remote control aeronautics camp, he did not go empty handed. He took a 5-foot-long, remote control model helicopter with him.
The 16-year-old hobbyist was awarded a scholarship to attend the Academy of Model Aeronautics Camp. He's excited to meet other pilots and learn new skills. Since he discovered remote control flying, he hasn't wanted to do anything else.
Seth was 9 when his interest was piqued.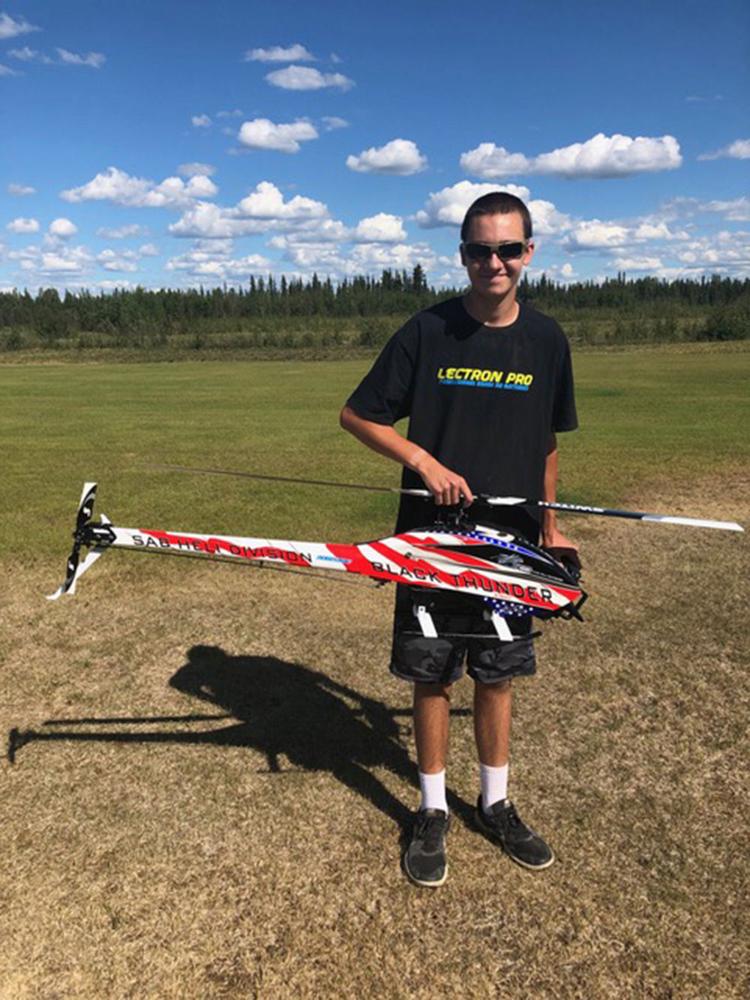 "He got started at the entry level, but he has always had an interest in airplanes and aviation," said his dad, Jeremy Rupe. "Seth picked it up very, very quickly. He flies everything right now. He also flies drones; he races drones."
Once hooked up with a local Fairbanks group, Seth began learning new skills while also improving basic skills. The local group is the Midnight Sun Remote Control Club. The club regularly meets at Memorial Field, about 9 miles east of Fairbanks on land leased from the state of Alaska.
"There are about 30 members who are pretty active out there," Jeremy Rupe said. "All with varying skill levels. Seth is probably the youngest member out there."
Club members have been instrumental in helping develop Seth's interest and skills, according to his dad.
"The other big thing is, he is into helicopters," Jeremy Rupe said. "They are very difficult to fly and he has a very unique talent for flying them. He's very good."
Seth is also part of the Fairbanks FPV — First Person View — club and won first place at its race last summer. He has also raced with the University of Alaska Fairbanks' Alaska Center for Unmanned Aircraft Systems Integration at the UAF Patty Center.
All this enthusiasm rubbed off on his dad, who opened Arctic Wings RC in North Pole, a remote control business. The hobby store stocks radio control airplanes helicopters, drones, boats, rock crawlers and basher-style vehicles. With the advent of FPV the store stocks various cameras, video transmitters and goggles.
"We're getting into it as a family," according to his dad.
Seth's favorite part of all this is getting that model up in the air "and enjoying the flight."
"If you do crash, you just glue the parts back together," he said.
"If you crash something, you can fix it."
That helicopter isn't the only thing going with him to Indiana. He also had two model planes shipped directly to Indiana. And he added a drone to the fleet.
The camp will offer an opportunity for Seth to learn from some of the best remote control pilots in the world. The week is spent learning about model aviation and building lifelong friendships with other RC pilots from all across the nation.
Seth is a junior at North Pole High School and a member of the school's JROTC Cadet Corps. He assists in running the JROTC Aviation Cub. His plan is to become a pilot of Unmanned Aerial Vehicles in the U.S. Air Force.
Reach columnist/community editor Kris Capps at kcapps@newsminer.com. Call her at the office 459-7546. Follow her on Twitter: @FDNMKris.