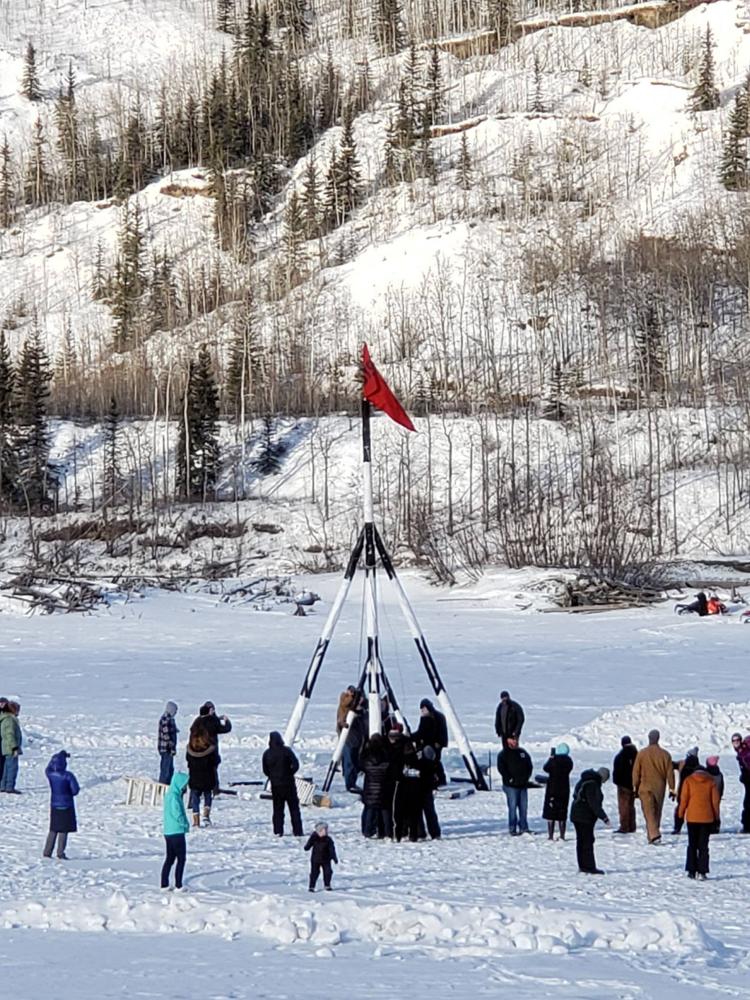 Every year, 75 to 100 Nenana residents look forward to collecting, sorting and tabulating all the tickets collected from around the state for the Ice Classic contest. It's a dependable paycheck for some.
However, the COVID-19 outbreak has complicated that process. Constant cleanliness and social distancing mean some changes to what has been a yearly routine.
The Ice Classic is the annual guessing game for when the Tanana River ice will break up in the city of Nenana. Red-colored cans are distributed around the state from Feb. 1 through April 5, and people can guess the exact month, day, hour and minute that the ice will go out. Tickets are $2.50 per guess. In 2019, the sole winning guess won $311,652.
Proceeds from the annual guessing game also fund three scholarships for students as well as donations to the Nenana Volunteer Fire Department, Nenana Public Library, Nenana City School student trips and functions. The Nenana Ice Classic has even helped to purchase musical instruments for the school's music department. Nenana Ice Classic has, over the years, supported KUAC, Shriners Hospitals, American Cancer Society, the Boy Scouts of America in Fairbanks, camps for kids and more, according to Ice Classic Director Cherrie Forness.
Before the money can ever get paid out at the end of the process, someone has to record all of those guesses at the beginning, before the ice goes out.
And that's where the Ice Pool comes in. The Ice Pool is the gathering of those workers, beginning April 13 this year. They have to sign up with the Ice Classic office by March 31, which is Tuesday. The workers earn minimum wage, which is a little more than $10. Someone who works the full session of five or six weeks can make $1,500 to $2,000, Forness said. Last year's payroll for the Ice Pool was about $144,000.
Here's how it works.
The 220 cans filled with tickets from around the state arrive in Nenana, and each can is opened and dumped into its own box. That box has the can number and the name of the business where it was located.
Workers called floor walkers facilitate this entire process. Sorters then bundle the tickets, so they're not all jumbled up, Forness said.
In the next phase, workers put the tickets in numerical order for that box. Typists enter the tickets into a data system. Workers called "comparers" then physically check each ticket against the entered data.
"This can be checked up to three times," Forness said. "But usually the first round is good."
This is a full-time job.
"Sorters work from 9 a.m. to 6 p.m.," she said. "Typing won't start till five or six days later."
Forness expects two shifts for the data entry.
All this happens in the Nenana Civic Center. And now it has to happen with sanitation and social distancing in place.
"We have all kinds of ways of keeping things clean," Forness said. "We're going to be cleaning everything constantly."
"Before you even walk in the door, you will be given hand sanitizer and rubber gloves. If you come to work and are sneezing or coughing, you will be escorted out of the building.
"We're just going to do everything we possibly can."
At every break, computers, keypads, pens, tables, chairs, will all be sanitized again, she said.
Because the Nenana Civic Center is not big enough to accommodate 100 people, all 6 feet apart, the work will probably happen in shifts.
Forness said she has been in touch with the governor's office about her plans to move forward.
"We will take every measure humanly possible to make sure our facility is clean," she said.
The Ice Pool is something the local community looks forward to every year.
"There's people who have worked there every year since high school," she said. "Hopefully our sales are good. I don't know. We'll see."
"It is what it is."
Reach columnist/community editor Kris Capps at kcapps@newsminer.com. Follow her on Twitter @FDNMKris.