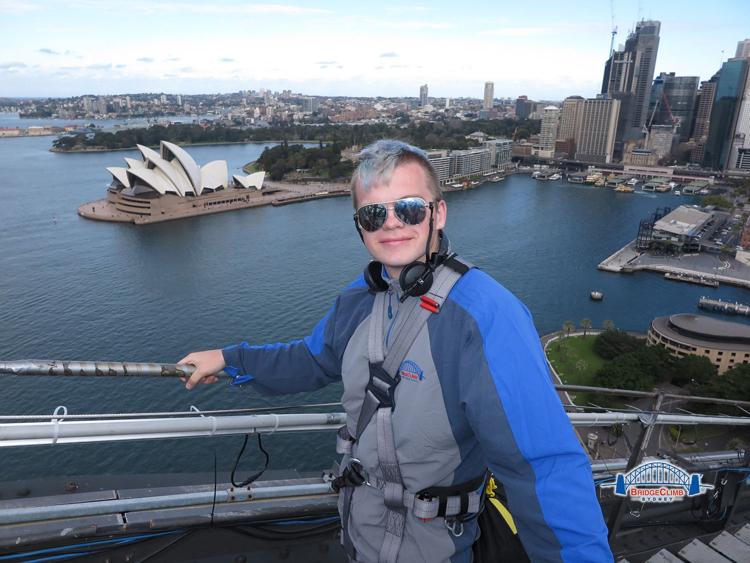 From the time Ethan Troxel, 18, started playing recorders in the first grade, he loved music. That passion led to two performances at Carnegie Hall in New York City and a recent performance in Sydney, Australia, all during his high school years.
His instrument of choice? A trombone.
"My grandfather played the trombone," he said. "My sister played the trombone."
He can enthusiastically launch into a list of reasons why the trombone is such a wonderful instrument.
"I always really enjoyed it," Troxel said. "There are certain things about a trombone that you can do, like when you slide one note down or up, it's called a glissando. It's easiest to do on a trombone."
After his sister and another friend graduated high school, Troxel was the only trombone player at Nenana School. He was a junior.
During his Carnegie Hall performances, he met other music students who talked about having personal tutors for which they paid $50 to $100 per hour.
"In Nenana, there is no one to give lessons," Troxel said. "I'm the one who gives lessons."
But he had something even better than expensive tutors — the Mudges. Darren and Candace Mudge are music teachers who often combine their individual district agendas to benefit students. Darren Mudge teaches music at Nenana School and Candace Mudge teaches at several schools for the Denali Borough School District.
Their knowledge of music, their expertise and their passion for teaching always impressed and amazed the young trombone player. It's because of the Mudges that music became an important part of his life, he said.
"I find music to be very fun," Troxel said. "The thing I'll miss most about high school is not going on band trips with other kids. You spend up to a week-long trip with people who enjoy the same things as you, the same goals as you, and you get to know them really well."
Troxel was home-schooled for much of his life, although he always went to Nenana School for music.
"I was that one weird kid who just showed up for band practice," he said.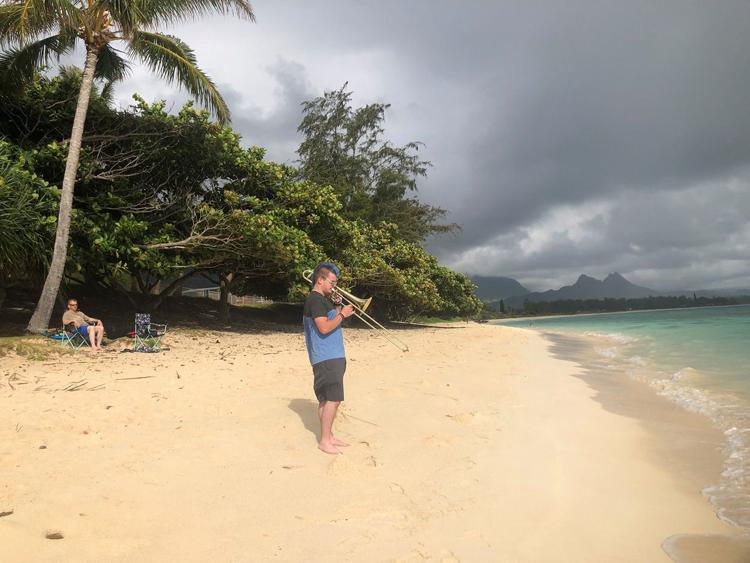 He returned to Nenana School full time his junior and senior years.
At the end of his 10th-grade year, he performed a solo at the annual statewide music festival. Students with those credentials were invited to apply to perform at Carnegie Hall. His application was approved and with the help of Darren Mudge and Nenana School, he was able to attend.
"I had to ask them beforehand, I have colored hair, would they be okay with that?" he said. "They have a very strict dress code."
His hair was green at the time.
"They said that was fine as long as I didn't spike it. So I had it freshly dyed before I went," he said. "I was also the only kid on stage who waved at their parents."
He received a second invitation his junior year of high school, which he accepted. He thinks his hair was dyed red that year.
Just before the end of his senior year, Carnegie Hall asked if he would come to Sydney, Australia, as they were short on trombone players.
He received a generous donation from the Nenana Ice Classic, and pulled together all the money he had saved over the years working at a local tree farm and arranged to make the trip. This time, his grandparents accompanied him. They even managed a stopover in Hawaii coming and going.
His next step is enlisting in the U.S. Army warrant officer flight training program. He doesn't want to play music professionally, but he'd love to join a community band.
He did leave something special behind at Nenana School.
At metal shop class, he created a guitar out of steel by working a couple hours a day every day for two to three months. Then he presented it to his music teacher, Darren Mudge.
"This is a gift I made for you," he told him. "You're a guitar player and you're an important person to me."
Months later, he asked if he could work on that metal guitar a bit more. He replaced the metal neck with a wooden neck and turned it into a fully-functioning electric guitar.
"It sounds a bit twangy, but that's kind of understandable since it's solid steel," he said. It also weights 20-25 pounds.
And, finally, after all these years, Troxel finally has his very own trombone.
That's thanks to lifelong friend Breland Keifer, who graduated with him in 2019. On graduation day, she handed him a "gigantic duct-taped covered box." The two of them had attended prom that year in duct-tape attire.
"Inside was a trombone case," he said. "Inside was a trombone."
He got choked up relaying the story.
"Bre saved up all her Amazon gift cards and bought one," he said.
She apologized that it wasn't new but to Troxel it was the best trombone ever.
That's the trombone he took to Australia for his performance at the Sydney Opera House on Aug. 4.
Reach columnist/community editor Kris Capps at kcapps@newsminer.com. Call her at the office at 459-7546 or follow her on Twitter: @FDNMKris.