More than 100 adults in and outside of the Denali Borough have pledged to not use plastic bags during the month of May.
That means shoppers like Nathan Pitt, who forgot his reusable bags on a recent store run, walked out of Three Bears Grocery with an armload of unbagged groceries, plus a few small items stuffed in his pockets.
Also, over the past couple weeks, a small army of elementary students picked up 55 bags of trash from the Tri-Valley School yard, the hockey rink and other nearby areas of the community.
These people were all motivated by Kelty Stainbrook, 9, a third grader from Healy.
"We were learning about animals in the ocean and pollution," Kelty told me. She discovered plastic bags could harm animals in the ocean. That got her thinking about ways to stop using plastic.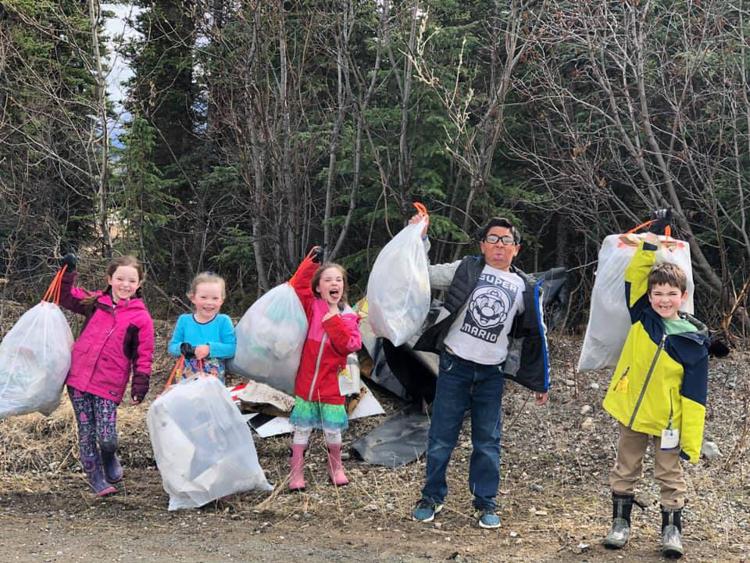 She posted a sign-up sheet in the school hallway outside her classroom, looking for volunteers to help pick up litter, including plastic. Parents started asking her teacher for details. Kelty's teacher also happens to be her mother Katie Stainbrook.
"I didn't know what they were talking about," Katie Stainbrook said. A parent showed her the sign-up sheet and Stainbrook soon became Kelty's administrative project assistant.
That first pick-up day, kids removed 13 bags of trash from Tri-Valley School's playground area. In the days that followed, the team picked up litter from the hockey rink near Fisher's Fuel, in nearby woods and behind a local resident's home. That resident, Jeri Lucier, donated 15 pairs of reusable gloves to the elementary students.
Their goal was 50 bags of trash this month, and, so far, they have already picked up 55. They all celebrated surpassing their goal with an ice cream party at the local Mountains of Fun Playground.
Kelty's mother ordered some reusable grocery bags and mesh bags. In one afternoon after school, Kelty sold 42 mesh bags.
Plastic bags, Kelty said, are made out of petroleum, a nonrenewable resource.
"Once you use it, you can't use it again," she said. "We make plastic out of it."
She and her class started calculating the amount of petroleum it takes to make one plastic bag.
"We did a bunch of crazy math," Stainbrook said. "One dad has to drive to Clear Air Force Station. How many plastic bags does he use in gas, back and forth?"
Meanwhile, cashiers over at Three Bears Grocery are definitely noticing a downturn in usage of plastic bags. But manager Lance Holland said he can't really quantify that with numbers. The store supports Kelty's program and also sells reusable grocery bags, he said.
Kelty and her mother document progress on a Facebook page called "Kelty's Wilderness Cleanup Project." The page is filled with tips on what to use instead of plastic bags and some updates from those who have pledged to not use plastic.
The end of May is coming soon and Kelty is hopeful that those who pledged will continue to not use plastic bags.
"If not, I'm going to do another pledge for June and July," she said. "I want to do it for another two months. This month went by too fast."
A note from local cashiers: They love reusable grocery bags, but they really hope customers bring bags with flat bottoms; they're a lot easier to pack.
Reach columnist/community editor Kris Capps at kcapps@newsminer.com. Call her at the office 459-7546. Follow her on Twitter: @FDNMKris.