Interior Alaska is home to the same species of tree-killing beetles that's causing a major spruce tree die-off in Southcentral. But for reasons that aren't completely clear, the insects in our region aren't associated with the same periodic spikes and destructive epidemics.
U.S. Forest Service entomologist Stephen Burr monitors the status of spruce beetles and other forest pests from his office in Fairbanks. He said dendrochronologists, who study tree ring records, have observed spikes in spruce beetle populations at intervals of every 30-50 years. In Southcentral, the last one took place in the mid-1990s, and another epidemic is now taking place.
Despite the presence of the spruce beetle in our region, there's no record of spruce beetle destruction in the Interior on the same scale.
"We've probably had 470,000 acres of (spruce-beetle-caused tree forest) mortality in the Interior over the last four decades, compared to 900,000 over the past couple years in Southcentral," Burr said.
The spruce beetles found in Alaska belong to a genus of 17 bark beetle species that are so notorious for destroying trees that it's named "dendroctonus," or "tree killer." Despite the scale of their destruction, the beetles are tiny, only two or three times bigger than a no-see-um.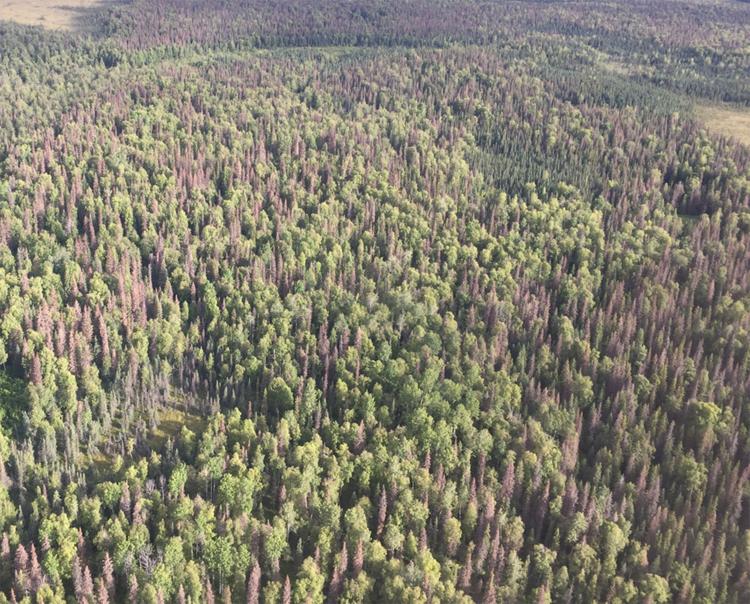 The spruce beetles life cycle revolves around eating tissue that spruce trees need to live, leaving the trees standing dead with red needles. The dead spruce trees cause problems by falling over, and they lead to elevated wildfire risks. This spring, Alaska State Parks temporarily closed two popular campgrounds in Southcentral to remove beetle-killed spruce trees.
This is the time of year that beetles leave their host trees and fly around, looking for new hosts to infest. Unaided by wind, they can fly about a quarter mile.
The beetles rely exclusively on spruce trees. Among the Interior spruce, they are much more likely to infest white spruce than black spruce.
Both adults and larvae live under the bark, eating the tree's phloem, the tissue the plant uses to deliver food generated from photosynthesis to all parts of the plant.
Bigger problem south of Alaska Range
One explanation for why spruce beetles cause so much destruction in Southcentral Alaska compared with the Interior is the colder winters here, Burr said. Subpopulations of spruce beetles that live in the Interior are more cold-resistant than beetles that live in Southcentral, but the coldest winter days here still limit their overwinter survival.
Another explanation is moisture.
"Most of the attacks that take place up here are along rivers. The bigger ones have been along the Kuskokwim and the Yukon. I think that the phloem — the part of the tree that beetles are feeding in — is dryer up here then it is down south and may not be optimal for reproduction."
That means that the Interior could become significantly more vulnerable to spruce beetles if the region becomes warmer and wetter, as some climate models predict, Burr said.
Spruce beetles are especially speedy at reproducing here. Elsewhere in Alaska, the beetles usually reproduce over a two-year cycle. A switch to a one-year cycle is associated with a major population boom and occurs with warm summer weather.
In the Interior, it's warm enough in the summer that the spruce beetles are usually on the accelerated one-year reproduction cycle. The cold winters are considered a main check on the population size.
Advice for Fairbanks property owners
Julie Riley had a bundle of grocery store firewood at her office last month to illustrate one way spruce beetles can spread.
Riley, a horticulture agent at the University of Alaska Cooperative Extension Service, focuses on small, local spruce beetle infestations, rather than the large epidemics. Regardless of whether spruce beetles get to the critical mass to dramatically transform the landscape in the Interior, they can and do transform the yards of Fairbanks property owners, she said.
Spruce beetles can infest trees in the Interior from neighboring properties, but they can also be introduced by property owners, who unwittingly bring infested wood onto their property and store it near trees.
Over the past few years, Riley has taken to inspecting firewood bundles sold at Fairbanks grocery and convenience stores to look for infested firewood from Southcentral. She took one such bundle back to her office, secured in a box so the beetles don't go everywhere as they start to fly.
As she opened the box in her office, she noted the reddish-brown material that looked like sawdust on the bark, a sign that beetles had eaten their way through it. As she peeled back the bark, a handful of the small beetles emerged and began to make short clumsy flights.
"In our house, we had 100 beetles come out of this little bundle," she said. "The number of beetles that are here in the wood are not going to cause an epidemic, but the beetles are ready to fly to the nearest tree."
Spruce beetles look for weak trees to infest, so, in addition to avoiding infected wood, homeowners can fend off beetle infestations by keeping their trees healthy. Not pruning while the beetles are flying this time of year is also a good idea, because pruning causes trees to emit a chemical that indicates weakness, she said.
For more on how to protect trees from beetles, Riley recommends www.alaskasprucebeetle.org, a multiagency website about the pests.
Much of the Alaska research on spruce beetles done during the 1990s was presented at a 2004 symposium in Homer. The summarized research in a 2006 Forest Ecology and Management article can be found at bit.ly/2WkhVYr.
Contact the newsroom at 459-7545.