Alaska and local fire crews are battling a number of wildfires throughout the Interior, the most recent of which is a 500-acre fire near Two Rivers. 
Caribou Creek Fire
The Caribou Creek Fire, burning about 7½ miles north of Mile 18 Chena Hot Springs Road, was estimated to be at about 500 acres as of late Sunday night but has shrunk by more than 100 acres due to heavy suppression efforts from multiple fire crews.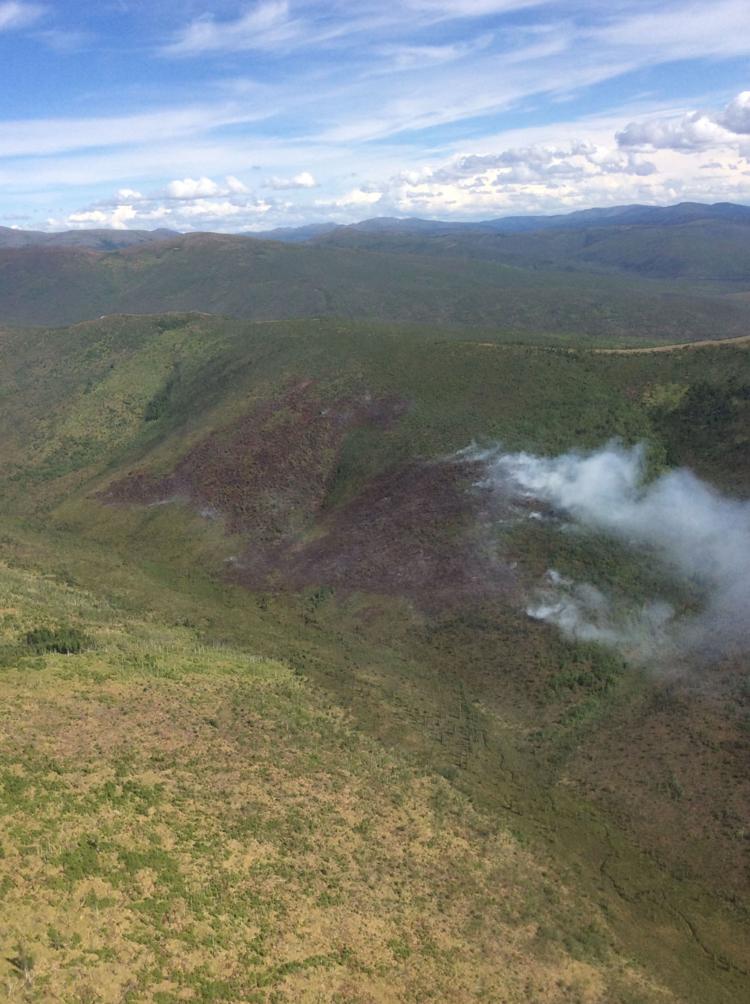 "Crews kept at it today with water scoopers and helicopters dropping water on it," said Tim Mowry, spokesman for the Department of Natural Resources' Division of Forestry. "It climbed up this ridge and then petered out at the top of the hillside. Tonight they'll be dropping retardant on the top of the ridge top to try to slow the spread and let the guys on the ground get it there and get after it."
Mowry noted there are a total of four fire crews and about 16 smoke jumpers working on the fire, totaling a little more than 100 people. 
Oregon Lakes Fire 
The Oregon Lakes Fire in the Delta Junction area has been subdued significantly due to several days of rain, according to Beth Ipsen, spokesman for the Bureau of Land Management's Alaska Fire Service.
"It's in monitored status. There hasn't been much activity," Ipsen said. "There's been quite a bit of precipitation so it's about the same size."
The fire is not burning near any structures and not "on the move."
The fire, which began in late April, has burned across 34,499 acres, according to the Alaska Fire Service. 
"It did burn around some military observation sites North of the Oklahoma Range a few weeks ago but fire screws successfully protected those sites and they've remained untouched," Ipsen said.
Tok Fire 
The MacArther Creek Fire, near Tok, has grown by about 2,000 acres to an estimated 6,774 acres as of Saturday. 
"We're still monitoring that," Mowry said. "It's in a limited protection area so we're not taking any suppression action at the moment."
The fire burned through a fuel staging area near the Canadian Border without doing any damage. Structures along the fire's path have been outfitted with hoses and sprinklers and should the blaze come closer, fire crews will deploy to activate the sprinkler systems, Mowry said.
Minto Fire 
The Tractor Trail Fire, a small fire burning North of Minto Flat is "completely contained and controlled," Ipsen said Monday afternoon. Ipsen noted the fire had been contained for "some time" and there had not been any concerns with flare ups or spreading.
The fire was burning near Ptarmigan Hill about 7.5 miles Northeast of Minto. The fire was spotted by a Minto resident June 8. After an investigation, fire crews were able to deduce the fire was caused by a lightning strike and was initially burning mostly in black spruce. The fire was completely controlled as of Monday, according to Ipsen.
Cripple Creek Fire
A small fire near mile 62 of the Steese Highway is in monitored status with only 25 acres burning in a limited protection area. Mowry noted that fire crews had set up trigger points that, if the fire spreads, will let fire crews know they need to check on the blaze.
"There was quite a bit of smoke this weekend and we got some calls about the smoke so we're going to just go check it out and make sure it isn't pushing any of the trigger points," Mowry told the News-Miner on Monday afternoon. 
Those interested can find daily information on wildfires across the state at www.akfireinfo.com.
Contact staff writer Erin McGroarty at 459-7544. Follow her on Twitter: @FDNMPolitics.