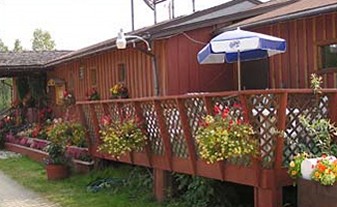 The Turtle Club just outside of Fairbanks features cocktails, beer, wine by the glass or bottle, and sparkling wines for that special occasion. Our prime rib and seafood restaurant proudly offers Woodbridge® Cabernets, Zinfandels, and Chardonnay as our house wines, with plenty of choices available to complement your dining out experience.
Started by a group of test pilots during the Second World War, The Turtle Club in Fairbanks, AK, has progressed to its present position as one whose membership is diligently sought after and highly esteemed by those lucky enough to be initiated.
Adherence to the creed and always giving the password when asked are the only responsibilities placed on our membership. You'll find that life is more fun and takes on a
new meaning when you're a "TURTLE!"
Greta invites you for dining out at The Turtle Club, and when you do, she will be glad to tell you what RUAT, YBYSAIA means. No, it doesn't mean "The Turtle Club" in some Middle Eastern language! Ken and Greta Lindley bought this prime rib and seafood restaurant from George Splitstoser about 20 years ago, and they have been serving up award-winning food ever since. Contact us today to hear more about the history of our unique restaurant.
Business ID: 1127401420 | Universal ID: 07da1f2d-15b5-5b33-9311-77276c5157ef