Permafrost Distributors won't stop growing — its product or its brand.
Even if owner Chase Griffith has to keep rebuilding social media accounts from scratch (and he does) he wants to build a customer base that supports the cultivation and retail team.
"Attention is the single most valuable thing that every business owner in the world is after right? Because if you have no attention, you're not going to get anything," Griffith said. "So first you get attention, and then you get them to love you, and then they'll support you."
Griffith owns the Permafrost Distributors retail shop out in Sterling, as well as cultivation sites in Sterling and Nikiski, all on the Kenai Peninsula.
If there's one thing he could change about his operation, it would be the business's ability to advertise on social media.
With two Instagram and three Facebook accounts shut down so far, it can get discouraging, Griffith said, but he just aims to keep posting and growing the brand. It's not without some payoff: Facebook lifted its ban on legal cannabis pages half a year ago and Permafrost Distributors does have an active page up.
"But honestly, the biggest disadvantage is my inability to pay to advertise on Facebook and Instagram right now," he said.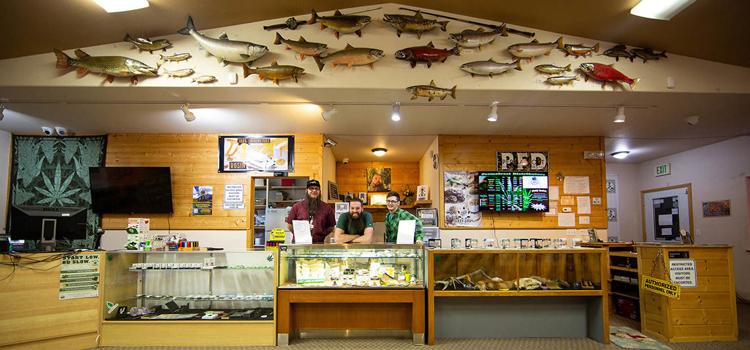 Since marijuana is still a controlled substance under federal law, Griffith knows he cannot work with some of the most prominent social media websites to grow his brand.
He still can't be discouraged.
He said he'll go wherever his audience may be. Facebook, SnapChat, Instagram, LinkedIn — look for Permafrost Distributors, and Griffith is there discussing the business.
Cultivating business
Griffith worked in the oil fields for years, making a six-figure salary, but he said the money did not make up for what he was lacking in quality of life.
"Originally I was in oil field background — 14 years there," he said. "I did 10 years up on Prudhoe, four years in the Cook Inlet, and absolutely miserable with my career choice."
When the cannabis industry took off, Griffith took off with it. He opened the Nikiski cultivation site in December 2016. His    yearly salary was cut by more than half, but running Permafrost Distributors has made him far happier.
"So although the money is substantially less, the quality of life is through the roof," he said.
In addition to the retail shop and two cultivation sites, Griffith is doing the paperwork required to legally transfer ownership of a third site in Kasilof to him.
"Each of my locations is about an hour away from each other," he said, laughing about the commute.
He added that it can be an advantage, though, to keep everything so far apart. With the cultivation sites kept separate, he said if anything bad were to happen to the cultivation site in Nikiski, the one in Sterling won't be affected.
Griffith said there is a grower for each cultivation site and that they hand trim and hand water everything.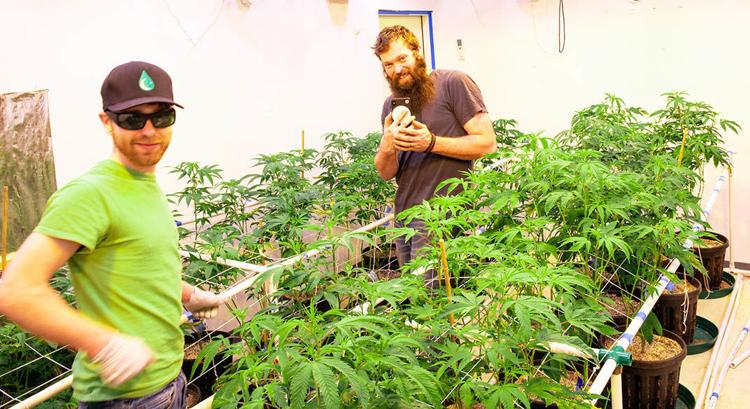 "The gardens are my sanctuaries and I run the Nikiski garden myself," he said.
Each site includes a "veg area" where Griffith said vegetative plants, mother plants and clones are kept. Beyond that is the "bloom room," which takes up more space.
They offer their services to other cultivators as well, Griffith said, in case people need help transplanting, trimming or doing garden work. 
Griffith hopes that by acquiring the new cultivation site, he will be able to double business.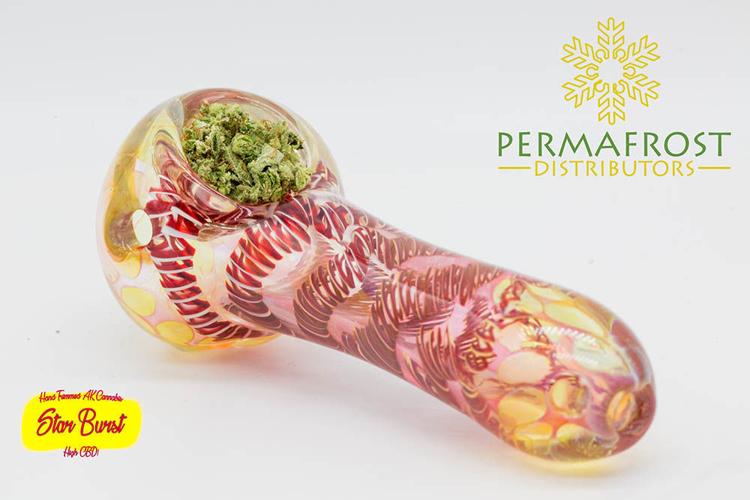 Concentrating on concentrate 
Griffith can name the retail shop's most popular product immediately: "Cartridges, flat out."
Griffith and Brian Keith, Permafrost Distributors' operations specialist, both list cartridges and concentrates among the shop's best sellers.  Among the cartridges, customers can find some of the products grown at the Permafrost Distributors cultivation sites.
"Since we cultivate, we try to have a lot of our own derived products. Even though we don't manufacture, we partner with manufacturers to make product out of plants that we cultivate," Keith said.
Keith works with metrics and manages the Permafrost Distributors retail store out in Sterling.  He said flowers are "the bedrock" of the business but that the CO2 extracted cartridges are their hottest item at the moment.
Griffith said dart cartridges made by Good Titrations are up-and-coming items on the shelves as well.
Aside from cartridges, Keith noted their "Frosted Cookies" hybrid is a fairly popular product and he sees that strain expanding. These days, he said, they carry a variety of around 18 flowers, of which several are the ones they cultivate.
"We love being able to do that for our customers," he said.
The retail shop, which is about 1,000 square feet, started as a very different type of business, more fauna than flora.
"The building itself used to be a really popular taxidermy and gift shop and so when we moved in all that stuff was still up and we decided to keep it because we're going for a very Alaskan kind of feel," Keith said. Although some modifications have been made to give the store a more 4/20 friendly feeling.
"There's mounts on the wall — we call them the three wise men — there's an elk, a moose and a buffalo. They all have joints hanging out of their mouths," Griffith said.
Keith finds the store set up to be less intimidating than others he's been through. He said the idea was to keep the environment comfortable.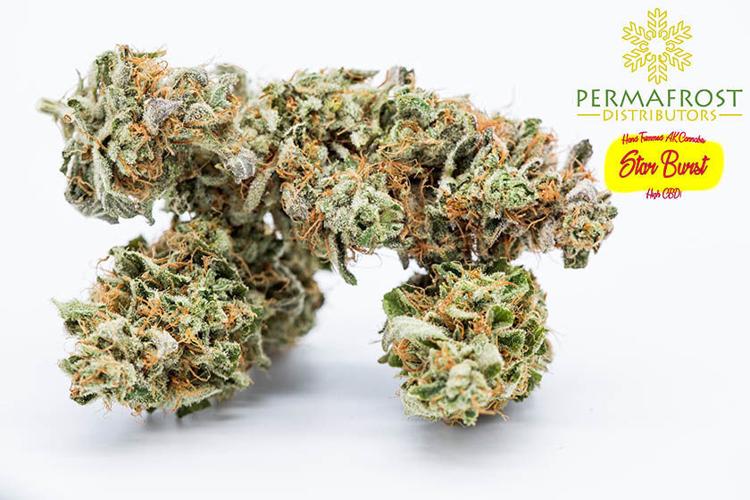 "We are the first dispensary cannabis retail store that you see if you're going to Kenai from Anchorage," Keith said.
Being situated on the road to Kenai means the store sees plenty of visitors from Outside. Keith said he's surprised but feels lucky to notice how often the people who show up at Permafrost Distributors are setting foot in a retail cannabis store for the first time.
"People coming to Alaska for the first time ... coming to their first legal cannabis store is always quite an honor for us," he said.
As tourism goes, traffic tends to slow down in the winter, but the store's been running for two years now and they cater to more than just tourists.
"There's a lot of great, great locals out in Sterling. They're our regulars, of course, they're our bread and butter," Keith said. "They get us through the winter time."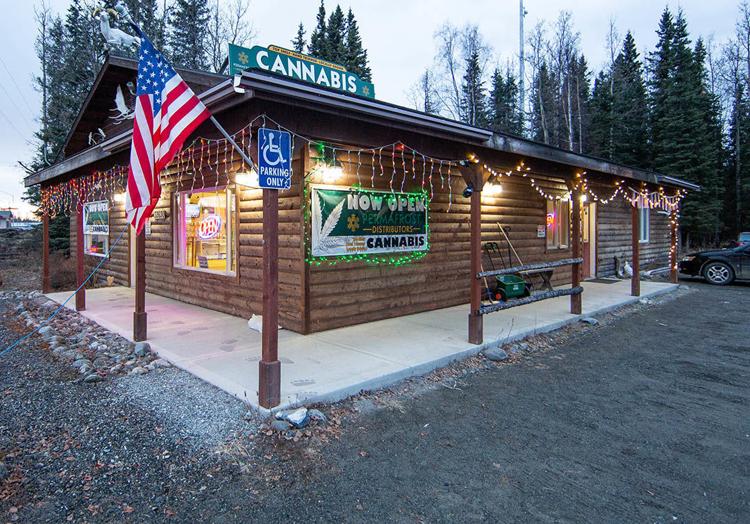 #smokewell
The Permafrost team gives a lot of credit for the business to Griffith for pushing the brand so hard on social media, according to Keith.
"The quality of the stuff that we grow, you know we're all super passionate about that, so I got to give a lot of props to Chase [Griffith] for doing what he does," he said.
Griffith's latest venture is on YouTube, where he uploads vlogs twice a month, introducing the viewing public to him, Permafrost Distributors and the industry as a whole. He's used the platform to post conversations with Alaska Marijuana Industry Association Executive Director Cary Carrigan, videos of his work days and peeks into other businesses around the state.
"And I say 'smoke well' a lot," Griffith said with a laugh. "It's starting to become kind of a good tagline."
In that vein, Griffith urges readers to #smokewell.
Contact staff writer Kyrie Long at klong@AlaskaCannabist.com