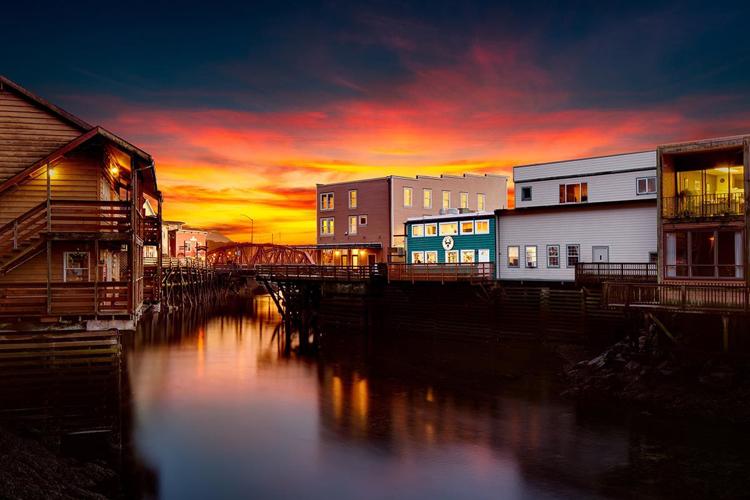 Before the 2017 opening of The Stoney Moose, city officials were apprehensive about letting Mark Woodward and Eric Riemer open a cannabis retail shop in the coastal southeastern town of Ketchikan. For that matter, the city didn't seem to want the cannabis industry at all.
"The initial problem was the city, and getting them to overcome their fears because they kind of secretly tried to nix the whole industry here in the town," Woodward, co-owner of The Stoney Moose, recalled.
He and Riemer eventually managed to convince the officials that the cannabis industry could improve Ketchikan by giving a large amount of money back to the community in taxes. Their business got the green light.
Woodward said he knew that any cannabis businesses that popped up in Ketchikan would succeed given the city's status as a popular tourist destination. In 2018 alone, ships brought more than 1 million tourists, and that's not counting people traveling via air or ferry.
"It was kinda a no-brainer," he said. "We got in there and there was another store that applied and the city said, 'That's it, we're going to say two and no more,' and I think that's worked out well for both us and the other store."
But getting in there was difficult enough in the first place. Much of the town was zoned anti-cannabis, but Woodward and Riemer found a sliver of space that would work for the shop. They turned to their neighbors for approval and were told that the building was run down and "not really nice looking," so the future co-owners decided to remodel the building to make it more appealing.
"The first thing we did was we made sure the exterior looked like it would look in the 1900s," Woodward said. "Not only in Ketchikan do we have a tourist area, the historic Creek Street itself has its own little kind of tourist area that's really set to the early 1900s kind of industries that were there at the time."
He pushed for The Stoney Moose to have a speakeasy look to it, and "immediately our neighbors were like 'thank you, we've been waiting for that for years.'"
Today, The Stoney Moose, located in the historic Creek Street area on the east side of the city's downtown, isn't really all that easy to find, being tucked away at the end of an alleyway and hovering over a Ketchikan river.
"You really don't know what's there until you turn left" and see the resurfaced old wooden dock and the big jars of cannabis, Woodward said. "You walk in there and it's so surprising and people just fall in love. There's an active salmon stream right below us so you can sit on our deck and see salmon getting chased by seals, so it's really a paradise."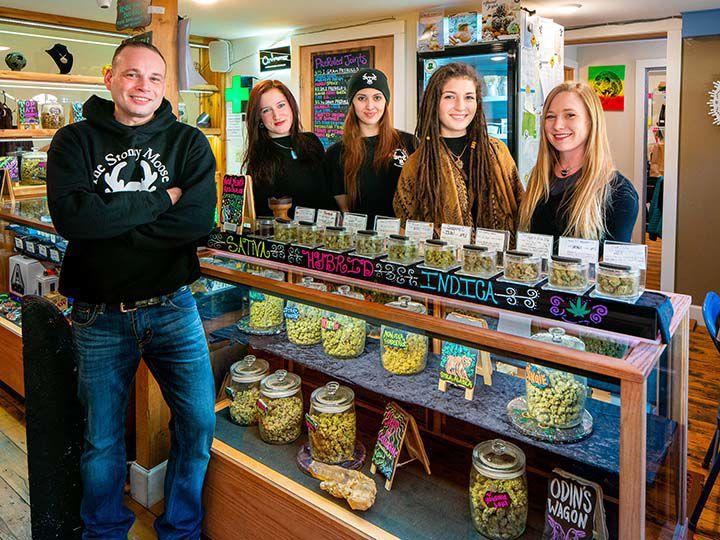 The Stoney Moose serves its marijuana deli-style, kept in big jars and weighed out at the customer's request.
The store doesn't have its own grow operation, but carries a wide variety of products, including buds, edibles, pre-rolls and more. Woodward and his staff "go around the state and get the best bud that we can find and bring it in," he said, "and we've made some really good friendships and really good partnerships with a lot of grows throughout the state."
As for onsite consumption, that's not available — yet. The Stoney Moose had originally planned to use the second floor of its building as an onsite consumption lounge, but since it is not a freestanding structure, things haven't panned out.
"[If there's] one place that really needs onsite more than any other store in Alaska, it's us. We're the first stop," Woodward said. "People come to our store almost more than any other store here in Southeast Alaska. Everyone asks us, 'Can we please smoke a joint?' and we're like 'No, you can't.'"
In the meantime, those looking to use their purchases have to seek out spots of their own, with one particular spot continuing to perpetuate the seedier past of the Ketchikan community.
"A lot of people find this place called 'Married Man's Trail,'" Woodward said, "which was the old red-light district kind of sneak-around that the married men would take to go visit the prostitute house. Now that's the kind of go-to trail that people go because they want to go somewhere and we can't tell them where to go."
Woodward said most of his customers in the summer, around 60 percent, are women.
"I'd say women dominate our market," he said. "A woman aged, I'd say 45 to 75, who's done cannabis before but she's there with her daughter. Her daughter's in her mid-20s and they're up in Alaska on a family trip and they come up and they split an edible. That's our customer."
For some, especially for a tourist who has never been around cannabis, walking into a cannabis store is memorable. Bars and restaurants don't really have the same effect, Woodward said.
"The one thing that I've noticed that's different from a bar or a restaurant and a cannabis store for retail is people walk into the cannabis store and they laugh," he said. "You hear the experience."
Since opening in 2017, The Stoney Moose has extended a helping hand to other businesses in the area.
"That's kind of been our motto, is that we don't want to sell a lot of stuff other than cannabis because we want them to come in and get the product then go out and go shopping, stay in the neighborhood, buy a couple things, get back on board and take off," Woodward said. "I know that some of the restaurants are doing better, and I heard some of the retail stores in our zone are doing better, simply because more people are attracted to our store."
Going forward, Woodward wants to expand The Stoney Moose in several ways, such as breaking into an entirely new market — the salmon and cannabis market. "The biggest thing we wanna do is get those salmon strips," Woodward said. "I mean, it's a gold mine. That's the one thing people always ask for here."
Even if they have to acquire a seafood processing license to sell the salmon and cannabis combination, Woodward believes it's worth it for everyone involved. "To me, we'll do it because if we can produce canned salmon that has five milligram THC, well then, yeah, that's something great," he said.
Contact staff writer David Jones at djones@AlaskaCannabist.com.