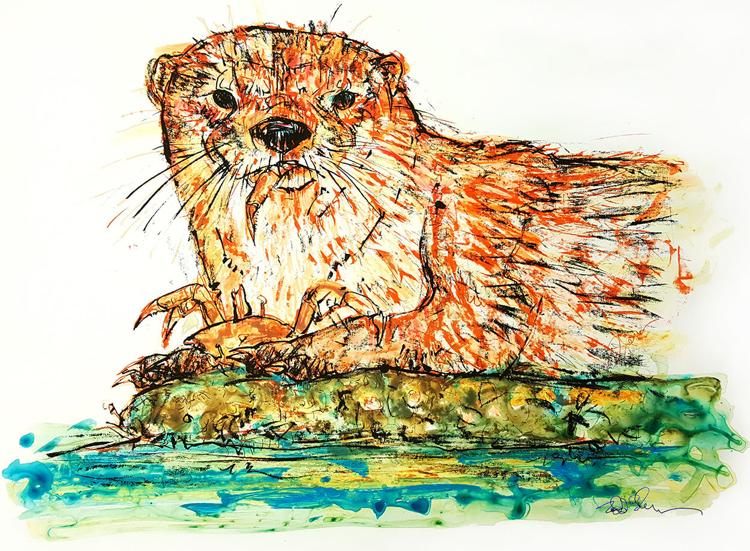 A decade ago, longtime Fairbanks artist Todd Sherman began making painted cutouts of animals his primary focus, hoping to get people to pay more attention to the wildlife surrounding them and develop increased awareness about the need to protect habitat. He debuted the concept with a showing that drove this point home.
"My first exhibit where they were all cutouts was 10 years ago," he said. "I had it at the Annex. I filled that whole space with cutouts. On the wall, hanging from the ceiling, on pedestals and stands throughout the room. The viewer would have to walk among all these animals. That's kind of what I wanted.
"People think of it as artwork. But I want people to realize that these are symbols for creatures that used to be much more readily seen by our own species. But not so much now."
Sherman, dean of the College of Liberal Arts at University of Alaska Fairbanks, has his work on display this month at Well Street Art Co. The cutouts are dynamic representations of the animals that populate Alaska's land, sea, and air. There's a careful attention to detail in these often life-sized works.
"I research all the animals, make sure I have the coloration and their attitude right," Sherman explained. "I studied animal anatomy with Bill Berry, and human anatomy when I went to art school. Which means working with cadavers so you can get to know the structure. I try to make them recognizable and fairly accurate anatomically, but also infuse them with a life. So you could maybe be caught off guard by seeing them."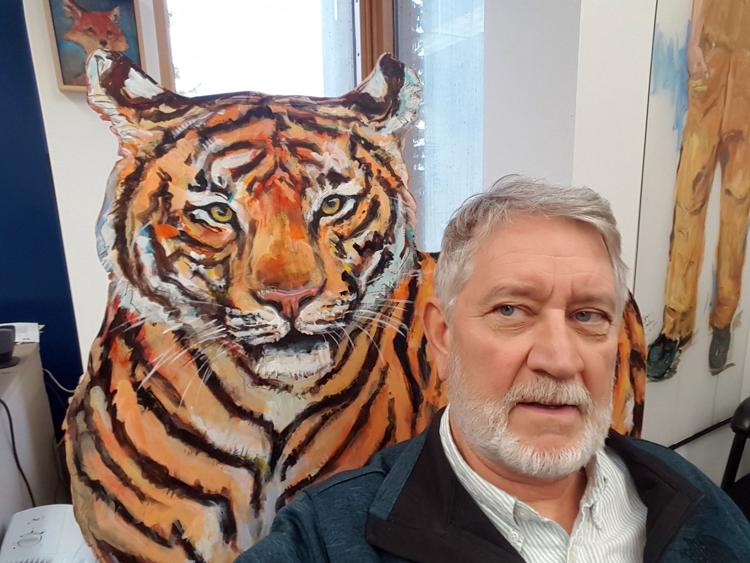 Sherman was born in Alaska, but owing to his father's engineering career, moved often as a child. The North drew him back, however, and he entered UAF in 1974, earning an art degree and learning from prominent local artists and professors of the time.
"Bill Brody was one of the stronger influences on my work and ideas. I also got a lot of ideas from Barbara Alexander, who taught art history," he recalled. "But probably the biggest influence on my artwork is Bill Berry. I studied with him as an undergraduate. He understood animal anatomy and behavior and he could draw so well. I was completely enamored with his work. I got to know him and took as many classes as I could from him."
Sherman assisted Berry with the mural in the Berry Room at the Noel Wien Public Library, and helped children's book artist Trina Schart Hyman finish it after Berry was tragically murdered before completing the project. Hyman, who lived on the East Coast, suggested to Sherman that he head that way for graduate school. So in 1979 he drove his old pickup across the country from Alaska, landing in New York City, where he was accepted into the Pratt Institute. 
"I was kind of a rube," Sherman said. "The city's an education."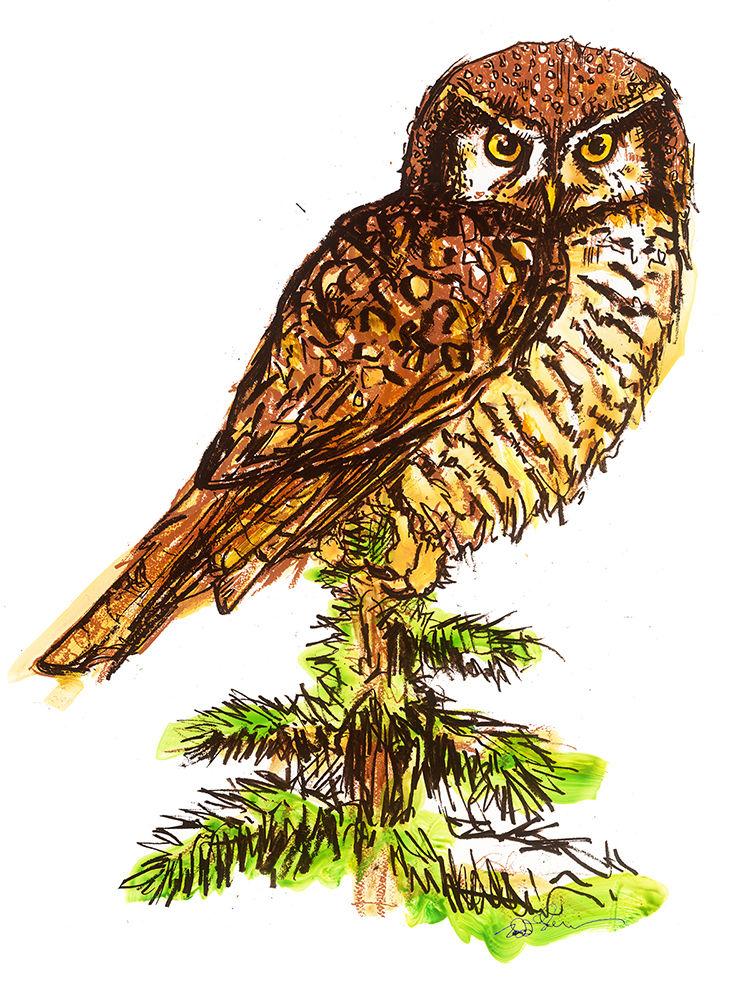 Sherman dove into the vast New York arts scene, exhausting himself trying to take in as much as possible. "I had this wide-eyed look at New York City, and I really took advantage of it. In retrospect, it was really useful." 
At the same time, he was homesick. "I missed Alaska a lot. They are two different places. You get a lot more freedom here, but a lot less human culture. I took advantage of the culture part, but I was missing the outdoors. So my thesis show was basically animals and landscapes from Alaska. Longing for Alaska. I've been doing exhibits of artwork since then on much the same subject matter."
After obtaining his master of fine arts degree, Sherman returned to Fairbanks. He spent the latter '80s and early '90s taking adjunct jobs in the UAF Art Department and working as a drafter. In 1995 he became a permanent faculty member. He's taught printmaking, something he still does, although his teaching schedule has been curtailed since being appointed dean eight years ago. "You find out what you don't know when you try to be a teacher," he said.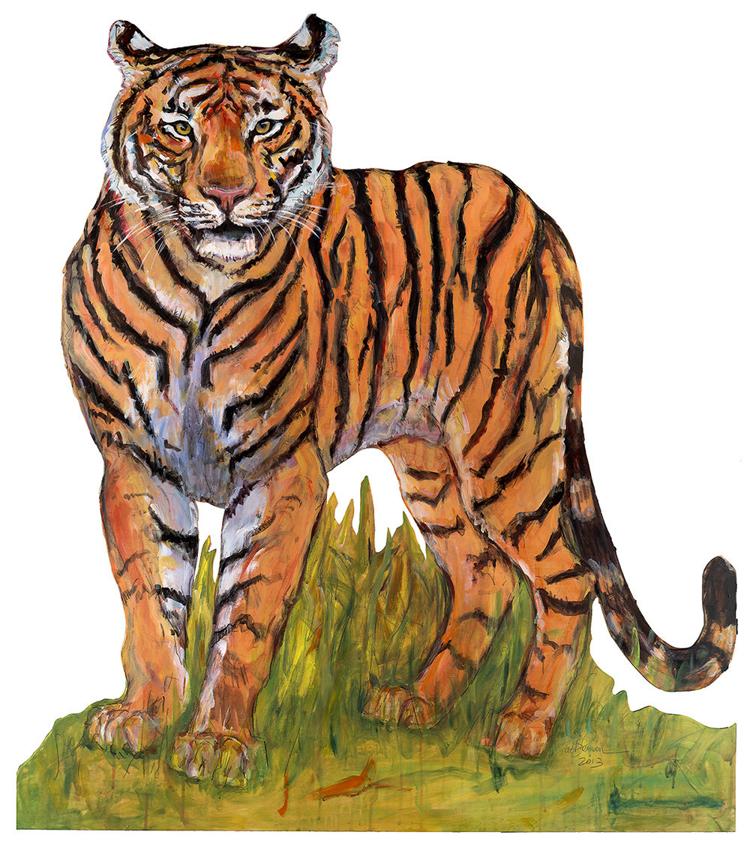 Through all his moves, art has been a constant. "On average over the last 30 years I've had a solo show every year. I just kept pushing myself to do it."
The idea for making cutouts came from when he discovered toy cutouts of people and animals that were popular in the early 20th century. "That was an inspiration for me. It was, 'Let's do these life size.' In essence these are toys that we as a species play with by damaging the environment and harvesting them and things like that."
To make the cutouts, Sherman starts with a small drawing, then scans it into a computer. He prints a large, often life-sized copy and adheres it to a quarter inch birch panel. Then he cuts it out from the drawing and paints it. He said of his representations, "I want them to inhabit a space that we're in. And I want people to think about animals. And environments. Because we're part of this world."
While Alaskan animals are his primary topic, he's taken sabbaticals overseas, including one in Thailand, where he studied local wildlife, including tigers, which fit in with his larger body of work. 
"I'm a big fan of predators. Maybe because they're more like us, or because their eyes are in the front of their head, not on the sides, so they see things like we see them. For years I did wolves. Now I'm doing a bunch of predators. I really like the weasel family. Otters particularly, wolverines, marten."
Sherman said art keeps him moving forward. "It helps me to become whole. It's a creative activity that I find very rewarding. And I actually can make a difference on this level. Working with my hands and the ideas that I come up with, this is so incredibly satisfying. It's a huge challenge to create this stuff. And I really enjoy that challenge."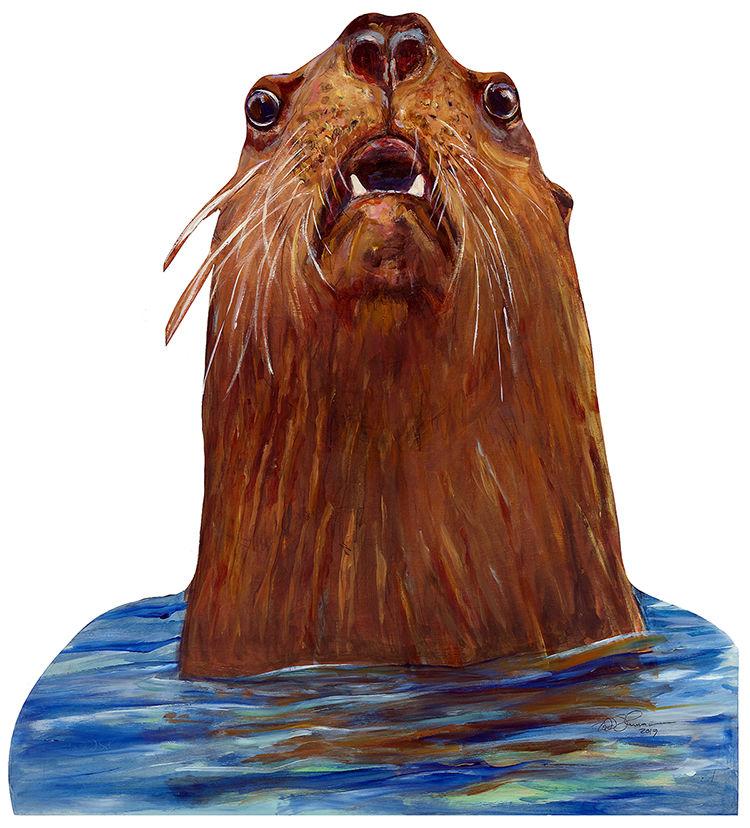 David James is a freelance writer who lives in Fairbanks. He can be emailed at nobugsinak@gmail.com.