Sometimes you just gotta pack a season's worth of fun into one day.
That's what my wife, Corrine Leistikow, and I decided to do with the Fairbanks Summer Trails Challenge. And — uff da! — what a challenge!
Put on by the Fairbanks North Star Borough Parks and Recreation Department, the challenge tries to get people out on area trails and maybe learn some new ones. Signs are posted on a variety of trails in the borough and a booklet shows about where they are. To participate, people take a selfie with each one they find. Anyone who finds a majority of the signs by the deadline gets a Trailblazer Award.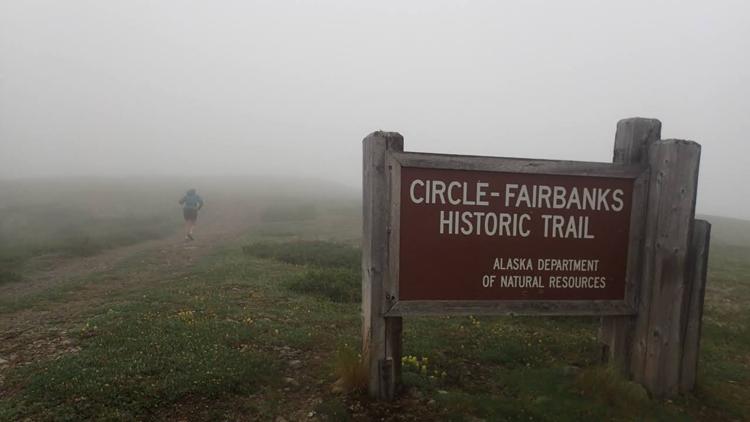 Last summer about 340 people participated and 115 earned the Trailblazer Award by snagging at least 10 of the 12 signs.
Neither Corrine nor I had ever participated in the challenge, but earlier this summer I was considering it. For some demented reason I started thinking about the idea of doing it as an FKT. An FKT — fastest known time — is a speed record along any particular route, usually very long. Popular among trail runners, an FKT is essentially a do-it-yourself time trial race.
Of course, doing the Trails Challenge as an FKT is ridiculous, so that naturally increased the appeal! I mentioned it in passing to Corrine and she loved the idea. So, our Trails Challenge in a Day project was born.
First, the planning. We downloaded the trails challenge guide from the borough's website and read up on the 12 trails. We saw that almost all were accessible by bike, which made the project easier. Then we mapped out how we would tackle them, doing the farthest away ones first and then moving into town.
The biggest logistical challenge was "Island Trail" in the Tanana Lakes Recreation Area. Neither of us had been to area in a long time and we didn't know if anyone was renting boats there. We didn't want to haul our canoe all day just for that little bit, so we decided to wade or swim, if necessary. We brought waterproof pouches to keep our electronics dry.
We tentatively picked July 4 and decided to go for it when the weather and smoke forecast looked good. Here's how our day went:
Getting up at 5:30 a.m., we hit the road at 6:30 a.m. and drive out the Steese Highway toward Twelvemile Summit.
We snag the Circle-Fairbanks Trail sign at 8:20 a.m. after hiking the 1 mile to it. The summit is in clouds and the conditions are windy and misty with a temperature of just 49 degrees. Brrr! We hiked because, well, because that's what Corrine had in her head that we would do. We definitely could have biked it. Despite being cold, it was beautiful up there.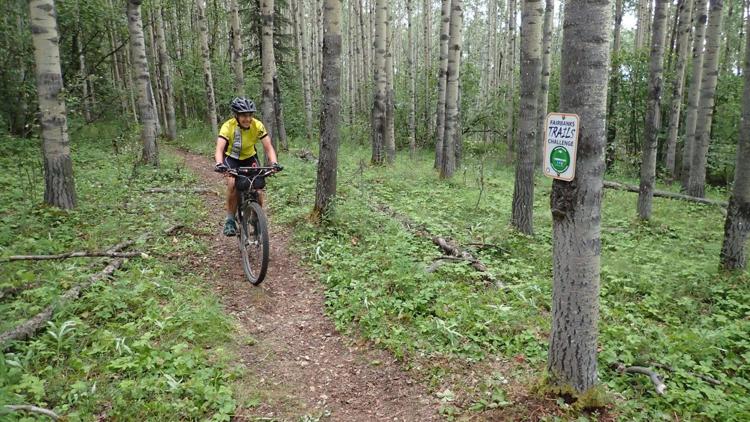 In the Chena River State Recreation Area, we bike 2 miles, mostly uphill, to get the Stiles Creek Trail sign at 11:10 a.m. and then snag the Mike Kelly Trail sign at 1 p.m. after a tough, 5-mile bike with lots of steep ups and downs. It's warmer than Twelvemile Summit, but not too warm. The mosquitoes descend whenever we stop or slow.
At the Chena Lake Recreation Area, we get lost for a bit, accidentally bike the River Loop Trail – twice! But these trails are flat, so we don't lose too much time. We finally get straightened out and bag the Chena River Nature Trail sign at 3:20 p.m. and then the Slough Loop sign at 3:40 p.m. Bugs, bugs, bugs!
At Birch Hill Recreation Area we run into friends Dave James and Karen Jensen at the North Forty Trail sign. They are doing the challenge, too, only more reasonably, spreading the signs out over the summer. At 4:30 p.m. we snap a selfie at the sign, say goodbye to Dave and Karen, who are hiking, and bike off to Blackhawk Trail. Along the way we run into friends Mike Mathers, Amanda Byrd, and Jeff and Sarah Conn. After a brief chat, we head off and finally nab the Blackhawk Trail sign at 4:45 p.m.
At Skyline Ridge Park we navigate the rooty, bumpy Secret Trail and grab its sign at 5:40 p.m. and then the Skyline Ridge Trail at 5:55 p.m., on the way seeing friend Owen Hanley Sr., who is out of for a run. We are getting tired! Fortunately, the last three trails are flat.
We get the Fairbanks Dog Park trail sign at 6:30 p.m. These trails are new to us, but we find the sign fairly quickly. We take different routes back. I load my bike on the car rack and then wait and wait and wait. What happened to Corrine?! Finally, she approaches riding on the road. She took a wrong turn, ended up on Davis Road and biked back on the roads.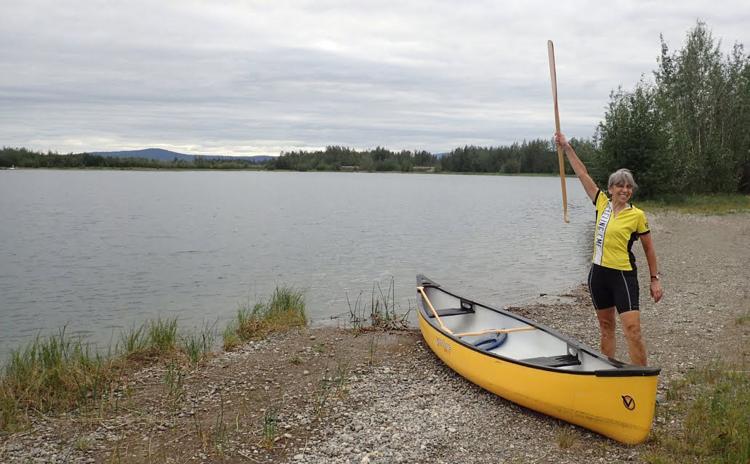 At Tanana Lakes Recreation Area, we see that Alaska Dream Adventures rents boats. Yay! We don't have to swim. In the beginning that sounded fun, but now we're tired and ready to be done! (We later learned it's possible to walk to the "island" when the water is low.) At 6:30 p.m. we take a selfie at the Eagle Trail sign and then rent a canoe. We paddle over to the island and get the Island Trail sign—our last one!—at 7:25 p.m. We celebrate with a kiss.
At 8:30 p.m. we arrive home, 14 hours after we left, tired and ready for showers. (For FKT purposes it took us 11 hours, 5 minutes from the first to last sign!)
We drove just over 300 miles and spent about 30 miles on the trails, most of it biking, but also some hiking and a little canoeing. We saw a lynx, three foxes and an osprey (possibly a young eagle). We spend a lot of time on trails already, but five of the trails we did were new to Corrine and three were new to me. (Add one to both our lists if you include the River Loop Trail.) We had a blast and are already planning how we will do the next trails challenge!
Eric Troyer is a writer and volunteer living in Fairbanks. He publishes the free Interior Trails Newsletter. Anyone interesting in getting on the newsletter distribution list should send a request to fbxtrails@gmail.com.
Trails Challenge info
By Borough Trails Coordinator Bryant Wright
The Fairbanks Trails Challenge occurs twice a year: once during the summer season and once during the winter season. Each season the trail signs are in different places, so you always have to look carefully.
The summer challenge runs until Sept. 30. This year has a special Junior Trailblazers category (you need to get only five signs). To find out more, see the Summer Trails Challenge Facebook page (bit.ly/2JAUCQK) or the borough Trails Office page (bit.ly/2YOPgI7).
Participation stats for 2018/2019:
Summer 2018:
Signs available: 12
Signs needed for "Trailblazer" award: 10
Participants (did at least one): ~340
Trailblazers (completed): 115
Winter 2018/2019:
Signs available: 13
Signs needed for "Trailblazer" award: 10
Participants (did at least one): 255
Trailblazers (completed): 114
Summer 2019 (ends Sept.30):
Signs available: 12
Signs needed for "Trailblazer" award: 10
*New* Signs needed for under age 10 "Junior Trailblazers": 5
Participants (June 20-July 5): more than 200