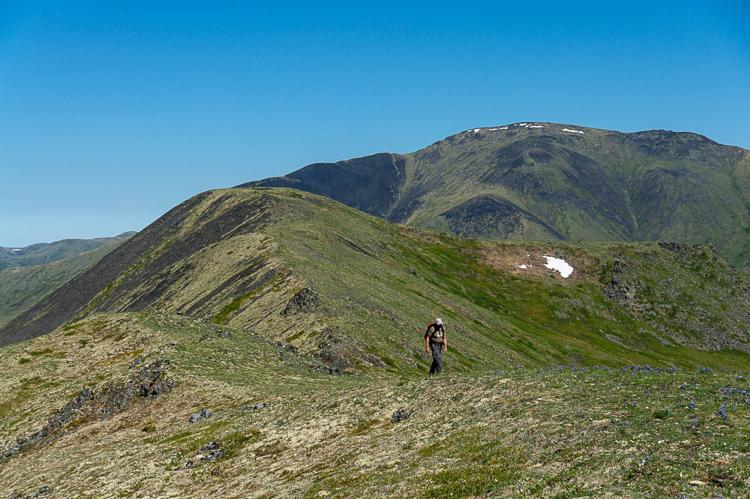 AlaskAcross, an annual timed wilderness hike, began in 2007 and is always a test of its participants' mettle. This year's event — most of its participants eschew the term "race" — was no different and saw nine hikers travel more than 65 miles of backcountry from Lost Creek to Eureka.
Eight of the participants traveled in teams of two, while Mark Ross — a self-described promoter of the event — took on the Sawtooth Traverse solo. The event, which took place in June, is a point-to-point, nonstop hike through unsupported wilderness. The routes typically stretch from 50-150 miles. According to Ross, any trails they end up taking tend to be caribou, moose or bear trails.
Listed below are this year's participants' arrival times at Brent Sass' Wild and Free Homestead:
Scott Brucker and Steve Duby — bailed to Elliott Highway, Mile 108
Jay Cable and Ned Rozell — 37 hours, 18 minutes
Mark D. Ross — 35 hours, 59 minutes
Drew Harrington and Chris Miles — 29 hour, 13 minutes
Brian Atkinson and Tracie Curry — 26 hour, 38 minutes
"There's often multiple routes. The strategy is to pick the most efficient route," Mark Ross said. "The country calls, and some answer."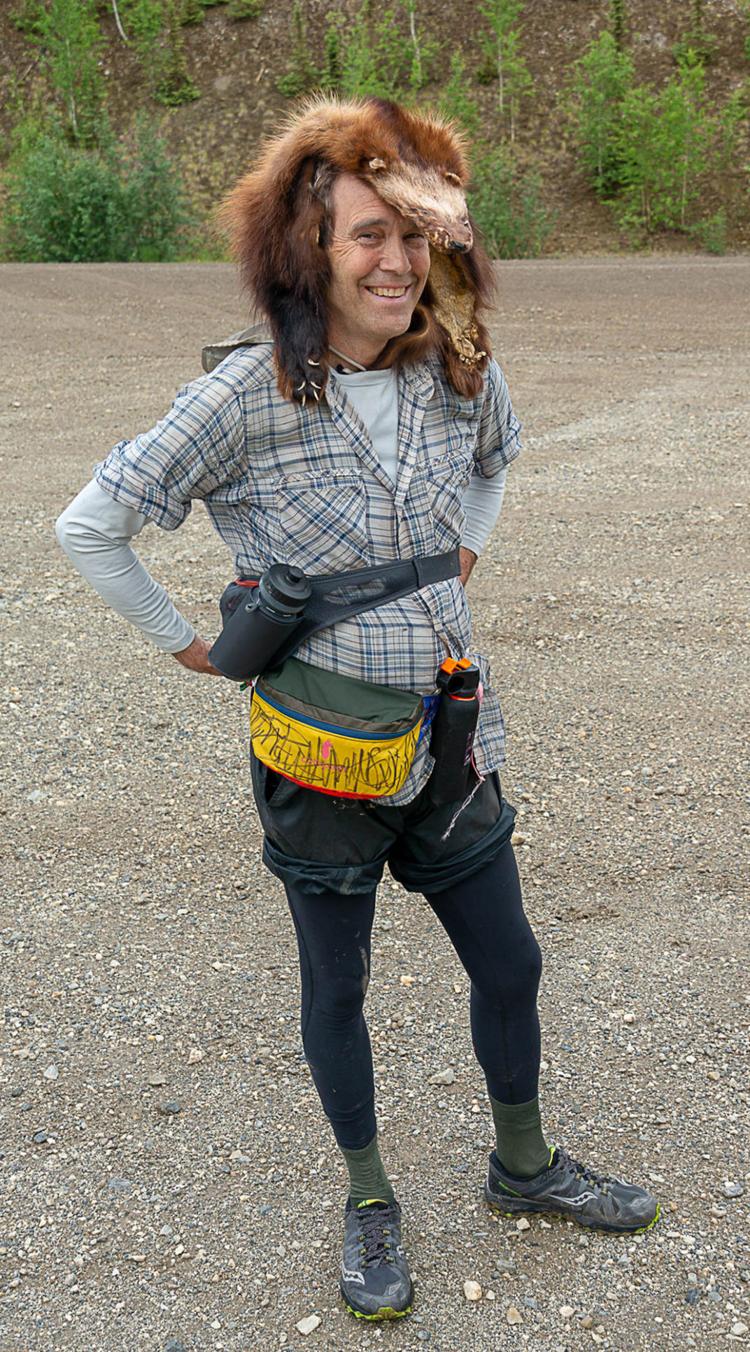 Ross is a rarity in that he likes to complete AlaskAcross alone. He explained that there are no entry fees or gear requirements; participants adhere to a code of conduct. He noted that "it's only a race if you want it to be," and that most are simply aiming to complete the route. This year, he walked away satisfied. 
"I considered it a very, very good route. Virtually no brush," he said. "I remember one instance of going through a couple hundred yards of alders. I actually could have avoided that. Half of the route was very nice alpine."
After a call of "get out in the country" — the signal to begin the event — the group of eight immediately started off on an ATV trail into the lowland forest, while Ross began his solo route up to the high country.
Depending on the chosen route of the participant, the trek through the Sawtooth mountain range could include a climb up Sawtooth Mountain, Lynx peak, Wolverine peak, or Elephant peak — all alpine summits over 4,000 feet. Additionally there are miles of other unnamed alpine mountains and ridges running east and west, above the Tanana River Valley.
Within a few hours of starting out, all participants had climbed over 2,000 feet along their chosen trails. In a log of his route, Ross wrote, "There, the wind blew hard from the north; a constant flowing veil of misty clouds cooled the group."
Ross, who began the 65 miles wearing a wolverine fur headdress, said he opted to sleep for an hour during the whole hike. If he were to take the same route again, he thinks he could shave several hours off his time.
Ross wrote that, after arriving at the homestead having completed his route in just under 35 hours, he fell into a deep sleep to "quench 36 hours of hard foot travel." By that point two of the teams had finished and two were still due to arrive.
Atkinson and Curry had signed in first. Harrington and Miles, having taken a route north of Wolverine and over Elephant, were roughly an hour behind. Cable and Rozell signed in a little more than an hour after Ross.
Despite coming in at the quickest time, Tracie Curry said this was her "first foray into wilderness racing."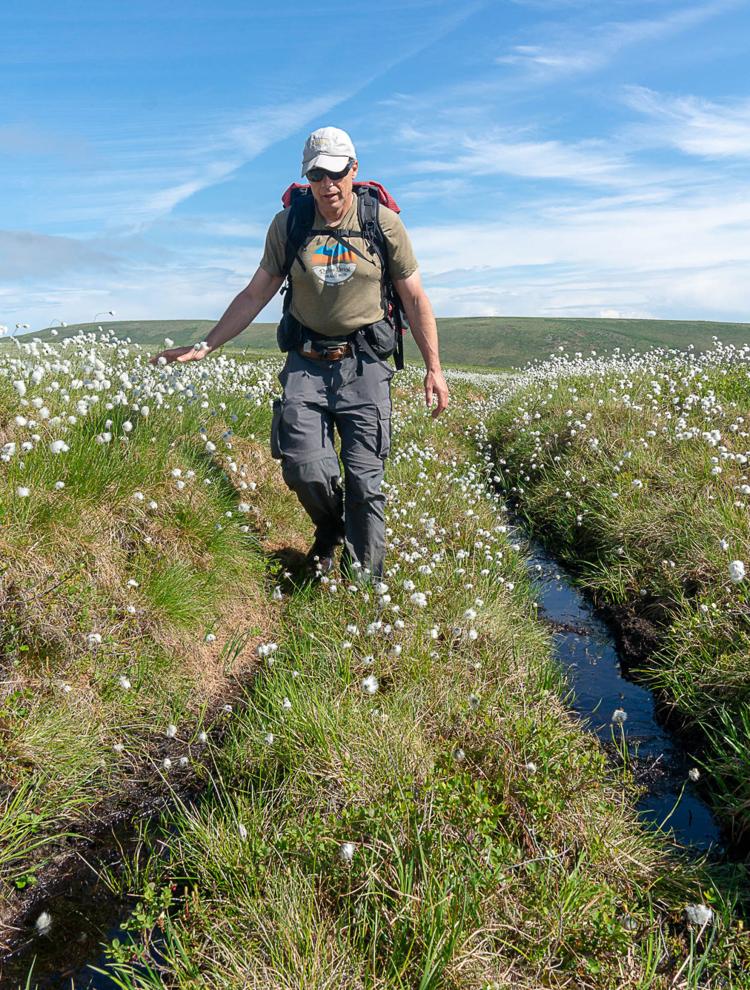 "It was as mentally challenging as it was physically challenging, especially once we began to approach the 24hr mark," Curry wrote in an email. "Brian (Atkinson) and I have both completed races that involved sleep deprivation and exhaustion — e.g. White Mountains 100 — but AKX threw navigation in unknown terrain into the mix. We definitely made some rookie mistakes, but we managed."
Curry said that, during the first half of the event, she and Atkinson would catch glimpses of the other participants. During the second half, they saw no one.
"That was another interesting aspect of the race, constantly wondering how the route we planned compared to others'. We weren't in first place at the halfway point, but by the end we were, and we had no idea," she wrote. "There were definitely highs and lows throughout the whole race, but it was overall a really great experience for me … such a fun way to test one's limits in the outdoors. Being totally self-planned and self-supported, the feeling of accomplishment after having finished was greater than I've felt with other races."
Brucker and Duby, on the other hand, never made it to the homestead. According to Ross, Dudy is likely the most experienced of the group with Sawtooth landscape and wilderness competitions — having finished first in the incredibly arduous 2012 wilderness classic event through the Wrangell Mountains. He, however, may have underestimated the difficulty of his course and, being a new father with family life duties, had overestimated his fitness. Brucker stuck by his partner and led their way to a "bail point": Mile 108 on the Elliot Highway. There, in the early morning hours of June 18, they caught a ride with a friend back to their regular home base of Minto Village.
In June, the Fairbanks Daily News-Miner published a column written by Ned Rozell, in which he offered his perspective on the event. Read it at bit.ly/2lzYV6v.
You can also read Jay Cable's log of the event on his blog at bit.ly/2m0g3Te.
Contact staff writer Alistair Gardiner at 459-7575. Follow him on Twitter: @FDNMoutdoors.