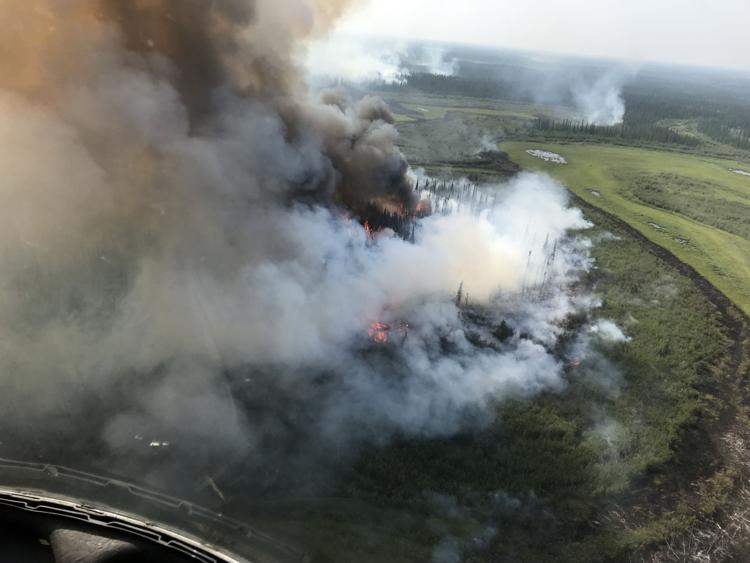 It may come as a surprise to learn that the job of a smokejumper involves a lot of sewing.
On Wednesday morning, Billy McCall was walking around the loft of the Alaska Smokejumper facility on the U.S. Army's Fort Wainwright. The week prior, he had jumped out of a Casa C-212 into the Deshka Landing Fire, but that day he was showing off the lines of sewing machines and long tables where parachutes are repaired and gear is manufactured.
"We build basically everything except the actual parachute," McCall said. "A lot of us know how to sew, repair and create things."
McCall, originally from Colorado, has been a wildland firefighter in Alaska since 2005, and became a rookie smokejumper in 2012. While he skis, he doesn't have a background in extreme sports.
"I'd never jumped out of a plane before, until here," he said, with a shrug. "I thought it would be a good career opportunity and a different adventure. You work with a bunch of great people here. It's pretty fun."
Smokejumping, McCall said, is very different to skydiving or sport-jumping, where speed and flair are the focus.
"We're controlled, we fly giant 'chutes," he said. "There are a couple of people in the shack that do sport-jump. But I never have."
While the prospect of jumping out of a plane toward a raging wildlife carrying a huge amount of gear may seem unnerving to some, McCall's descriptions didn't evoke that. Smokejumping, he said, is about "finding solutions to problems."
"I just think it's a super-efficient way to get to the fire," he said, matter-of-factly.
Over this summer, various parts of Alaska have been enveloped with smoke and flames. As of Thursday morning, there are still wildfires burning. Earlier this week, Department of Natural Resources Commissioner Corri Feige signed a public order Monday extending the wildfire season to Sept. 30, citing "unprecedented fire risk conditions for Southcentral and the Kenai Peninsula regions." Alaska Smokejumpers has conducted over 300 operational missions so far this year, more than double its typical number.
According to Bill Cramer, Alaska Smokejumpers chief, the team serves three roles: they conduct initial attacks to control a fire that has not yet grown; they'll provide point protection services for individual structures or high value resources — for example, Native allotments, the protection of which is required by federal law.
"And then the third one is the messiest one. We call it Type 3 fires or extended attack fires. And that's a fire that is not small, it's growing and could be a problem," Cramer said. "There's a gap when a fire goes from being small to being a big problem fire, the complexities that are involved with it, time delays with getting other qualified resources there. The jumpers fill that gap."
Cramer said that jumpers often "operate in that dirty middle" when a fire is too large to deal with completely. The idea is control.
"We're giving some order to the chaos of that thing," he said.
Cramer started smokejumping in 1990. Hanging in his office is a map with pins denoting each of the 234 wildfires he's fought. Cramer became chief in 2008, but that doesn't mean he doesn't still get his hands dirty. Alaska Smokejumpers has been around since 1959 and every chief has been an active jumper by requirement. He said this side of the job is valuable, because it allows him to see what's most important for those in the field.
"Some days I just carry a chainsaw and walk around the woods with the guys, and some days I do this," he said. "It keeps you honest in a lot of ways. It gives you good perspective."
According to Cramer, summers like 2019 come around two or three times every decade. He recalls severe wildfire seasons in 1990/1991, 2004/2005, 2009/2010 and 2015.
"My expectation in future years is the two or three years might turn into three or four, every decade," he said.
Back in the loft, McCall walked past long 'chute-rigging tables, which look kind of like shuffleboard decks and past the rows of tables with sewing machines lining the walls. Just off the main area are side rooms, filled with materials, fabrics, threads and the various components of harnesses.
"In the winter time, we build harnesses," he said. "We build the jump jackets, jump pants — all from material that we order."
McCall said that all the gear that a smokejumper wears and carries weighs roughly 85-90 pounds. One of the requirements for becoming smokejumper is to complete a 3-mile hike, carrying 110 pounds of gear, in no more than 60 minutes.
In one corner of the loft is the "round tower," where they hang the round parachutes used to drop cargo. McCall said that jumpers mostly use ram-air parachutes, which allow them to maneuver and steer while in the air. He checked out some of the round chutes that were hanging from the high ceiling.
"We hang them to dry, then we can go through each parachute to see if there any holes are in them. This one is a newer round — manufactured in '88," McCall said, before walking over to a parachute that had a large red patch in it. "That one was manufactured in '43. Yeah this was jumped in the war probably."
A couple of rooms over is the "square tower," where the ram-air parachutes can be hung and examined. McCall pulled one up so it was fully extended and pointed out the fabric pockets that fill with air, pressurizing the 'chute and providing the jumper with control.
"So I'm just gonna check 'em, put 'em in the bin and think about putting them away for the winter … if fire season would ever end," McCall quipped. "The people who manufacture these are like MIT-educated, they're pretty smart. And they jump out of airplanes too."
This year there are 63 Alaska Smokejumpers, most of whom are currently working on fires below the Alaska Range. McCall said most of them are hunters, fishermen or general outdoor enthusiasts.
"This time of year, everyone wants time off so they can go sheep hunting and moose hunting. They kind of embrace the Alaskan lifestyle and just want to get out in the woods," he said.
The smokejumper's season usually begins around April, and initially involves several weeks of training. This includes classes, refreshing each jumper on how to rig their gear and check chutes, and practice jumps.
"Once fire season starts, you're either on the load or not on the load," McCall said.
This either means you're either working in a support position — for example, supervising the loft — or you're jumping. The schedule rotates; once you've jumped, you move to the bottom of the list and work in support until you're back at the top of the list.
"Once I get up the list, I become an available smokejumper. And then I would be on standby hours, waiting for a fire call," he said, "During that time, you're checking 'chutes, repairing things, doing some training — there's always something to do."
McCall has jumped seven times this summer. In the Lower 48, smokejumpers may be on standby for what might be considered regular hours, but the midnight sun provides opportunity for smokejumpers in Alaska to operate late into the night.
According to McCall, the whole group will turn up in the morning for a 9 a.m. roll call, during which they "set the load," which means everyone is designated their role.
"If you're first load, you're just kind of always on edge, just waiting to go," he said. "And we'll do weather. So you kind of have an idea if there's lightning out there, or dumping rain everywhere, or if it's hot and windy. Then you just continue with your daily work. And all of a sudden, they'll either come over the speaker: 'First load in the box,' or they'll just hit the siren. And then it's time to go."
Those jumping will run to their lockers in what "looks like a flurry of chaos," McCall said. The aim is to be suited up in two minutes and for the plane to be taking off within six minutes.
The Casa aircraft fits eight smokejumpers, two spotters, two pilots and cargo. Sometimes you're on the plane for less than 30 minutes; other times, the trip may require fuel stops, and could take up to several hours.
"I've kind of learned," McCall said. "Sometimes I'll hear the call on the radio and I'll run to the bathroom."
Once the Casa is flying over the fire, the spotters and the smokejumpers will discuss tactics. They'll look out for things like good spots to land and water sources that can be they can use a pump and hose.
"You're just trying to take it all in, but at some point you just have to turn all of that off and concentrate on the jump," he said. "Your first step is getting out of the door."
After one last check of their gear, they sit in the doorway and tip themselves out into the air.
"There's human factors involved. You always have to pay attention. Something weird could happen. Your 'chute might open funny, maybe you're tired," he said. "Every time you get in the door, your one mission is to get to the ground safely, so you have to pay attention."
Once everyone is on the ground, the crew will assemble and communicate to the plane which cargo they need. Once the cargo lands, the crew gathers all its gear into one spot and then strategize. Then they'll begin fighting the fire.
At this point, the activity depends on the severity of the fire, the available resources and the specific goal at hand. In Alaska, McCall said, point protection is the most common task. Smokejumpers have a variety of tools at their disposal — from pumps and hoses dropped by the Casa, to what they call "beaters" or "flappers, which look like brooms and are used to stomp out flames.
"Usually we work pretty late that first night until early in the morning, bed down for a couple of hours and then we'll get back up in the morning and get back at it. It's usually a 2-1 schedule — about 16 hours working," McCall said.
Depending on the fire, the jumpers can be done within 24 hours or up to two weeks. In the interior, they're usually lifted out by helicopter.
Asked about this season, McCall said, "It won't end, I'll tell you that.
"I've seen fire behavior up here that I don't think I've seen before in my career. It's pretty impressive, the way it's burning," he continued. "It's pretty extreme fire behavior. It's burning through things that it usually doesn't burn through. You think, 'Oh, this is fine, we'll just do this,' and then the fire doesn't let you do that."
According to Cramer, more than additional 200 smokejumpers traveled up to Alaska to help tackle fires this summer — an all time record. While Cramer expressed some concern over Alaska Smokejumpers' shrinking budget and ever-lower numbers of personnel, he talked about his job with resolve. 
"They're often hard assignments and it was hard to make it through the training," he said, when asked why he started out as a smokejumper. "Only about two-thirds of people make it through the training, so I liked the idea of having a challenging environment. You don't get many boring days."
"This year, I've seen parts of Alaska I've never seen before," he said. "And there's an intrinsic reward in helping somebody out as well."
This article originally misstated the year of the conception of Alaska Smokejumpers and has since been updated with the correct information.
Contact staff writer Alistair Gardiner at 459-7575. Follow him on Twitter: @FDNMoutdoors.