A group of 25 intrepid hockey ambassadors traveled to northern Italy earlier this month to share their love for the sport with new friends from an old town.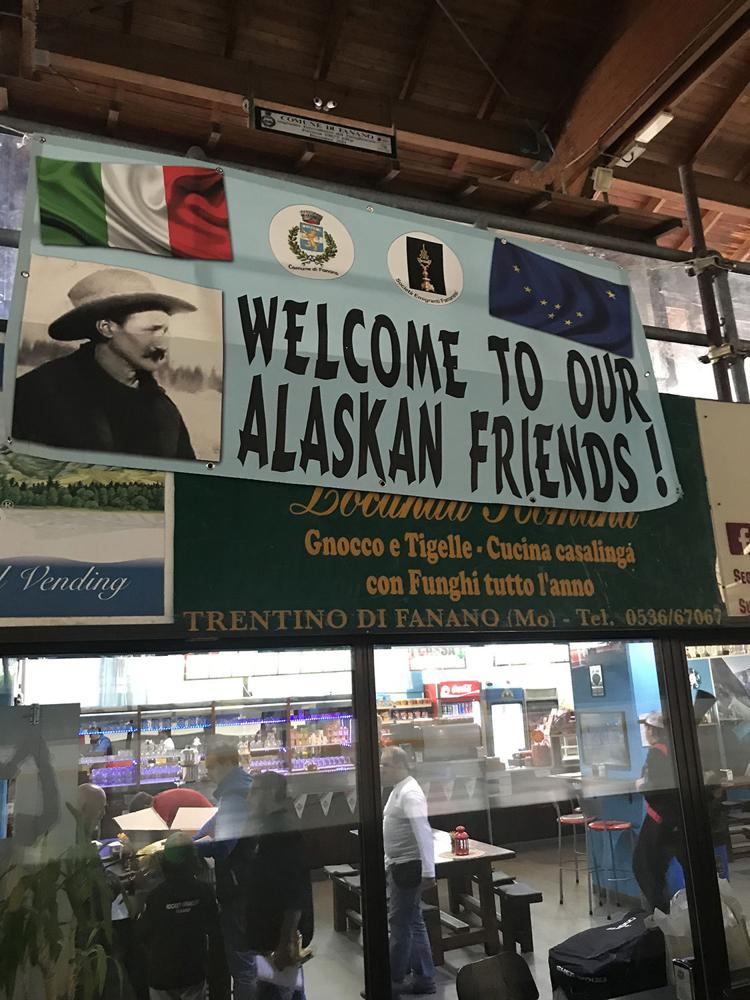 Fanano, Italy, is the hometown of Felix Pedro, the man who discovered gold 10 miles north of Fairbanks nearly 120 years ago. Several years ago, a formal sister city relationship was established between the two towns. Here in Fairbanks, that program is administered by Julie Jones with Festival Fairbanks. Groups have traveled between the two communities to promote business, political and arts agendas.
The mayor of Fanano is a "hockey guy." He invited us to send a hockey team for friendly competition against a team from his town. Fairbanks chiropractor Warren Moore assembled a team of 13 players, which included one woman. With family members and other folks, our group numbered 25 people. Players ranged in ages from 14 to 69. Our abilities covered an even greater span. We wore jerseys representing the Fairbanks Hockey Hall of Fame.
We spent four days in Fanano. They treated us like kings. The food and the hospitality were beyond our expectations. The scenery wasn't bad, either. Fanano sits in the southern foothills of the Alps. Beautiful farms and mountain vistas abound in every direction.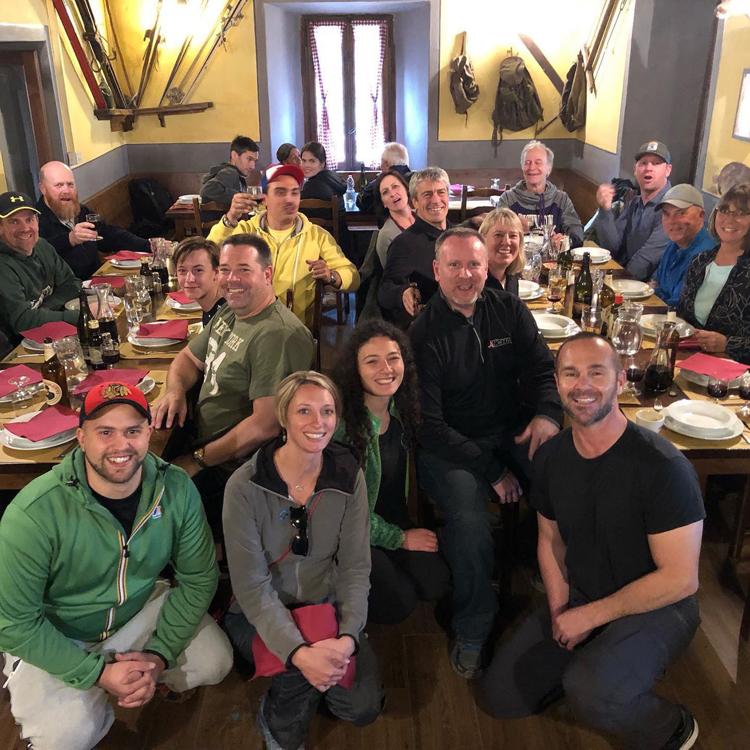 Kiana Nauheim was the lone woman on the Fairbanks team. Her comments reflect the sentiments of everyone in the group.
"Italy was an incredible experience," she said. "I can't wait to go back some day."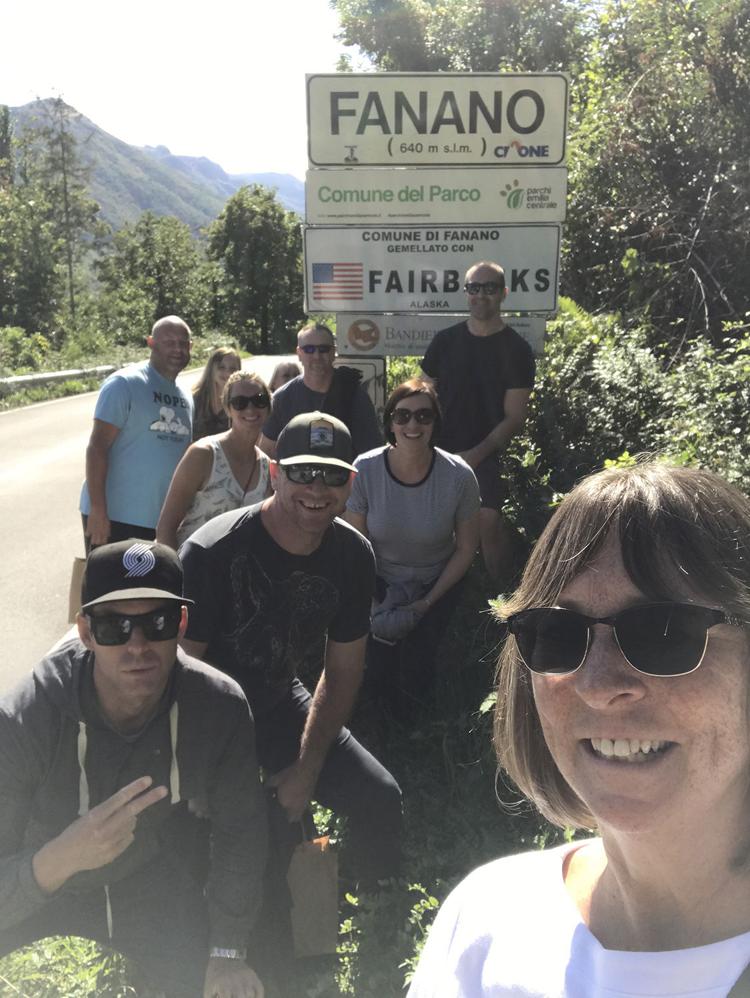 English is not spoken universally in northern Italy. Fortunately, our host, Francesco Prandini, accompanied us as a tour guide and translator. One member of our group was taking online lessons in Italian. Another guy used the translator function on his cellphone to help find the right word. Both approaches had their limitations, which led to hearty laughter from both sides when words were misused or mispronounced.
The Fanano hockey arena is quite unique. There is a solid roof over the rink, but it is not enclosed. The ice surface is refrigerated, but trying to "make ice" at 65 degrees Fahrenheit is a challenge. The rink master overcame that challenge and provided a good surface for our game. Unfortunately, we misjudged the talent level on the Fanano team and took a squad of highly talented Alaskans with the intent of having an even match. The Fanano boys are young and fast and agile. However, they have only been playing hockey for a few years. The more talented Fairbanks team prevailed on the scoreboard. There were no hard feelings for our error in judgment.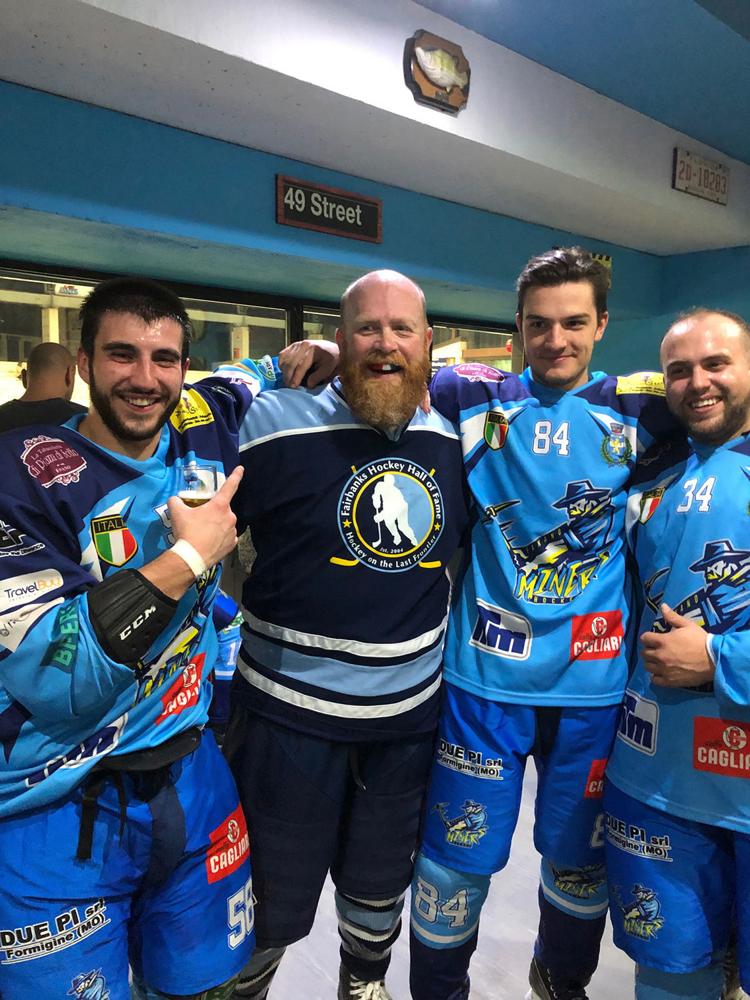 "It was nice to learn about our sister city and to be able to share our love of the game with Fanano," said West Valley hockey coach Warren Moore, who recruited the Fairbanks players. "They were fantastic hosts and made an exceptional effort to show us the local sights."
Toward the end of our visit, we extended an invitation to the Fanano team to come to Interior Alaska and participate in Hockey Week in Fairbanks, which is scheduled for Feb. 28–March 8. After they accepted, members of our Fairbanks group began planning meals and activities to return the wonderful hospitality that was extended to us in Fanano.
Fourteen-year-old Teagan Emerson said, "Going to play hockey in Italy is something that probably won't happen for us again. The people of Fanano treated us so well, and it was so much fun. I am grateful I was able to go."
Several members of our group encountered problems during the trip, with lost passports, missed trains or flight cancellations. Under other circumstances, these problems might have been enough to leave a sour taste. That was definitely not the case on this trip. Everyone in our group had a great time. I'm sure that many of us will return to Italy to experience more of the culture, architecture and great food.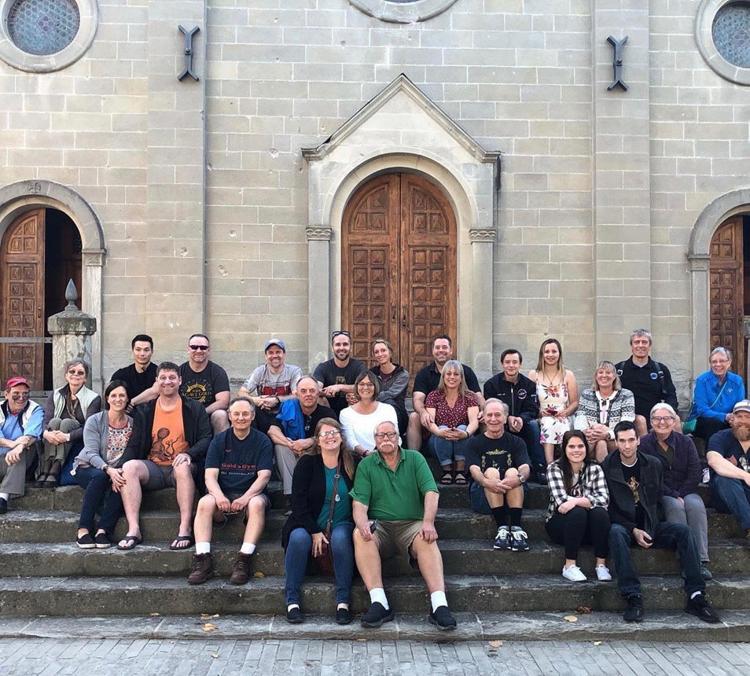 Julie Jones, of Festival Fairbanks, said, "This is one of the most lively exchanges we have organized in many years. We are so grateful to the Hockey Hall of Fame for helping to put together this fantastic, diverse team of players. We are confident that this will spark a lot of enthusiasm moving forward in the sister city relationship."
Randy Zarnke is the founder of the Fairbanks Hockey Hall of Fame and helped organize this visit at the request of Festival Fairbanks. Fairbanksan hockey player and coach Warren Moore recruited players of all ages for the traveling hockey team.