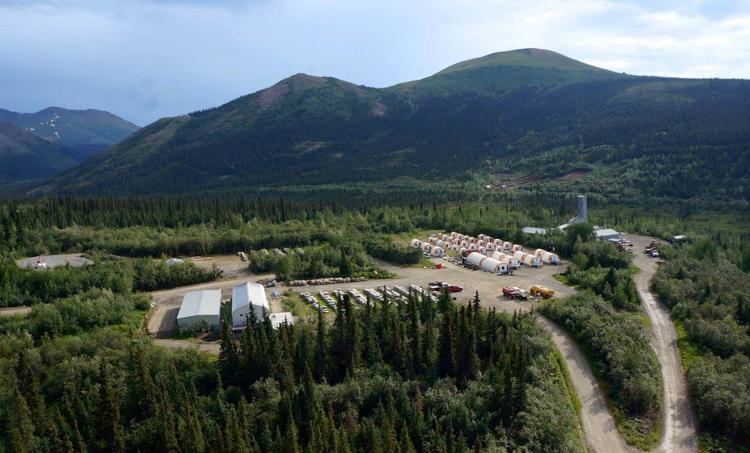 A rich polymetallic deposit that has been known about for decades in Northwest Alaska is getting closer to development.
The Upper Kobuk Mineral Projects (UKMP) are located east of Kotzebue and about 300 miles northwest of Fairbanks in the Ambler Mining District, which is home to some of the world's richest known copper-dominant polymetallic deposits. Trilogy Metals is developing a site called Arctic, and so far has discovered about 43 million tons of reserves. 
"It's mostly a copper story although there's also zinc, lead and precious metals and some cobalt," said Trilogy Metals President and CEO Rick Van Nieuwenhuyse. The deposits are part of a 75-mile-long band of mineralization that also includes the nearby Bornite site, owned by NANA Regional Corporation, which also shows rich reserves of copper and cobalt. 
Earlier this year, Trilogy Metals moved its headquarters to Fairbanks as it looks forward to getting into the permit process for the mine, Van Nieuwenhuyse said. Formerly NovaCopper, Trilogy is based in Vancouver, British Columbia, but Van Nieuwenhuyse has spent most of his life in Alaska, graduating from Anchorage's West High School in 1972. The geologist helped explore and develop the massive Donlin gold project in southwest Alaska, before turning his attention to copper.
At the end of 2019, Trilogy will have spent $140 million acquiring, exploring and developing Arctic. They are working with an Australian company, South 32, which is a partner in exploration, and have formed a partnership with NANA to help develop the Bornite site and potential future deposits, Van Nieuwenhuyse said.
Trilogy Metals is working on a feasibility study for Arctic, which it is expected to finish by the end of the year. A big piece of the puzzle, however, is getting the metals to market. Kennecott Arctic Corporation explored the region in the 1950s and '60s and found an incredibly rich resource. Its plan to barge the ore out via the Kobuk River to a Tacoma smelter didn't work — the river is too shallow. Trilogy's plan is based on trucking concentrates in covered containers 200 miles east to the Dalton Highway, then south to the Alaska Railroad in Fairbanks. The concentrates would then be taken to the Port of Alaska in Anchorage and loaded into ships for processing in Japan, Korea, China or India.
"We were also contacted by the lead smelter in Europe, Aurubis, which is a long way from here going through the Panana Canal," he said. "But they're interested in our concentrates because they're such high-quality concentrates."
Arctic's high-grade copper is about 10 times richer per ton than the average copper mine, Van Nieuwenhuyse said. 
First things first, however, and that means a road. 
"We've said from the beginning, no road no mine," Van Nieuwenhuyse said. 
The Bureau of Land Management is the lead agency for the Ambler Road draft environmental impact statement, with Alaska Industrial Development and Export Authority in charge of the project. It envisions the road as a private, industrial access road. It would be built and maintained with private money, unlike the Prudhoe Bay Haul Road, now the Dalton Highway, which was built on a state easement and maintained by state funds. Initially open only to oilfield traffic, the Dalton Highway opened to the public in 1994. That won't be the case with the Ambler Mining District Industrial Access Project, Van Nieuwenhuyse said. 
The route is based on Title 2 of Alaska National Interest Lands Conservation Act (ANILCA) he said. 
"This route was well recognized as the most logical route to a straight line between two points to access the Ambler Mining District," he said. Public comments during the scoping period indicated concerns about caribou migrations, subsistence impacts, among other things, which the BLM's draft environmental impact statement is expected to address. 
The draft EIS is expected to be released in early August, followed by a 45-day public comment period. The final EIS will follow late 2019, with a record of decision by the end of the year.
"Assuming that timeline is respected, we are lining ourselves up to beginning permitting the first mine at Arctic early in 2020," he said. Permitting is expected to take two to three years. 
Another advantage to trucking the concentrates is that it would use infrastructure that is underutilized: the Dalton Highway, Alaska Railroad and Port of Alaska, Van Nieuwenhuyse said 
"We would be the only exporter from that port," he said.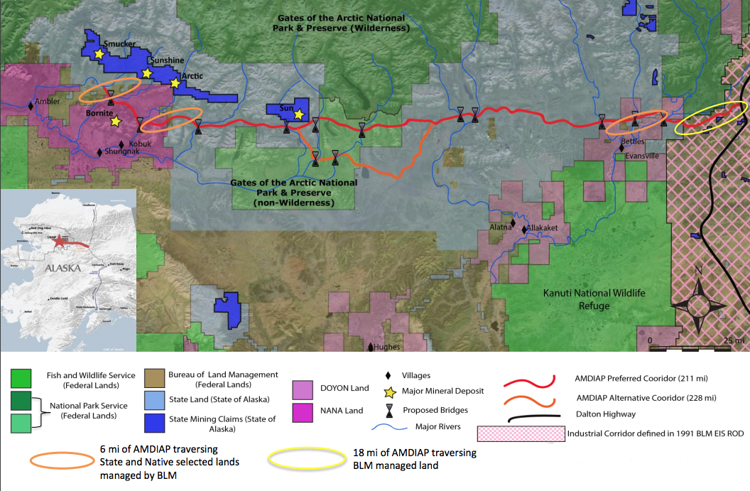 The mine would also be an big economic driver in Northwest Alaska. Sizewise, it's about halfway between the giant Red Dog zinc mine north of Kotzebue and the Greens Creek gold mine in Southeast Alaska. It would employ about 600 people during construction and 450 during operation. So far, about 90% of people working on the project are Alaska residents, the majority of whom are Alaska Native shareholders, and there will be many opportunities for local residents and Alaska Native corporations, he said. 
"It's a very robust project."
Contact staff writer Julie Stricker at 459-7532.