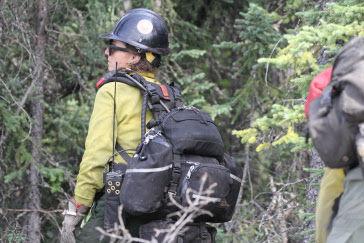 Fairbanks North Star Borough Mayor Bryce Ward declared a disaster emergency Tuesday afternoon in the hopes of securing state funding and assistance as the Shovel Creek Fire increases in complexity. The declaration requests that Gov. Mike Dunleavy declare an emergency exists in the borough and to provide state and individual assistance for response and recovery from the fire.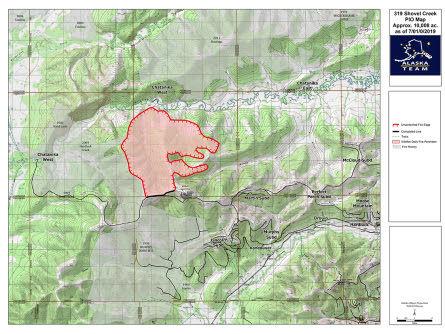 The disaster declaration states that the Shovel Creek Fire is an "imminent threat to people, homes and structures within the borough." Some 52 residences have been evacuated, and more were expected to be placed in "Ready" alert Tuesday evening.
"I want to communicate a sense of urgency, but not of panic," Ward said. "Please be thoughtful, plan ahead, and prepare with the Six Ps." The "Six Ps" are items to keep in mind while preparing to evacuate: people, pets, pills, photos, personal computers, and important papers.
Ward asked for residents to be patient with borough staff as they work to protect residences and structures and inform the public about evacuation alerts and changes to the fire.
The declaration allows the borough to "use resources, provide emergency planning, emergency notification, information management, and sheltering in excess of the $20,000 resource allocated in the FY2019 budget," Ward said. The Borough Assembly will hold a special meeting Monday to ratify the declaration.
Ward encouraged borough residents to call 347-6801 for fire information or to call the North Star Fairbanks Evacuation Call Center at 459-1308. Online, residents can find information at AKFireInfo.com or on the borough emergency operation website at fnsb.us/eo/pages. The borough and Alaska Forestry also have Facebook pages dedicated to emergency operations, which can be found at FNSB Operations and AK Forestry, respectively.
Ward asked residents to avoid the Murphy Dome area to allow emergency personnel room to work.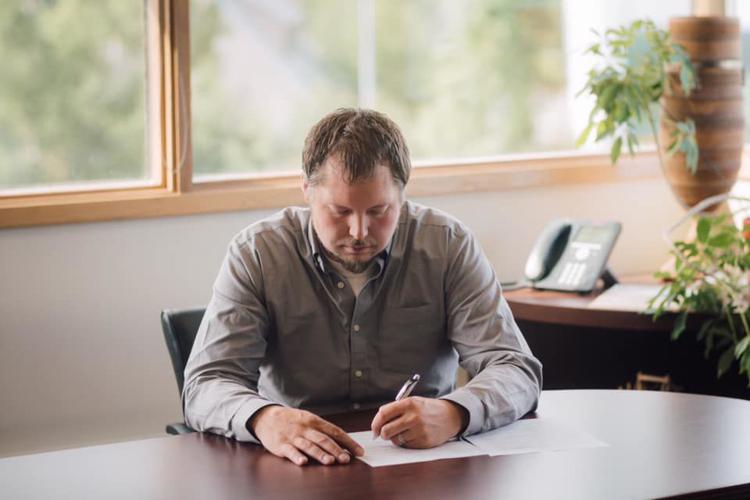 The Shovel Creek Fire is 10,008 acres as of Tuesday morning's Alaska Interagency Coordination Center Situation Report. This estimate is down slightly from previous reports, as decreased smoky conditions allowed air crews to more accurately assess the fire's size. The fire was started by lightning on June 21. Alaska National Guard is in the area and staffing road closures.
The fire is 8% contained.
"That's a big success for us because it gives us an anchor point, and gives us somewhere to work off of," said Jacob Welsh, information officer for Shovel Creek Fire.
A Red Cross evacuation shelter has been set up at Randy Smith Middle School. Two other subdivisions are under a Level 2 evacuation alert, meaning residents should be ready to leave at a moment's notice. Additional subdivisions may be asked to evacuate. Borough Emergency Operations Director David Gibbs said the shelter would remain open until it was no longer needed.
According to Welsh, neighborhoods are being assessed for evacuation alerts. He pointed out that many structures off Spinach Creek and Murphy Dome roads were not yet under alert but that residents were remaining aware and acting as if they were.
Welsh recommended residents keep up to date using social media and enroll in Smart 911. He also encouraged those who aren't residents to stay away and be aware of the smoky conditions and equipment moving through the Murphy Dome area.
The fire has been upgraded from a Level 2 fire to Level 1 and will now be managed by the Type 1 Pacific Northwest 2 Incident Management Team starting Wednesday morning. It was previously managed by Alaska Incident Management Team. This transition comes with additional staff and resources, which would be able to handle incidents of high complexity, according to Gibbs. He said the Shovel Creek Fire was hard to suppress and that there is a high level of public interest, both contributing to the complexity of the fire.
While fire growth slowed with cooler temperatures over the last few days, a high pressure ridge is expected at the end of the week. This, according to officials, will dry out fuels and increase fire intensity across the many fires burning in Interior Alaska.
Contact staff writer Cheryl Upshaw at 459-7572. Follow her on Twitter: @FDNMcity.